Assam(Dispur)
12 killed, 31.54 lakh affected as Assam flood situation worsens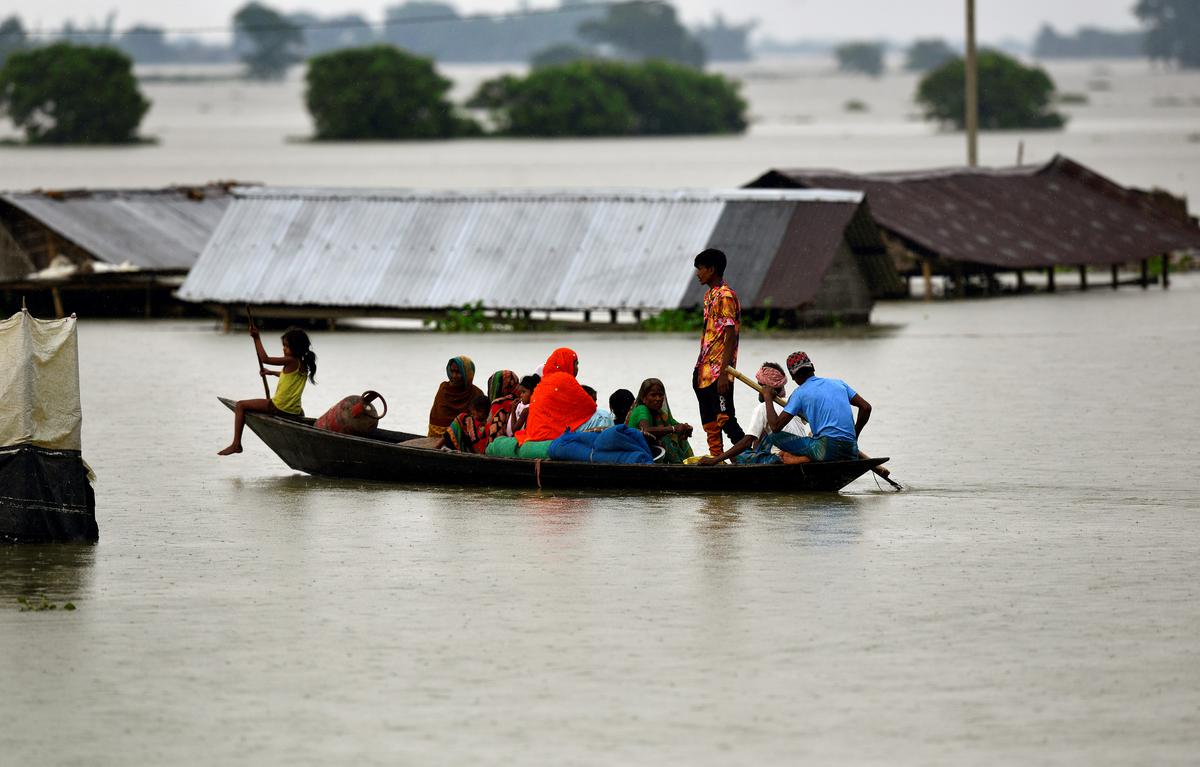 The flood situation in Assam worsened on Wednesday, with 12 more lives being lost and the number of affected people rising to 31.54 lakh.
The flood situation in Assam remained grim on Wednesday, with 12 more people dying in the floods in the last 24 hours.
Cachar and Chirang districts reported two deaths each, while Barpeta, Vishwanath, Darang, Dhemaji, Golaghat, Kamrup Metropolitan, Lakhimpur, and Nagaon reported one death each. The death toll from floods and landslides in the state in less than three months has gone up to 151 with 12 new deaths.
On the other hand, the current floods have displaced more than 31.54 lakh people in 26 districts of Assam.
Bajail, Barpeta, Vishwanath, Cachar, Chirang, Darang, Dhemaji, Dhubri, Dibrugarh, Dima Hasao, Goalpara, Golaghat, Hailakandi, Hojai, Kamrup, Kamrup Metropolitan, Karimganj, Lakhimpur, Majuli, Morigaon, Nagaon, Nalbari, Tamulpuri, Pur Tinsukia and Udalguri are among the affected districts.
Cachar remained the worst-affected district for the second consecutive day, with around 14.31 lakh people affected by the disaster. At least 7,25,306 people have been affected by the floods in Silchar alone.
Ahead Wednesday, several areas of southern Assam city remained submerged for the tenth consecutive day.
In Barpeta, more than 5.49 lakh people are facing sad days, while in Nagaon around 5.20 lakh people are suffering due to flood waters pouring into their villages.
The Brahmaputra and its tributaries have inundated 2,675 villages and submerged 91,349 hectares of cropland. Army, National Disaster Response Force (NDRF), State Disaster Response Force (SDRF), Assam Police Fire and Emergency Service (F&ES) personnel, and other volunteers are working round the clock to rescue the stranded people and provide all possible assistance are working.
The floods have damaged thousands of homes, roads, several bridges, and irrigation canals, as well as breached several embankments in the affected districts of the state.
Meanwhile, the authorities have set up 560 relief camps in 22 districts to house 3,12,085 prisoners.
Related Posts