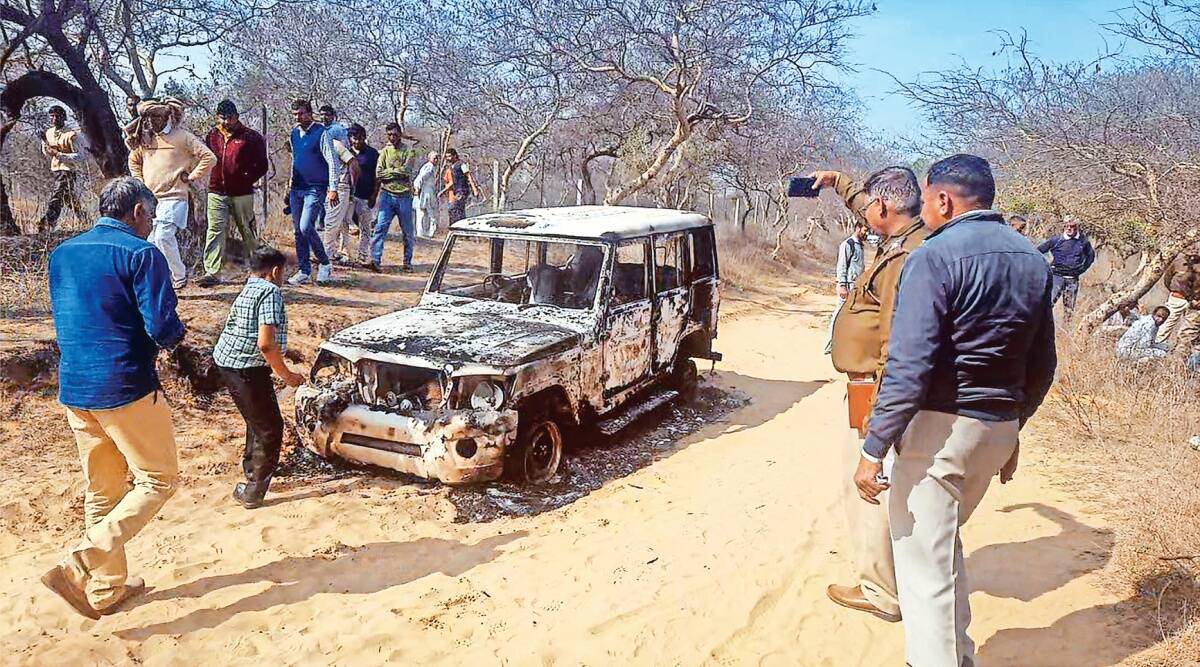 The burned bodies of the two men are covered with a brown cloth as people gather around them in the village of Ghatmika in the Bharatpur district of Rajasthan.
The bodies were found in a burned SUV in Haryana's Bhiwani on Thursday, a day after a FIR was filed in Rajasthan saying that Junaid and his friend Nasir had gone missing and were taken by members of the Bajrang Dal. The bodies of Junaid and Nasir have been claimed by their families, and the car where their burned bodies were found is the same one they used to leave their home in Ghatmika early on Wednesday morning.
On Friday night, the Bharatpur police said that 32-year-old Rinku Saini, one of the suspects named in the FIR by the families of the victims, had been arrested. The police said that Saini lived in Haryana's Nuh district and worked as a taxi driver. They also said that he was a member of cow vigilante groups.
At Ghatmika village, Junaid and Nasir's cousin Mohammad Jabir said that the two were stopped by the Haryana Police and members of the Bajrang Dal on their way to a relative's house in Sikri, Bharatpur.
"People in the area saw one Haryana Police car and another car in which the suspects were riding. The police and members of the Bajrang Dal stopped Junaid and Nasir's… They tried to get away, but the police beat them up, put them in a car, and drove them to Ferozepur Jhirka. People from Bajrang Dal tried to give the two to the police, but the police refused because they were in bad shape. "After that, Junaid and Nasir were taken to Loharu, which is over 160 km away in the district of Bhiwani, and burned to death," says Jabir.
Ismail, another cousin of Junaid and Nasir, filed a report of kidnapping at the Gopalgarh police station on February 15, the day Junaid and Nasir went missing. Based on the complaint, the FIR said, "Today (Wednesday), around 5 a.m., the complainant's cousins Junaid and Nasir left in their Bolero car to do some personal work. Around 9 a.m., while the complainant was drinking tea, a stranger who was also drinking tea said, "Two men going to the Gopalgarh forest at 6 a.m. were badly beaten by 8 to 10 men, and their condition was serious, and their attackers took them away."
Rajasthan DGP Umesh Mishra said, "It looks like the accused stopped the two men somewhere near the border between Rajasthan and Haryana. They were then taken to Haryana." We still don't know for sure where the accused stopped them. There are more questions being asked. One of the two people who died had five cases of cow smuggling against him in the past, but so far, no cows have come up in the investigation. We have taken one person into custody, and more research is being done."
On the family's claims that Haryana Police officials were with members of the Bajrang Dal and that they took the victims to Nuh's Ferozepur Jhirka to hand them over to a local police station, Nuh SP Varun Singla said, "Rajasthan Police is looking into the matter. If their investigation finds that any Nuh police officer was careless, they will be punished severely."
Jagat Ram, the DSP of Loharu, where the bodies were found, said, "They were taken from the Gopalgarh police station in Rajasthan and brought here (Loharu)… The Bolero was where their bodies were found. The Rajasthan Police have already filled out a FIR. As of right now, Section 174 of the CrPC has been used by the Haryana Police to start an investigation. If the Rajasthan police want our help with the investigation, we will give it to them."
The police say that Junaid has five previous cases of smuggling cows, but his family members say that is not true.
"Why do the police still talk about Junaid's cow-smuggling charges after he has died? Why didn't they catch him sooner if he was guilty? There's no cow in this… "Junaid and Nasir were going to see their relatives," said Jabir.
At Junaid's house, his wife, Sajida, sobs while holding her one-year-old daughter, the youngest of her six kids.
"Junaid was the only person in his family who worked and made money. He also took care of his mentally ill brother. "He ran a general store near his house," says Ismail, Junaid's cousin who filed the FIR on Wednesday.
At Nasir's house, a few hundred metres away, his wife Farmeena is lying on the ground, surrounded by women who are sad.
"Nasir had five other siblings, and he drove a car to make money. Junaid was one of his friends. "They were going to a relative's house," his sister-in-law, Warisa, said.
On Friday, Jabir speaks to a crowd of several hundred people at Ghatmika. Many of them have come from nearby villages. They have walked past brick ovens and bumpy roads to get to the courtyard where Junaid and Nasir's bodies are kept. A man holds up a Tricolor while people around him talk in low, angry voices. "Pehlu Khan, Umar Mohammad, Rakbar Khan, and now Junaid and Nasir! How many men are going to die? Junaid and Nasir's deaths were caused by Monu Manesar, who is named in the FIR. "As long as he isn't caught, we won't give up the bodies!" he screams. Between 2017 and 2018, cow vigilantes in Rajasthan killed Pehlu Khan, Umar Mohammad, and Rakbar Khan.
People at the meeting try to comfort Jabir while Zahida Khan, a Congress MLA from Kaman in Bharatpur and a MoS in the Ashok Gehlot government, tells the crowd that the police will take strict action against the accused. She says, "I am with the community" (Main biradari ke saath hoon).
This is the second time someone from Ghatmika has been killed in this way. In November 2017, five years ago, Umar Mohammad of Ghatmika was killed by "cow vigilantes," and his body was left on the railroad tracks in the Alwar district.
After Junaid and Nasir's families refused to hand over their bodies for their funerals, a committee was put together to talk with the administration. Later that day, the state government agreed to give each of the two families Rs 20 lakh as compensation.
In a tweet, Chief Minister Ashok Gehlot said, "One accused has been taken into custody. We are looking for the other suspects."