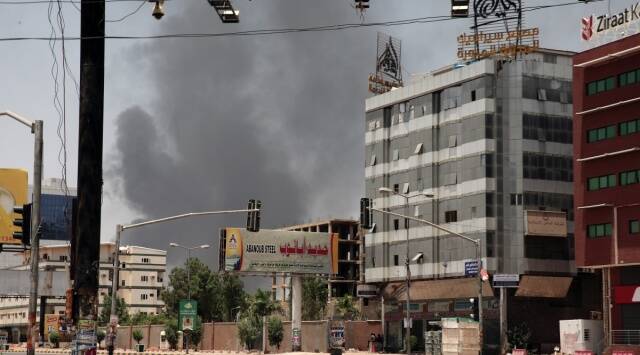 Saturday, an ex-serviceman from Kerala was slain in Khartoum after being struck by stray bullets during the ongoing violent conflict between the country's army and paramilitary in the capital city.
Albert Augustine, 48, is identified as the casualty. He is a native of Nellippara village in the Kannur district. He has been a security superintendent for a company in Sudan. Another Keralite who worked in Albert's neighbourhood in Sudan reported the calamity to his Alavellil family in Kannur.
Minister of External Affairs Jaishankar expressed "deep sorrow" over the demise of the Indian national in Sudan.
According to the Alakode village panchayat president, K M Joseph, Albert was struck by a bullet when he opened a house window. Six years ago, Albert retired from the Indian Army. Last year, he moved to Sudan to serve as the company's security director. "Two weeks ago, his wife Sybella and their high school-aged daughter accompanied him to Sudan for a brief vacation," he said.
Joseph stated, citing information from Sudan, that a heavy exchange of gunfire prevented locals from entering the location where stray bullets slew Albert. "We were informed that the residents had been instructed not to leave their homes due to internal conflict. A projectile struck Albert as he attempted to open the window to make a phone call to his son, who studies in the United Kingdom, said the witness.
Press Release

It has been reported that Mr Albert Augestine, an Indian National working in a Dal Group Company in Sudan who got hit by a stray bullet yesterday succumbed to his injuries.

Embassy is in touch with family and medical authorities to make further arrangements.

— India in Sudan (@EoI_Khartoum) April 16, 2023
Later on Sunday, a distraught Sybella sent an audio recording to her family in Kannur in which she pleaded for assistance. Sybella stated in the audio recording, "It has been nearly 24 hours since the incident. As there was no ambulance, the body could not be removed. My daughter and I were in the room of my husband's colleague last night. As even this room is not secure, we have relocated to the apartment's cellar. We are completely defenceless, and no local contacts or aid have reached us as of yet. Please assist us.
NORKA ROOTS, the department of the Kerala government responsible for non-resident Keralites, has not received any official communication regarding the incident, according to its representatives.
The Indian embassy in Khartoum reported that Augestine worked in Sudan for a Dal Group company.
Condoling the death, External Affairs Minister S Jaishankar said the situation in Khartoum remains one of "great concern" and that India will continue to monitor the developments in that country.
"According to reports, Albert Augestine, an Indian national employed by a Dal Group company in Sudan who was struck by a stray bullet yesterday, has passed away," the Indian mission tweeted.
It was stated that the embassy is in contact with family members and medical authorities to make further arrangements.
In October 2021, the Sudanese military seized power in a coup and has been governing the country through a sovereign council ever since. The Army and the paramilitary have disagreed over the proposed timeline for transferring authority to a civilian government. (Using ENS, Delhi)