India
A worker was killed and three others were injured as the shed collapsed at an under-construction rice mill in Mohali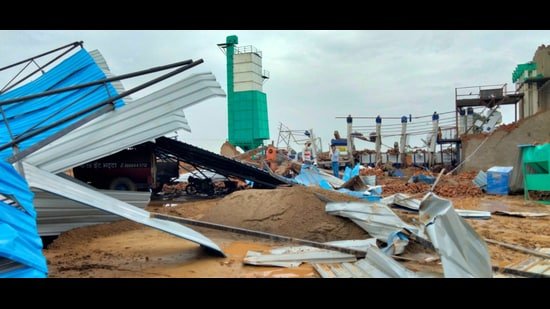 On Thursday, a 35-year-old labourer was killed when the shed of an under-construction rice mill collapsed in Basoli village near Lalru. According to the police, three other workers were injured in the incident and have been admitted to a hospital for treatment.
Police say the shed may have collapsed because of Thursday's heavy rain, although an investigation has been launched. Police said the shed may have collapsed because of the heavy rain that hit the region on Thursday, although a probe has been launched.
It is believed that the victim's wife and three children survive him.
An eyewitness at the site, Mahavir, said the incident occurred when the labourers were working under the shed and it started raining. There was a loud sound of something crashing to the ground, followed by the screams of people trapped beneath the debris.
Chaos reigned.All the workers were running around, and some were trapped under the shed that had collapsed," Mahavir said.
Another labourer at the site, Balwant, said the rice mill was under construction when the shed collapsed, and around 30 people were working near it.
According to Balwant, some labourers were stuck under the shed and we tried to help them. It was discovered that one person was trapped under the sheets of the shed and was unresponsive. The doctors declared him dead after we pulled him out of the water and rushed him to a hospital."
According to Swastik Rice Sheller owner Navdeep Jindal, he rushed to the scene immediately after receiving information about the incident and ferried Rishipal to Dera Bassi civil hospital, where doctors declared him dead.
A witness, Mahavir, who was also working at the site, said the incident happened when the labourers were working under the shed and it started raining. Suddenly, they heard something crashing to the ground.
The sheller wasn't operating yet, and new machines were being installed in the mill, with construction still going on in some areas. However, some labourers claim that the shed was built with substandard materials, resulting in Thursday's accident.
A police investigation has been launched into the incident.
Related Posts