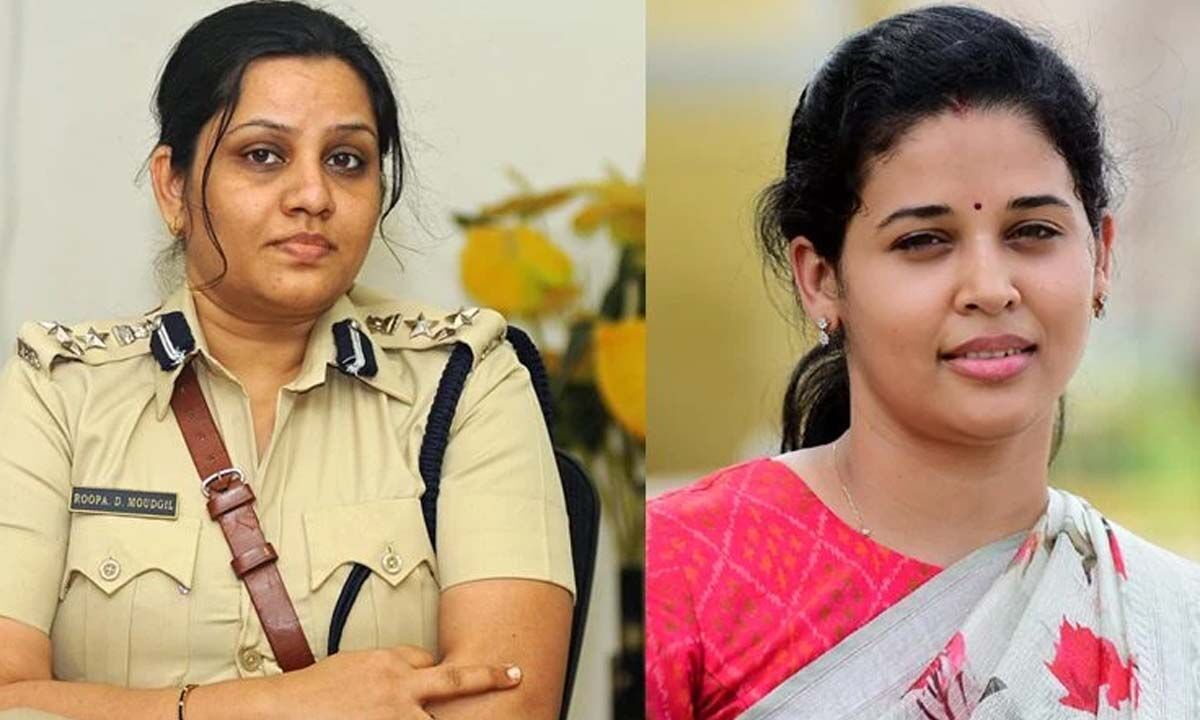 An all-too-public conflict in Karnataka between two prominent women, IAS officer Rohini Sindhuri and IPS officer D Roopa, has resulted in the transfer of both women from their existing positions without posting.
Roopa was the managing director of the state corporation for the promotion of handicrafts, while Sindhuri was the Muzrai department commissioner.
The two bureaucrats had been at odds since February 19, when Roopa accused Sindhuri of corruption and distributing what she termed "objectionable photographs" with coworkers, igniting a fight between them. Sindhuri denied the charges and accused Roopa of conducting a "false campaign of personal slander." Thereafter, the two petitioned the chief secretary, Vandita Sharma, requesting disciplinary action against each other.
The state administration opted to transfer the cops on Tuesday. The announcement stated, "Smt. Bharathi D… IAS (KN:2013) pending for posting is appointed with immediate effect and till further instructions as Managing Director, Karnataka State Handicrafts Development Corporation Ltd., Bengaluru in place of Smt. Roopa D., IPS, who has been transferred."
Also, the Department of Personnel and Administrative Reforms (DPAR) has requested that the officers refrain from communicating with the media and social media. The government order stated, "Despite having a place to raise objections and complaints, you have gone to the media, creating great humiliation and bringing shame to the government."
Munish Moudgil, the husband of Roopa and an IAS officer, has been shifted from the department of survey and land records to DPAR as principal secretary.
Saturday, Roopa detailed 20 claims against Sindhuri in a lengthy Facebook post, accusing her of corruption and distributing "objectionable photographs to three IAS officers."
Roopa shared photographs of Sindhuri on her Facebook page on Sunday and stated, "These photographs may appear regular, but what does it indicate when a female IAS official sends a large number of such photographs to not one, not two, but three male IAS officers? It cannot be her personal business. According to IAS Service Conduct Regulations, it is a felony. Any investigating agency is able to confirm the veracity of these images. Images of salon haircuts, the photograph taken while lying on a pillow. That may appear ordinary to some. The context of their message suggests otherwise."
Sindhuri responded by calling the claims slanderous and accusing Roopa of acting out of personal animosity.
"Our services are different. I have no idea why she is writing about my personal and professional life on social media. Officers must maintain a certain level of decency and decorum," Sindhuri stated, adding that Roopa was afflicted with "mental disease" and that she had launched "false, personal smear campaigns" against her, which was "her regular mode of operation."
"Mental illness is an enormous problem that must be treated with medication and therapy. When it affects individuals in positions of authority, its danger increases. As is her customary mode of operation, Roopa IPS has engaged in fake personal defamation attacks against me. She has done so in every position she has held, including her current ex-cadre position," she continued.
Thereafter, the two bureaucrats approached the chief secretary.
Sindhuri stated in her protest to the chief secretary that if Roopa's actions were not punished, personal vendetta would become the norm. She urged that action be made against Roopa in accordance with the All India Services Guidelines.
In her letter to the chief secretary, Roopa maintained her accusations and detailed seven crimes against Sindhuri.
"In a preliminary enquiry report submitted to the government by Dr.Ravishankar, IAS, the allegations against Rohini Sindhuri, IAS regarding the construction of a swimming pool in the Deputy Commissioner's office premises at Mysore during the Covid epidemic, when thousands of people were dying, and that too in a heritage building where such construction is not permitted, have already been refuted.
submitted to the Government. The next natural step following a preliminary investigation is to undertake a comprehensive disciplinary investigation," the letter stated.
"In the Immovable property returns filed in the month of January 2023 for the year 2022 (January to December 2022), which are available on the website, she has not mentioned the huge house she is building in Jalahalli, which has been revealed through chat conversations in which she also reveals that she has spent Rs.1 crore to Rs.2 crores on furniture brought from Italy, Rs.6,00,000/- on hinges for the doors (one door alone weighing 350 kgs as mentioned), Rs.26
"It is alleged that for the Karnataka Bhavan being built in Tirupati, in her native state, at the TTD area, only for the architectural design, she gave a Rs.10 crore order to an architect firm in her capacity as Endowments Commissioner without calling a tender, in violation of the Karnataka Transparency in Public Procurements Act. Please explore the aforementioned situation," she added.
Referring to a report by IAS officer Ravi Shankar on the illegal construction of a swimming pool at Sindhuri's residence while she was the deputy commissioner of Mysuru in 2021, Roopa stated that Sindhuri was found guilty in the preliminary investigation, but a thorough investigation was not conducted.
In addition, she said that Sindhuri had omitted information from the immovable property returns pertaining to a large mansion purportedly being erected in Jalahalli.
In 2017, Roopa made headlines when she claimed that her senior officer in the prisons department was giving AIADMK politician VK Sasikala special treatment at a Bengaluru prison. Recently, Sindhuri was in the news after Lucky Ali claimed that his land had been encroached upon with Sindhuri's assistance. She refuted the charge.