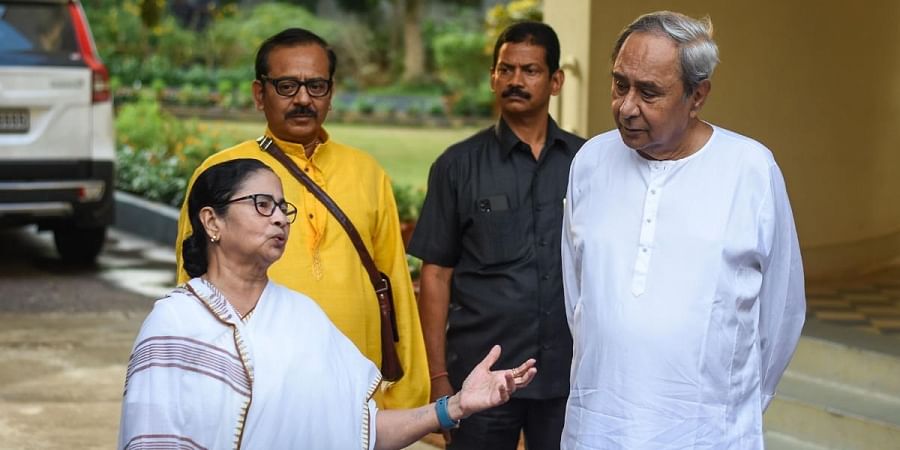 On Thursday afternoon, West Bengal Chief Minister Mamata Banerjee, who is in Odisha on a three-day tour, will meet her counterpart from the neighbouring state, Naveen Patnaik.
In light of Banerjee's recent meeting with Samajwadi Party president Akhilesh Yadav in Kolkata, the next meeting between the two non-BJP chief ministers is significant.
Banerjee's party, the Trinamool Congress, and the Samajwadi Party have indicated that they will maintain an equal distance from the BJP and the Congress and will reach out to regional parties prior to the Lok Sabha elections in 2019.
The Chief Minister of Bengal arrived in Bhubaneswar on Tuesday and worshipped at the Shri Jagannath Temple in Puri on Wednesday.
Banerjee informed reporters at the Kolkata airport before departing for Bhubaneswar that she would attend a "courtesy meeting" with Patnaik.
In a statement released on Tuesday, Patnaik stated that nothing has been discussed regarding the formation of an opposition front prior to the general elections in 2024.
Patnaik has claimed to have maintained an equal distance from both the BJP and the Congress since the ruling Biju Janata Party of Odisha severed ties with the NDA in 2009.
Despite the fact that Patnaik backed the majority of the BJP-led Centre's policies in recent years, he has recently criticised the saffron party, accusing the Union government of implementing anti-poverty policies.
According to political commentators, the Odisha chief minister's apparent change of heart towards the saffron camp appears to be a result of the BJP's continuous attacks on the BJD government on a variety of subjects.
According to TMC sources, Banerjee is eager to recruit Patnaik, as the BJD is a prominent regional party capable of winning 20 of the state's 21 Lok Sabha seats. In the 2019 general elections, the BJD won 12 LS seats, compared to 20 in 2014.