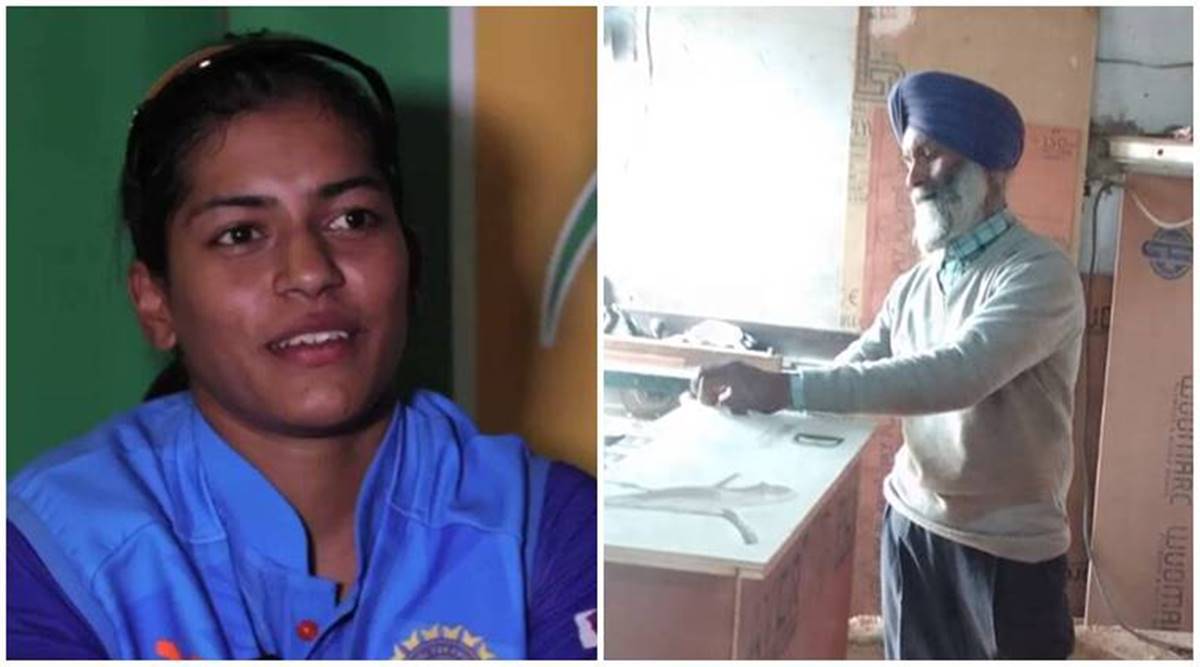 When Amanjot Kaur was playing cricket with the neighbourhood lads in a nearby gully one evening, they refused to let her bat. They told her this because she lacked a bat. The real cause was different; she beat a boy for boundary violations only a few days prior to repeating the behaviour. It had agitated the lads.
Instead of her customary embrace with her father, she spent the evening doing nothing. Carpenter Bhupinder Singh noticed that something was off. Later, when she informed him about the event, he instantly got on his scooter, rode to his store, and returned late at night with a wooden bat he had carved himself. He placed the bat next to her before leaving for duty early.
🗣️🗣️My father has played a big role in my development. His struggles are a lot more than mine. Had he not made the sacrifices, I wouldn't have reached this far: Amanjot Kaur pic.twitter.com/MufEJB2ZTW

— BCCI Women (@BCCIWomen) January 20, 2023
However, the taunts continued. The next day, when she went out to show off her new bat in her Phase V, Mohali neighbourhood, she was mocked for engaging in "boy sport." Again, the boys denied her permission to play. That evening, she embraced her father, began crying, and told him everything she had been through over the previous weeks. Simply now, Bhupinder responded, "Tu khel puttar (You just play)"
The bat made Amanjot feel like he belonged. Eventually, the males let her to play. In her international debut fourteen years later, far from the gully that shaped her, she scored 41 runs off 30 balls to help India defeat South Africa by 27 runs in their Women's T20I Tri-Series opening in London.
In the midst of his happiness, her father could not help but recall the tearful evening. "It seems like yesterday. Like any father, I wished for her happiness. She never asked for anything, and I created her first bat, and that was it; I believe I have never given her anything else," Bhupinder told The Deccan Era.
First Match for India 🧢✅
First Player of the Match for India 👌✅
First Press Conference for India🎙️✅

All in one day for Amanjot Kaur 😃

Listen to what she had to say after #TeamIndia's win in the tri-series opener against South Africa yesterday👇 pic.twitter.com/SqlvnwrdFh

— BCCI Women (@BCCIWomen) January 20, 2023
Amanjot, however, attributes her whole achievement to Bhupinder. "My father was instrumental in my career. "His battle is significantly more than mine; he left me half of his work so I wouldn't miss my academy," she remarked. "At first, he believed it was a transitory fad and that my interest in cricket would gradually dwindle. He never expected me to play for India. "I was determined to prove myself at cricket," she continued.
Still the same
Nothing changed for Bhupinder a day after his daughter won a national match. He awoke at 5 a.m., departed his home at 7 a.m., and opened his rented business in Balongi, Mohali, at 8. "Yesterday, I received several calls congratulating me. "I left home early because that's my livelihood, and when Aman returns, I'll distribute candies throughout the neighbourhood," he explained.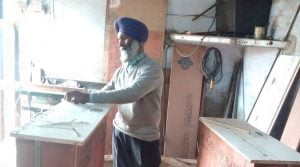 When she turned 10, Bhupinder scoured the entire Tricity (Chandigarh-Mohali-Panchkula) for a girl's cricket academy without success. Four years later, when Amanjot turned 14, a schoolmate provided her with the contact information of Nagesh Gupta, a BCCI level-II cricket coach who was employed by the UT Sports Department and coaching an academy at the Government Model Senior Secondary School, Sector 26 in Chandigarh. Without delay, Bhupinder brought her to Nagesh, but the seats were already occupied.
Bhupinder appealed for a second opportunity, which Nagesh granted. "Had she not been rejected, she would have been elsewhere. The event was full, and we were told to return next year. "Fortunately, Nagesh sir permitted her to play in the nets and instructed me to enrol her in the Sector 32 academy," Bhupinder added.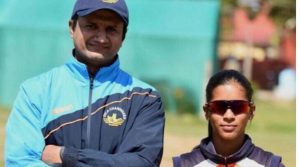 Thus began her cricketing career. Whatever occurred,
Bhupinder will ensure that she arrives on time for the institution. He would drop her off in the morning and then return for her in the evening. Amanjot remembers those times. "The trip time would consume nearly three to four hours per day, yet he did it. I would not be here today if he hadn't done that," she told reporters.
On Amanjot's 18th birthday, Bhupinder gave her a scooter so she could travel to the academy on her own. However, Bhupinder would accompany her to ensure that she drives safely. "Because I was terrified, I followed for nearly two months, and then I stopped," recounts Bhupinder.
Career Obstacles
However, the trip has not always been smooth. In 2019, when UTCA was affiliated with the BCCI, Amanjot relocated to Chandigarh and was named captain. During the 2019-20 season, she scored 370 runs in only nine senior one-day trophy matches. She scored 457 runs in nine U-23 50-over games. In seven U-23 T20 matches, she scored 184 runs and took 10 wickets, feats that earned her a call-up to India A. A year later, though, she returned to Punjab because experienced players in Chandigarh found it difficult to take commands from a younger player.
"It was a difficult period, as she was the main performer for Chandigarh, but it was the right choice in retrospect. She is at calm, scoring runs, taking wickets, and playing for India, which is the most important factor, according to coach Nagesh. Even he commended Bhupinder, saying, "He would drop her dot at 5.30 a.m., even in the dead of winter, before anyone else, even me." It is just her diligence that has paid off."
However, it appears that all those difficulties were worthwhile, as she made the most of her foreign vacation. "It is an unreal sensation. It has not yet sunk in. I never imagined that I would do something noteworthy during my debut. The objective is to continue contributing with the bat and ball in future matches," stated Amanjot. However, when one trip concludes, another begins.