India
International
An economic crackdown on terror havens is called for by Amit Shah: We should rise above geopolitical considerations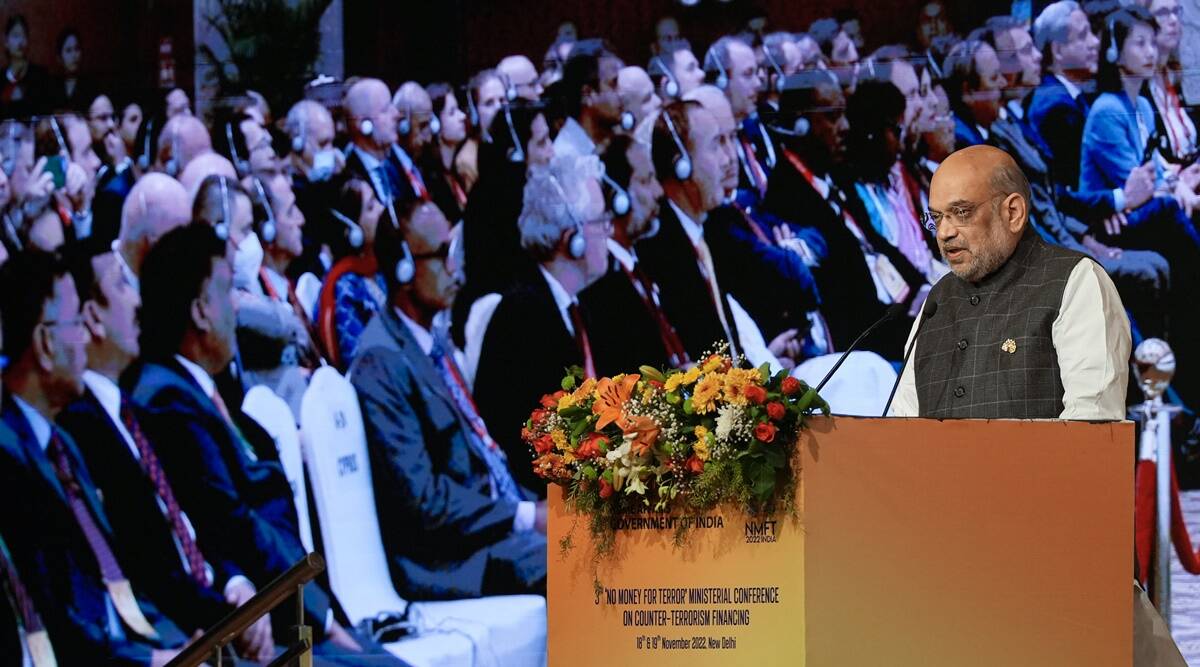 After Prime Minister Narendra Modi attacked China and Pakistan veiled for "supporting terrorism," Home Minister Amit Shah reiterated his position by stating that some countries have adopted terrorism as their "state policy" and urging a "strict economic crackdown" on such "terrorist havens". Advising all nations to rise above their geopolitical interests and to fight "shoulder to shoulder" against terrorism, Shah claimed that terrorism has no international boundaries.
He proposed the establishment of a permanent secretariat in India to maintain the focus on countering terror financing in his concluding remarks at the third 'No Money for Terror' conference.
S Jaishankar, who also addressed the conference, stated that some have used terrorism as a tool of statecraft and that the world must overcome political divides to address the danger. The challenge, however, is that while the bad guys think globally and laterally, the good guys believe still nationally and vertically.
Shah also proposed a five-pronged strategy in his speech to deal with terror financing, which included the development of a "monitoring framework" to facilitate cooperation between intelligence agencies. His call for "beyond-border cooperation" emphasised the need for "complete transparency" between nations.
Several countries, governments, and agencies have made terrorism their official policy. It is necessary to shackle the unrestrained activities of terrorist organisations in these terror havens and implement a strict economic crackdown. In addition to their geopolitical interests, all countries of the world will have to come to a consensus on this issue," said Shah.
According to his remarks, Islamabad's influence in Kabul has forced the West to reengage with it in light of recent developments in Afghanistan. The Indian security establishment has been viewing the relief granted to Pakistan by the Financial Action Task Force (FATF) in this context, despite Islamabad's continued support for India-centric terrorist groups.
"Some countries regularly support terrorists and those who harbour terrorists … terrorism has no international boundaries, so all countries should think beyond politics and work together," he said, referring to China.
Officials have confirmed that Pakistan and Afghanistan will not participate in the meeting, while China was invited but did not attend.
Shah requests that all countries agree on a standard definition of terrorism and terrorism financing. "This is an issue protecting our citizens and their human and democratic rights. It should not be a political issue," he stated.
Shah asserted that terrorism is the greatest threat to democracy, human rights, economic progress, and world peace, "No country or organisation can defeat terrorism alone.". The international community must continue to stand shoulder-to-shoulder to combat this increasingly complex and borderless threat.
In addition to curtailing to some extent the actions of countries that make terrorism a state-funded enterprise, Shah mentioned that the UN Security Council's counterterrorism sanctions regime should be further strengthened and made more rigorous and transparent.
Our first commitment should be to cooperate transparently. All governments and organisations must commit to complete transparency when sharing intelligence more effectively and efficiently. "We must fight terrorism and terrorist groups everywhere, in every geographical location, virtual location," he explained.
As he explained, some organisations have promoted terrorism and radicalisation on the national and international levels under the guise of other motives, without naming the Popular Front of India (PFI). Moreover, these organisations are often used as a means of funding terrorism. Earlier this year, the Government of India banned an organisation that attempted to radicalise youth and encourage them to participate in terrorism. All countries should identify such organisations and take stringent measures against them."
In addition, Shah warned against "the growing links between terrorism and organised crime, such as narcotics, crypto-currency, and hawala". Globally, criminals launder approximately two to four trillion dollars annually, according to the IMF and the World Bank estimates. "A large portion of it fuels terrorism," he added.
It was urged that a long-term strategy be developed, including the following priorities: preventing the diversion of legal, financial instruments by combating anonymity within financial networks; preventing the use of proceeds from other crimes for terrorist purposes; and preventing the use of new financial technologies and virtual assets, including cryptocurrency, wallets, etc.
All countries must continue to improve their capacity to combat terrorism and financial intelligence activities; to eliminate the use of illegal channels, cash couriers, and hawala by terror networks; prevent the use of non-profit organisations as a means of spreading terror ideologies; and constantly improve the capacity of their counterterrorism and financial intelligence agencies.
Shah stressed the importance of a five-pillar strategy for combating terror financing. The first pillar is establishing a comprehensive monitoring framework involving cooperation, coordination, and collaboration among all intelligence and investigative agencies.
In addition, he listed the following pillars: a trace, target, and terminate strategy to be adopted from low-level economic offences to more organised financial crimes; strengthening and harmonising the legal frameworks related to terror finance; establishing a robust mechanism against the misuse of next-generation technology; and strengthening the legal and regulatory framework for asset recovery.
As Jaishankar pointed out, making similar oblique references to Pakistan and China, the increasing threat of terrorism has been attributed to the "continued trend by some to use terrorism as a tool of statecraft and the willingness of others to justify and obfuscate this".
According to him, it is fundamental that all nations take a collective approach to terrorism that is undifferentiated and undiluted.
A political spin cannot ever justify terror, for terror is terror. A global effort is required to address this peril despite political divisions. The war against terrorism must be waged resolutely on all fronts, in all situations, and everywhere. Although the bad guys tend to think globally and laterally, the good guys believe rationally and vertically. The importance of encouraging a "whole of government" approach at home and a "whole of the world" approach at the international level cannot be overstated.
© The Deccan Era (P) Ltd
Related Posts