On Wednesday, 8 of 11 Congress MLAs switched over to the BJP, a deja vu of sorts in Goa's political landscape.
As well as former Goa chief minister Digambar Kamat, who led the party's election campaign earlier this year, and current LoP Michael Lobo also participated.
There are four others on the list: Delilah Lobo,Aleixo Sequeira, Kedar Naik, and Sankalp Amonkar, Rudolf Fernandes and Rajesh Phaldesai.
On Wednesday morning, Lobo held a crucial meeting of the Congress Legislature Party and decided to merge the party with the BJP. It was later submitted to the Secretary of Legislation the letter of merger was submitted.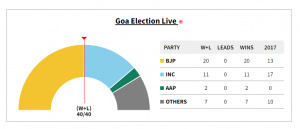 Only 3 LAs remain in Congress, while only 7 members of the opposition benches remain.
However, the BJP now has 28 members, up from 20 at the moment. Pramod Sawant said that the Congress Chhodo Yatra (leave Congress) will begin now in response to Rahul Gandhi's "Bharat Jodo Yatra."
Opposition party Goa Forward Party, however, responded sharply to the development.
It is evident that there are eight legislators in this state who have chosen to pursue their greed for wealth and hunger for power regardless of political propriety, basic decency, and honesty, and stand today as symbols of pure evil, displaying their shameless selfishness, "Avarice and chicanery, in defiance of the almighty God," said party president Vijai Sardesai.
There were large-scale defections in the previous Goa assembly too, with 67% switching sides in the weeks leading up to the 2022 elections. During the last assembly, 27 legislators switched sides in the 40-member house, with Congress losing 16 of its 17 legislators.
In 2019, ten Congress MLAs joined the BJP, including Chandrakant Kavlekar, then leader of the opposition. In addition, three others joined the Trinamool Congress led by Mamata Banerjee,
The Saffron party has also gained the support of two MPs and one GFP MLA. Four BJP legislators defected before the elections in February 2022, joining various parties.
Related Posts