India
As a nation, we remain indebted to the bravehearts who made the supreme sacrifice: President Murmu on the attack on the Parliament in 2001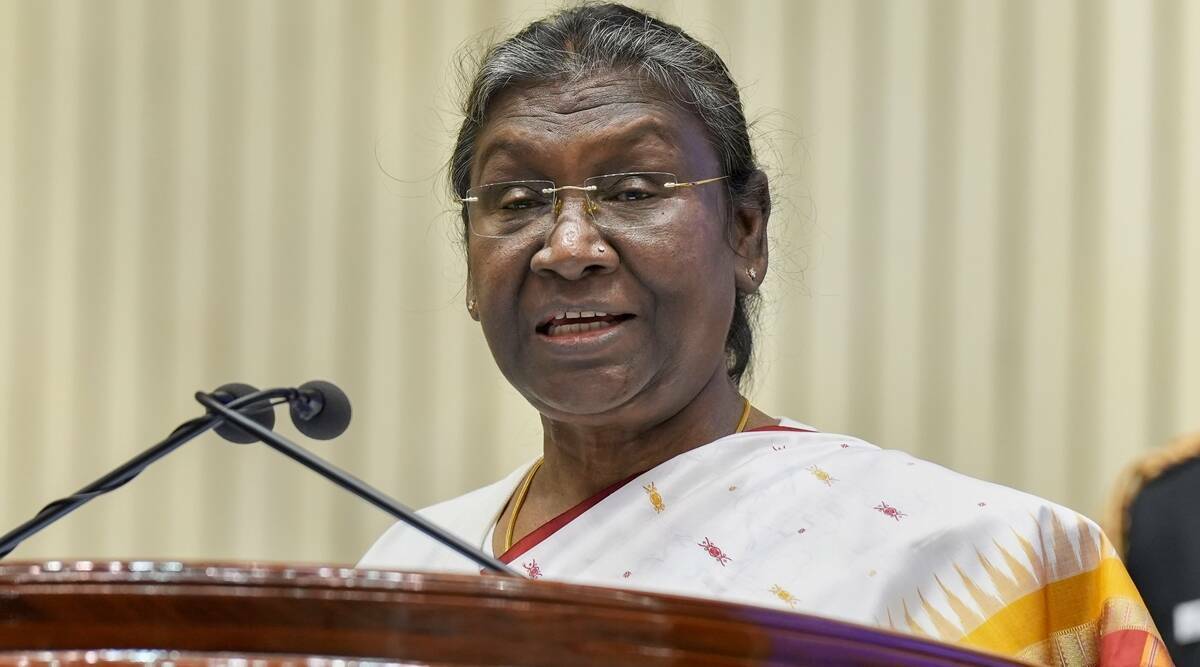 In his address on Tuesday, President Droupadi Murmu expressed gratitude to the "valiant martyrs" who lost their lives in the attack on the Parliament in 2001.
A terrorist attack on the Parliament complex took place twenty-one years ago on December 13 by terrorists of the Lashkar-e-Taiba (LeT) and the Jaish-e-Mohammed (JeM). Nine people were killed in the attack.
Congress President Mallikarjun Kharge, Congress MPs Sonia Gandhi, Adhir Ranjan Chowdhury and other leaders pay tribute to the fallen jawans, at the Parliament, on the 21 years of the Parliament Attack pic.twitter.com/BGL8nuL7VI

— ANI (@ANI) December 13, 2022
On this day in 2001, the nation pays tribute to those brave martyrs who lost their lives in defense of the Parliament against terrorist attacks. Our hearts will always be filled with gratitude for the Bravehearts who made the supreme sacrifice," the president tweeted.
There were five Delhi police personnel, a woman Central Reserve Police Force (CRPF) trooper, two Parliament watch and ward staff, and a gardener among the victims. There was a fatality among the injured journalists. It was determined that all five terrorists had been killed.
Lok Sabha Speaker Om Birla addressed the House on Tuesday, saying, "We solemnly remember the cowardly attack on our Parliament on December 13. The alert security personnel who foiled the attack on this symbol of democracy are also remembered for their courage. According to the news agency ANI, the security personnel made the supreme sacrifice.
Related Posts
A leading Saudi moderate arriving the following week will meet with Jaishankar and NSA and speak with religious leaders.
Panchayat elections are not conducted along party lines to promote village harmony: President Droupadi Murmu
President Murmu and PM Modi send greetings on the statehood day of Arunachal Pradesh and Mizoram
We need to build an India that is "Aatmanirbhar" by 2047. Here are some of the best quotes from President Murmu's speech to Parliament.
China in play, Egypt seeks economic support from India
Padma Awards 2023: Mulayam Yadav, Ustad Zakir Hussain, Dilip Mahalanabis among 6 awarded Padma Vibhushan
On Uttar Pradesh Foundation Day, Prime Minister Modi stated that the state "contributes greatly to the nation's progress."
Presidential address in the present Parliament; development of a new structure: Speaker
President Murmu, Prime Minister Modi, and others express best wishes on Army Day, saluting all valiant soldiers and their families. Army Day is celebrated annually on January 15 to honour the day in 1949 when General (later Field Marshal) K M Cariappa assumed command of the Indian Army from General Sir Francis Roy Bucher, the last British Commander-in-Chief. Express Web Desk New Delhi | 15 January 2023 10:10 IST Sunday at Bengaluru's Govindaswamy parade ground, Army chief General Manoj Pande attends the Army Day celebration. (ANI) As India commemorates its 75th Army Day today, political figures of all stripes have used social media to send their best wishes to the country's military. President Droupadi Murmu joined the nation in offering well-wishes, stating: "On Army Day, let us recollect the innumerable stories of sacrifices made by Indian Army personnel! They have always pushed the limits of valour and bravery and acted as saviours in times of disaster. On this day, I honour all valiant Indian Army personnel and their families." The message to the Indian Army from President Droupadi Murmu. (@adgpi Twitter) Army Day is celebrated annually on January 15 to commemorate the day in 1949 when General (later Field Marshal) K M Cariappa assumed command of the Indian Army from General Sir Francis Roy Bucher, the last British Commander-in-Chief, and became the first Indian Commander-in-Chief after India's independence. "On Army Day, I extend my best wishes to all army troops, veterans, and their families," said Prime Minister Narendra Modi on Sunday, accompanied by a series of photographs showcasing their arduous efforts. Every Indian is proud of our military and will always be appreciative of our soldiers. They have always kept our nation safe and their devotion in times of crisis has earned them widespread admiration." The nation salutes their indomitable courage, valour, sacrifices, and service, tweeted Defence Minister Rajnath Singh to Army men and their families. We are proud of the efforts of the Indian Army to keep India safe and secure." Indicating that the Indian Army is synonymous with valour and bravery, Union Home Minister Amit Shah tweeted, "On #ArmyDay, I express my best wishes to soldiers, veterans, and their families. Our nation is pleased with our military's commitment to national security. We honour our Bravehearts and genuflect before their heroic sacrifices." On the occasion of Indian Army Day, Congress president and leader of the opposition in the Rajya Sabha, Mallikarjun Kharge, stated that the nation would be forever indebted to the soldiers for their unwavering bravery, utmost dedication, and selfless sacrifice. He also expressed his gratitude to the soldiers' families. In the meantime, Union Minister of Parliamentary Affairs Pralhad Joshi shared a video depicting the numerous drills conducted by Army personnel and stated, "Their unmatched service protects our nation. Their kind acts flood our hearts with thankfulness. We will never forget their generosity." External Affairs Minister Dr. S. Jaishankar tweeted, "We are all obliged to them and their families for the sacrifices they have made in service of the nation." The Additional Directorate General of Public Information (ADG PI) of the Indian Army tweeted on Sunday the greeting sent by Army commander General Manoj Pande to the military on the special day. He extended congratulations and best wishes to every member of the Army and their families. General Manoj Pande's message as Army chief. (@adgpi Twitter) Insisting that all Indian troops are imbued with valour, patriotism, and sacrifice, Congress MP Rahul Gandhi said, "Happy Army Day to all jawans, ex-servicemen, and their families for their sacrifice, penance, and devotion." Emmanuel Lenain, the French ambassador to India, also expressed his wishes to the Indian Army on Twitter on Sunday, writing, "Cooperation between the French and Indian Armies will play a significant role in 2023, the 25th anniversary of the Indo-French strategic alliance." "I Salute every brave Indian soldier and his family, who sacrifice their lives to protecting our nation! Devendra Fadnavis, deputy chief minister of Maharashtra, tweeted, "Jai Hind." This year marks the inaugural celebration of Army Day in Bengaluru, which occurs annually on January 15. Army Day is also being celebrated outside of the nation's capital for the first time. The chief guest is the Minister of Defense of India. The Army Day parade is now taking place in Bengaluru at the Govindaswamy parade site, Madras Engineering Group (MEG), and Centre. General Manoj Pande began the march by laying a wreath at the MEG War Memorial in remembrance of the fallen soldiers. The Chief of the Army Staff will then review the parade at the MEG & Centre, Bengaluru Parade Ground, and present gallantry awards for deeds of individual valour and sacrifice.
17th Pravasi Bharatiya Divas | Murmu: Indian diaspora making outstanding contributions to positions of leadership