India
As far as China is concerned, Prime Minister Modi has been "very firm": Jaishankar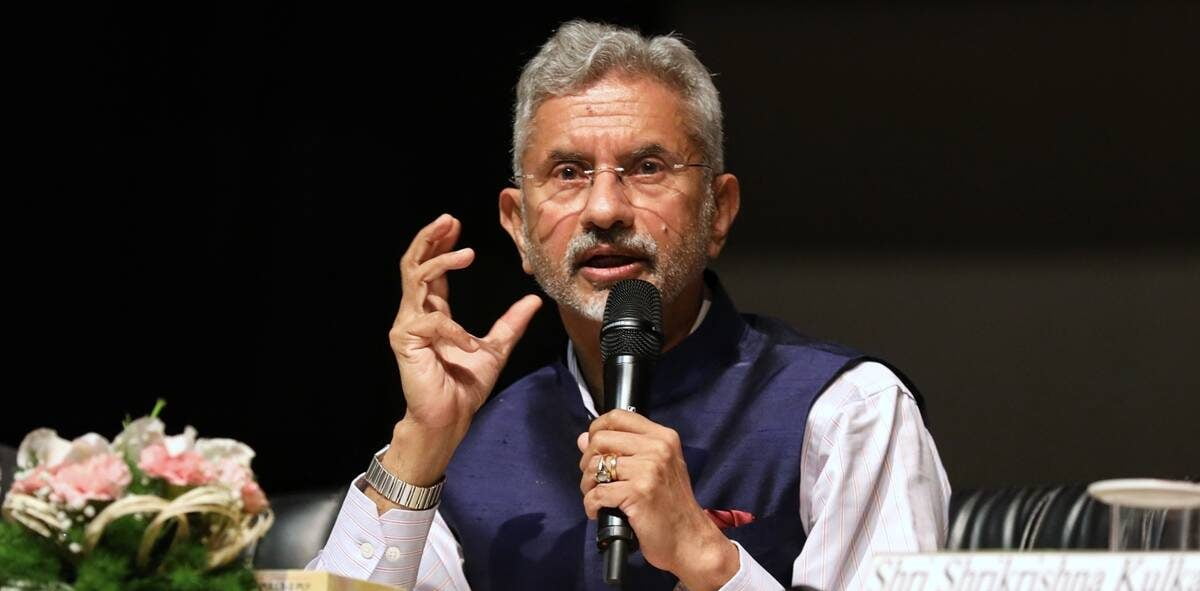 A strong deployment of Indian forces along the Sino-India border should be used as a measure of Prime Minister Narendra Modi's firmness in dealing with China, External Affairs Minister S Jaishankar said on Friday, rebutting opposition criticisms of the PM's recent handshake with Chinese President Xi Jinping.
According to Jaishankar, when dealing with China, one must acknowledge the reality that it is the world's second largest economy, India's nearest neighbor, but also one with whom it has had a difficult history, conflict, and a major boundary dispute.
When dealing with China, Jaishankar said that one must be firm when one has to be firm.
The troops should be moved to the border if necessary in order to combat what they are attempting to do. It is important to be frank about issues where they do not support or undermine our interests, as well as to be public about them whenever necessary. In most cases, I do not make it public, but when diplomacy calls for it, it is often advantageous to make it public.
"…while maintaining the decorum and dignity of how leaders conduct themselves…this is exactly what has happened," he added.
It appears that Jaishankar responded to criticism from certain quarters, primarily the Opposition parties, regarding Modi and Xi's handshake at the G20 summit in Bali earlier this month, stating, "I guess there are people who can take positions, especially if they are free of responsibility, and they can be quite casual or thoughtless with their words." People are entitled to express themselves freely in this country. There are ways in which a leader of India behaves," he said. "If you are going to be the president of the G20, the president of the Shanghai Cooperation Organisation, those are responsibilities that you have assumed."
I think the prime minister has not taken a public stance on China. In my opinion, the prime minister has been very firm regarding China. Not only has the prime minister made clear statements, but he has also made clear actions. We appreciate your understanding of the efforts made to maintain such a large force along our borders since 2020. "It is an enormous undertaking," Jaishankar stated.
It is ultimately that which determines the answer. I would prefer a prime minister who takes action, rather than one who pontificates but does not follow through. Considering the fact that the Indian military is deployed in strength on the borders with China in preparation for the challenges of 2020, I believe that Prime Minister Modi should be judged by this fact."
Earlier this month, a side event at the G20 Summit included a handshake between Prime Minister Modi and Chinese President Xi. During a live feed from the welcome dinner for G20 delegates hosted by Indonesian President Joko Widodo, a brief interaction between the two leaders was shown to the media.
In the wake of strained bilateral relations, several Opposition leaders have criticised Modi and questioned his gesture.
Considering the future of ties with China, Jaishankar said he does not view the China relationship from a behavioural or a term-based perspective.
There are long-term structural challenges that we must address. My regret is that we have not taken this issue seriously. Today I am discussing sending troops there, but ten years ago people were saying that the best way to deal with the border problem was not to develop the border." said the minister of external affairs.
Lastly, the development of your border infrastructure…creating greater capabilities within the country, all these are part of India's preparations for the world, not a confrontation.
Furthermore, Jaishankar stated that India has two significant handicaps in dealing with China, which include the defeat in the 1962 war, which is still affecting the country today.
When people write about a bridge that is being built or a village that is being built, please keep in mind that these are in areas you lost in 1962. This would not have occurred if that had not occurred. We still carry a handicap as a result of the loss in 1962. Despite our regrets, it cannot be reversed," Jaishankar stated.
Further, India began reforms 15 years later than China and its reforms were "half-hearted" and were not as deep as those of China.
Our economic strength has not been built. When Rajiv Gandhi visited China in 1988, our economies were of similar size, but today their economy is four times larger than ours. It tells us that even though we have progressed, we have not progressed rapidly enough. This is not intended to be a blame game." he stated.
As a result of a violent clash in the Pangong lake areas, a border standoff occurred along the eastern Ladakh border on May 5, 2020. Tens of thousands of soldiers and heavy weapons were deployed by both sides over a period of time.
In the wake of a series of military and diplomatic talks, the two sides completed the disengagement process on the north and south banks of the Pangong lake as well as in the Gogra region at the end of last year.
Last year, troops and equipment were withdrawn from Patrolling Point 17 (A) in Gogra after disengagement took place in the Pangong Lake area in February.
Related Posts