India
International
As violence rages in Sudan, 31 tribals from Karnataka are stranded: "We're out of food and water."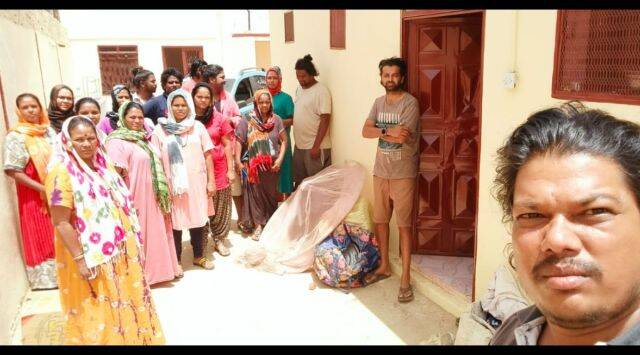 At least 31 tribals from Karnataka are stranded in the Sudanese city of El-Fasher due to the conflict between the military and a potent paramilitary force.
S Prabhu, a resident of Channagiri in Karnataka's Davanagere district, told The Indian Express over the phone that he and his family have not left their home for four or five days due to frequent bombardment and shelling in the area.
"We are imprisoned in a rented home without access to food and water." One can hear gunfire and bombardment in the background. Nobody has responded to our problem, and we do not know how we will return to India," he stated.
Prabhu, age 36, and his wife Soniya, age 27, travelled to Sudan ten months ago to sell Ayurvedic products in high demand throughout Africa. "We are Hakki Pikki tribe members. Hundreds of Indians are stranded in various locations in Sudan. My wife and I left our young children behind and migrated here to earn a living. We were unaware that Sudan was experiencing these problems," he said.
"We've been without sustenance for three days. The residential complex has a water tank that is beginning to run empty. We have not used water for bathing or any other purpose besides drinking. "During the crossfire, a wall of one of the houses in the complex was struck," he said.
Five of those stranded are from Channagiri, seven from Shivamogga, and 19 from Mysore's Hunsur taluk, according to Prabhu.
Saturday, fierce fighting broke out in Khartoum between the military and the country's potent paramilitary force, Rapid Support Forces, raising fears of a wider conflict in the chaos-stricken country.
Sunday, the Indian Embassy in Sudan tweeted: "Advisory number 2 to all Indian Nationals in Sudan as of April 16, 2023: To all Indian citizens in Sudan, According to the most recent reports, violence has not subsided on day two. We respectfully entreat that all Indians remain where they are and do not leave the country."
The Commissioner for the Karnataka State Disaster Management Authority, Manoj Rajan, told The Deccan Era that he would escalate the matter with higher-ups in order to take additional measures to safeguard the interests of Kannadigas stranded in Sudan.
A source in disaster management disclosed that they had discussed the current situation with MEA officials. We have located 181 Karnataka citizens who are stranded in Sudan, and the Ministry of External Affairs is drafting evacuation arrangements. Nothing has been decided upon yet. A source added that Indians are not the target of the violence that is occurring.
Related Posts