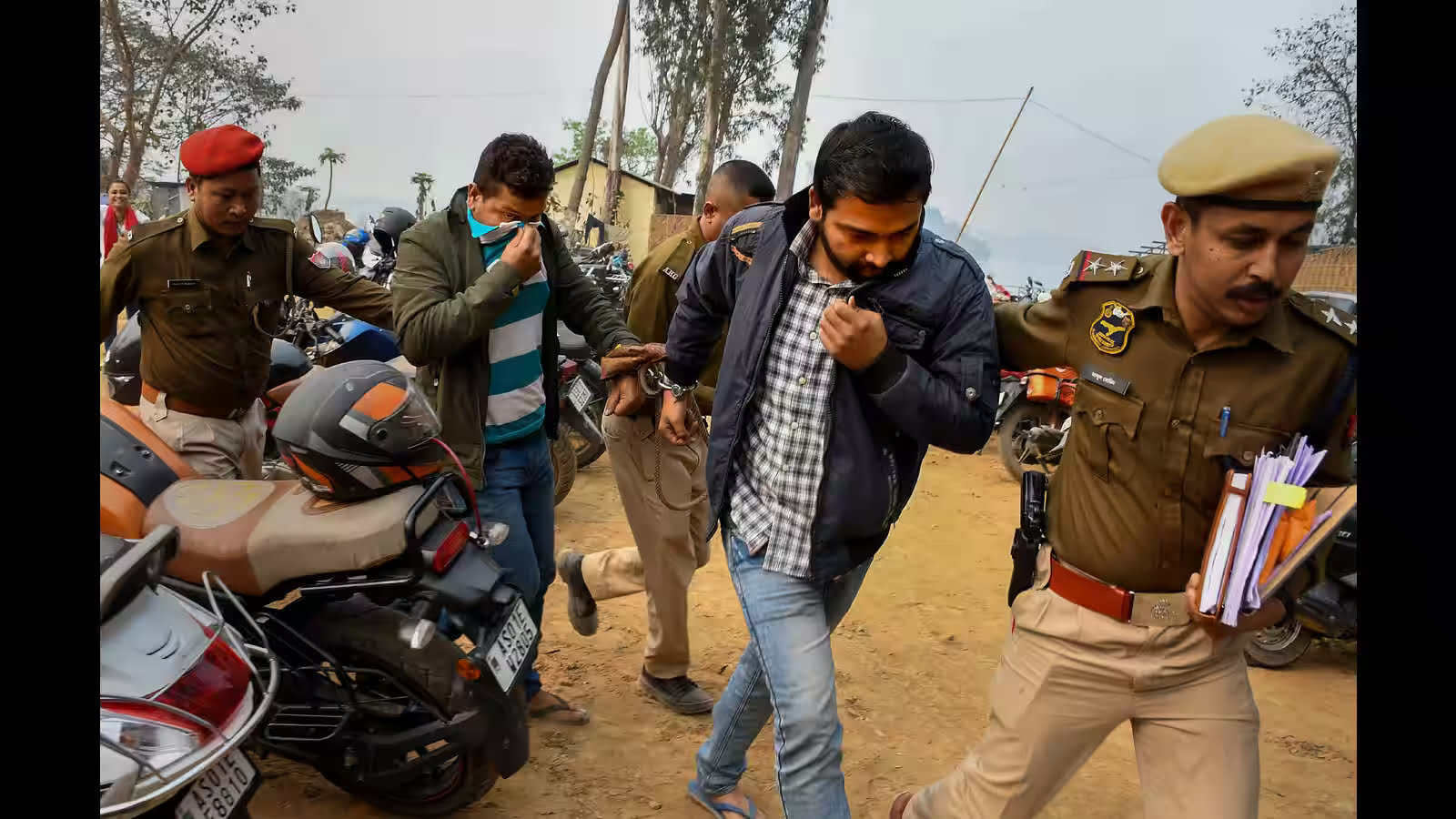 Police in Guwahati, Assam, arrested a woman and two of her male acquaintances on Monday for allegedly murdering her mother-in-law and husband in July and August of last year.
Bandana Kalita (32), a fitness instructor, allegedly murdered her mother-in-law Shankari Dey (62), a retired government employee, on July 26, 2012, and her husband Amarjyoti Dey (35), an unemployed man, on August 17, 2012, with the assistance of her friends Dhanti Deka, a taxi driver, and Arup Deka, a vegetable vendor.
Following the murders, the three dismembered the bodies and made two trips to neighbouring Meghalaya to dispose of the remains. Parts of the deceased woman's body have been recovered, and efforts are being made to locate the body parts of her kid, based on confessions made by the suspect.
"An investigation was initiated after Bandana Kalita filed a missing persons report at the Noonmati police station on August 29 regarding her missing husband and mother-in-law. According to Guwahati's police commissioner, Diganta Barah, the police made all necessary measures but were unable to locate the two suspects.
Nirmalya Dey, the nephew of Shankari Dey, filed a lawsuit in Noonmati on November 21, stating that money was being withdrawn from his aunt's bank account via ATM cards and suspecting that she and her son had been abducted. The police launched more investigations, but uncovered no significant leads.
Kalita approached the Guwahati police commissioner's office on February 14 to protest about police inaction in the case. Nirmalya Dey also complained to the police's criminal investigation division (CID) about the lack of progress in his case on the same day.
A special team led by the additional deputy commissioner of police (central), Kalyan Pathak, was constituted to investigate both incidents based on the two complaints.
"After additional investigation, both Bandana Kalita and Nirmalya Dey were questioned, and authorities discovered contradictions in Bandana Kalita's claims. "While she initially attempted to deceive the investigators, after two days of intensive questioning, she admitted to having murdered her husband and mother-in-law with the assistance of her two male friends," said Barah.
Bandana Kalita, according to the police, claimed to have murdered her mother-in-law in her Chandmari neighbourhood flat on July 26 with the assistance of Arup Deka. After suffocating Her with a pillow, they cut her head with a machete and rolling pin when she became unconscious.
"She admitted to chopping the body into three pieces. The pieces were placed in polythene bags and blankets brought by Dhanti Deka. On the early hours of July 27, the three placed the body parts in Dhanti Deka's taxi, drove to Meghalaya, and dumped the head, machete, and rolling pin in a different location from the body parts on the Shillong-Cherrapunjee route. Barah explained that the parts were dropped from a high altitude along the route leading to gorges.
On August 17, Bandana Kalita and her two companions allegedly murdered her husband at the couple's flat in Noonmati by first striking him with an iron rod. When he lost consciousness, the body was cut into five pieces and placed in polythene bags.
"On the early hours of August 18, three individuals travelled to Dawki in Meghalaya near the India-Bangladesh border in the same car. They disposed of the body pieces in a way identical to the initial incident and returned," Barah claimed.
Bandana was arrested along with Dhanti Deka from Tinsukia district and Arup Deka from Khanspara in Guwahati on Sunday after her statement. On Sunday, the three were transported to the Shillong-Cherrapunjee road, where the Assam police, with the assistance of their Meghalaya counterparts, retrieved a few body pieces believed to belong to Shankari Dey.
Monday saw both Dhanti Deka and Arup Deka appear in court and be remanded to police custody. The vehicle used to transport the body parts has also been seized by the police in Tinsukia district.
The mobile phones of Bandana Kalita and Dhanti Deka have been seized, and Shankari Dey's ATM cards have been recovered from her daughter-in-law. The police confirmed that Kalita withdrew funds from her mother-in-bank law's account.
Inquiries revealed that Amarjyoti Dey and Bandana Kalita wed against the desires of their families twelve years ago. Afterwards, Shankari Dey welcomed Bandana Kalita as her daughter-in-law, and the trio resided in their Noonmati apartment together.
"It looks that Amarjyoti did not have gainful employment and utilised narcotics. He was also quite friendly with a large number of women, which led to conflict with his wife. Shankari Dey left the couple and moved to another apartment she owned in the Chandmari neighbourhood, as stated by Barah.
"At some point, Bandana Kalita resolved to get rid of her husband and mother-in-law with the assistance of her two closest friends. It could have been to safeguard the properties of both parties, or because she was tortured by her husband. The motive is now unclear," he continued.
Shankari Dey and her son, according to the police, owned multiple buildings and apartments in the Guwahati neighbourhoods of Chandmari and Noomati and collected a considerable monthly rent from them. Barah stated that while Bandana Kalita is extremely close to both Dhanti Deka and Arup Deka, the precise nature of their connections is now unknown.
"Despite the initial delay in this investigation, we were able to uncover the killings through examination. Our investigations are still ongoing, and we expect to recover the husband's remains shortly. The victims' identities will be determined by forensic analysis and DNA testing. We are convinced that, via scientific inquiry, we will be able to build a rock-solid case against all three defendants," said Barah.