India
At a stadium that accommodates 'Christians' who fled attacks, there are split families and children who are out of school.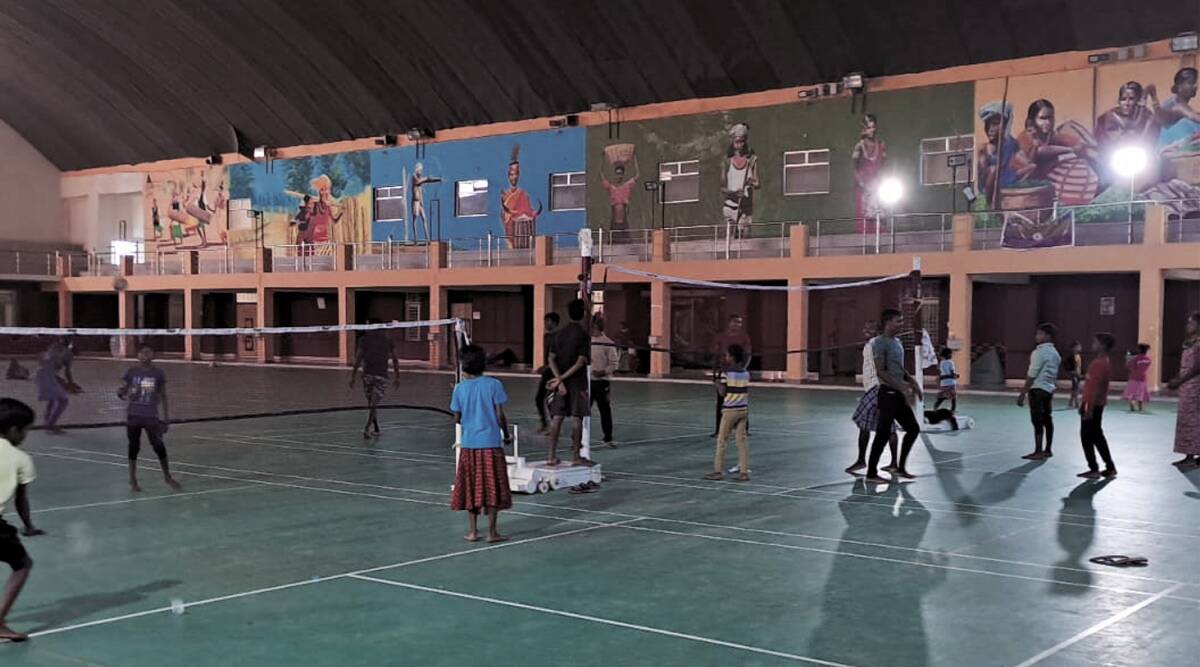 After receiving an ultimatum from the local elders, Suklu Potai, 16, fled his home in Devgaon village, Kanker district, Chhattisgarh, with his mother and three younger siblings last week. "They demanded that we either renounce our Christian beliefs or leave the village. My father stayed behind, but we decided to go," Potai remarked, his voice echoing off the empty badminton court's walls.
The 16-year-old Gond tribal is one of at least 125 people, 36 of whom are children, who have been staying in an indoor stadium in Narayanpur since last month, having fled at least three villages in the district — Bhatpal, Kulhadgaon, and Borawand — and those in nearby Kanker due to rising tensions between the minority tribal community of Christians and the non-Christian tribals.
According to police sources in Narayanpur, at least ten FIRs have been filed against the two groups in the past two months, with seven of these FIRs being filed against members of the majority tribal tribes for allegedly attacking Christians.
On December 18, hundreds of Christian tribals demonstrated in front of the Collector's office, alleging that their fellow villages had subjected them to harassment and violence and that they had been forced to evacuate their homes.
The district administration held negotiations with the sarpanch (village head), gayta (tribal religious leader), and patels to return approximately 375 of the roughly 500 demonstrators to their villages, according to the Narayanpur Collector, Ajeet Vasant (a high-profile position which in several villages is often handled by the sarpanch). However, approximately 31 families, including that of Potai, refused to leave the indoor stadium out of fear.
"We had planned to send these 125 individuals back to their villages by convening a conference with the tribal community elders on January 2, but unrest broke out and the church was attacked on that day. Therefore, the plan had to be postponed," said Collector Vasant, adding that the administration is making steps to ensure that the education of the relocated students does not suffer due to the upcoming Class 10 and 12 examinations.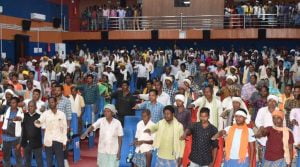 According to the 2011 Census, Hindus make up 92.38 percent of Narayanpur's population, while Christians account for only 0.49 percent. The administration reports that more than ninety percent of the district's population consists of tribal members.
Religion and faith are part of a complex social matrix of Narayanpur, which is both intensely personal and riven with fault lines. Several households have members who claim to be Christian, with the majority identifying as tribal and denying conversion. Their newfound faith was frequently the result of a profound personal crisis, such as a medical emergency, family strife, or societal boycott.
Potai, 16 years old, states at the Narayanpur stadium that he became "attracted" to Christianity in 2014 when he visited his aunt in Malingnar, the district. "My father drinks excessively and does not provide for us. I have five siblings; one infant sibling passed away. When my mother became pregnant again, she became really ill. The sira (a tribal "doctor") prescribed her medication, but it was ineffective. My aunt, a Gondi churchgoer in Malingnar, began praying to Jesus. My mother soon recovered, and my sister was born. My mother, like myself, converted to Christianity. My father is not a Christian, yet he does not object to us believing in Jesus. The only reason he is not helping us is because of pressure from other villagers."
Potai, a ninth-grade student, is concerned about missing school. Since January 1, he has lived at the camp with his mother, two sisters aged eight and four, and a brother aged one. His other two siblings are enrolled at a residential school.
Fear and suspicion are widespread in Borawand, a village 32 kilometres from the city of Narayanpur, from which 23 people have left and are currently staying at the stadium, as a result of the fights between the two tribal groups.
A village elder who ultimately agreed to talk on the condition of anonymity stated, "We will not allow those Christians to reside here. They have no faith in our ceremonies. According to our tribal custom, no ritual — from the birth of a child to the funeral procession — can be performed without the gayta, but they have ceased calling it. Pregnant women are not permitted to touch the faucet in their homes or approach the well, yet these individuals have begun to ask questions and disregard these laws. Our indigenous culture is nearly a millennium old. We are neither Hindu nor adherents of any other faith. If Christianity cured their illness, why would they visit a hospital? I do not know how they are being enticed."
Regarding charges that they beat fellow villagers and forced them to flee, he stated, "We did not fight anyone except Munit Salam, who was one of the first to convert to Christianity. He assured us that he would not propagate the Christian faith, but gradually, many others began to embrace it."
At the Narayanpur stadium, Munit Salam, 25, spoke about the attack, stating, "Trouble began in November when we were urged to renounce our faith at a conference. When we replied no, several peasants attacked me and fractured one of my teeth. I was rescued by police and transported to the camp. Since then, I have not returned to my village. For their safety, my wife and three-month-old daughter are residing separately."
Salam's parents died before he turned eight, and he first visited a church when he was in the eighth grade at an Ashram school in the Kondagaon district. "I enjoyed the music and prayers in church. Several of my health problems also improved. I met my wife through the church in 2021," he stated.
Tensions are high in Bhatpal, a neighbouring village to Borawand, where an incident involving the denial of burial space to a Christian has led to violence.
A tribal leader, who also requested anonymity, stated, "We will not allow them inside the community unless they renounce their religion. These individuals no longer believe in our devi-devta and do not consume prasad. Even our sirha convert to Christianity, which is humiliating."
Arun Pannalal, head of the Chhattisgarh Christian Forum, stated, "The evicted villages require rehabilitation and compensation. Since last year, around one thousand Christians from 22 villages in Chhattisgarh have been persecuted and expelled.