India
At Home Ministry's Chintan Shivir, PM Modi advocates 'One Nation, One Uniform' for police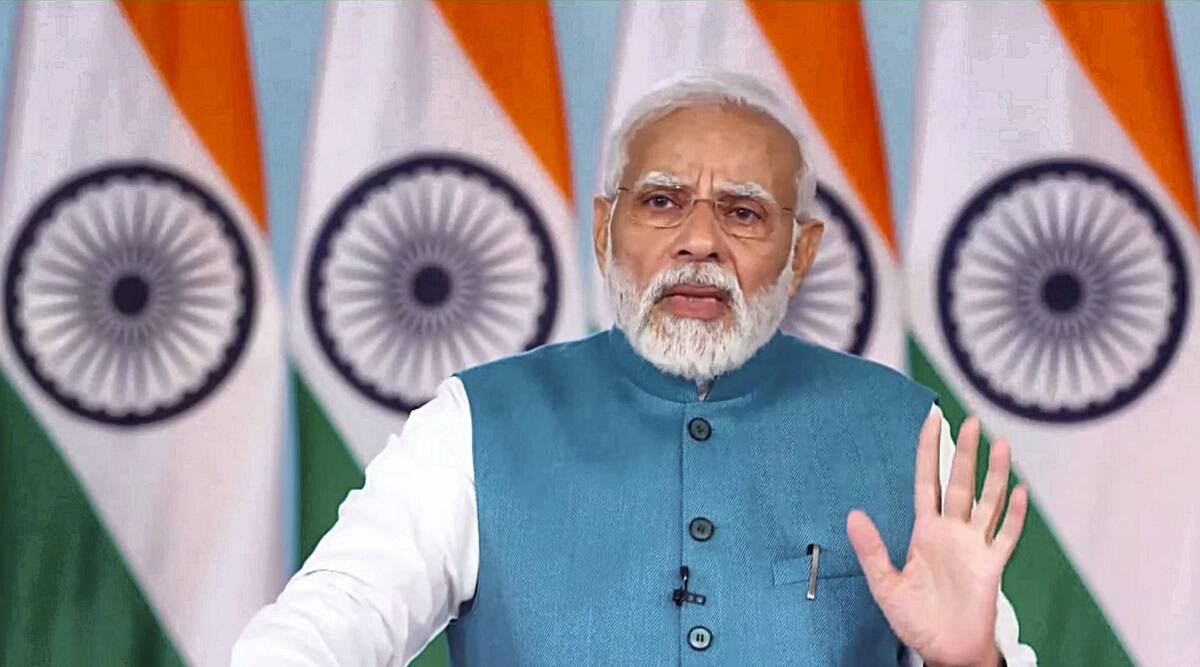 Prime Minister Narendra Modi on Friday floated the idea of ​​'One Nation, One Police Uniform', urging states to consider a single uniform for police across the country, with the states having their number or symbol.
Addressing a Chintan Shivir of state home ministers and police chiefs at Surajkund near Delhi via videoconferencing, Modi said, 'One nation, one uniform for police' is just an idea. I am not trying to impose it on you. Just give it a thought. It could happen; it could happen in 5, 50 or 100 years. All states should consider it."
He said that this would ensure that the identity of the police is uniform across the country. "At present, our country has one Nation-One Ration Card, One Nation-One Mobility Card, One Nation-One Grid, and One Nation-One Sign Language. Similarly, all states should think of a one-nation-one policy… This will give a uniform identity to law enforcement as citizens will recognize police personnel anywhere in the country. Like a post box with a distinct identity, the police uniform should be identifiable across the country," he said.
Referring to social media, Modi said one should not limit it to a source of information as even a single piece of fake news has the potential to become a matter of national concern.
"During the reservation issue, we saw the spread of fake news and the violence that followed. Though things cleared up after 5-6 hours, we faced losses. There is a need to educate people on how to analyze and verify any information from 10 sources before forwarding it. We have to develop technological advancements to stop the spread of fake news."
Reiterating the need to dismantle the grassroots network of terrorism, the Prime Minister said that every government is trying to do its job to the best of its ability and understanding.
He said, 'It is the need of the hour to come together and handle the situation. Every form of Naxalism, be it gun or pen, has to be defeated to stop misleading the country's youth.
Cautioning that such forces are expanding their intellectual sphere to mislead the minds of the generations to come, he said, "For the unity and integrity of the nation, and with the inspiration of Sardar Vallabhbhai Patel, we shall allow such forces to flourish." I can't give. In our country. Such forces get critical help internationally."
He said that the number of Naxal-affected districts in the country had decreased significantly in the last eight years. "J&K or North East, today we are moving fast towards lasting peace. We must focus on rapid development in all these areas, including infrastructure.
Calling for closer cooperation between the states to tackle crimes and criminals, he said that crimes are no longer localized and inter-state; international crimes are rising, so collaboration among state agencies and central and state agencies is essential.
Modi said that the will to deal strictly with corruption, terrorism, and hawala is evident in the laws made by the central government. "Laws like UAPA have strengthened the system in the decisive fight against terrorism," he said.
Later in the evening, sources said the participants agreed that internal security is a shared responsibility of the Center and the states and "everyone should work in the spirit of Team India".
"Everyone should focus on cybercrime, improvement in conviction rate, narcotics, and border security. There is a need for greater use of forensic science during investigations to improve the conviction rate by up to 90 per cent. It was agreed that all states should review targets continuously and annually and make a plan as to where internal security will be in 2047," the sources said.
The gathering was told that 9,200 North-Eastern militants have handed over arms in the last eight years.
Related Posts