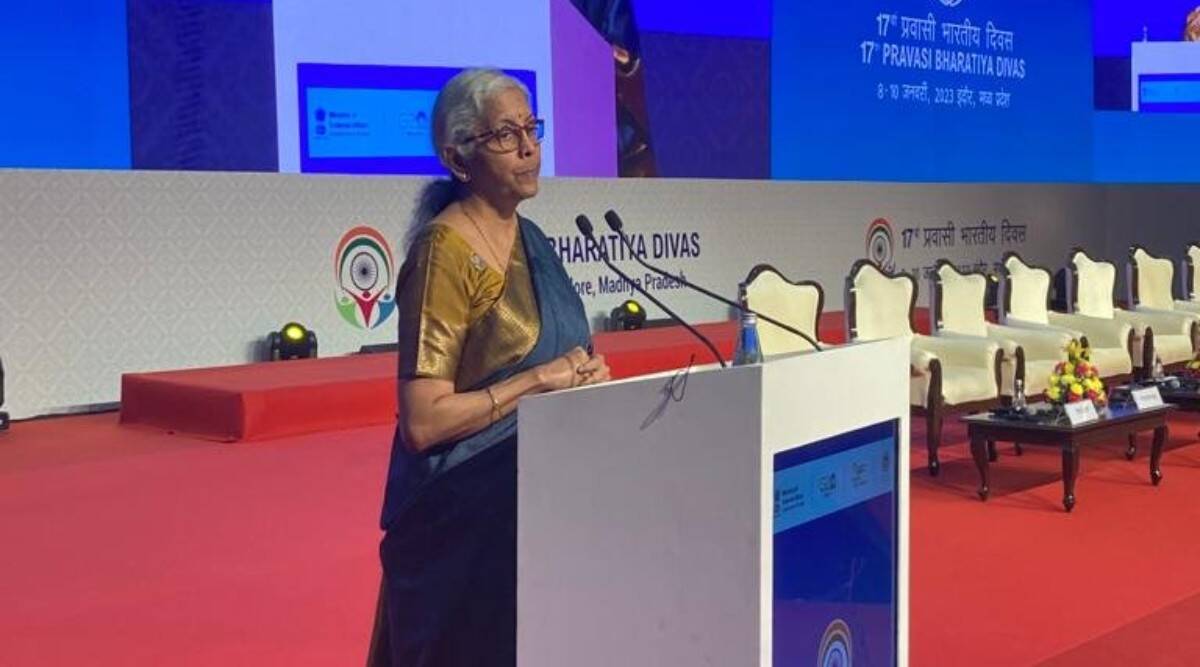 On Tuesday, Nirmala Sitharaman, the minister of finance, urged members of the Indian diaspora to support Indian businesses, large and small, by using Indian goods and services in their capacity as brand ambassadors for India abroad.
Speaking at a plenary session of the Pravasi Bharatiya Divas Convention in Indore, Sitharaman stated that unlike in the past, when the economy was opened up in 1991, the diaspora now has many options thanks to an aspiring Indian population.
Sitharaman hailed the Indian diaspora in her opening remarks, calling the group a "exemplar" for contributing locally while maintaining ties to their roots. She continued, "You have been a community that has made India very proud.
In response to Prime Minister Narendra Modi's claim that Indians living abroad serve as the nation's brand ambassadors, Sitharaman said the diaspora must look into newer avenues to contribute to India's development trajectory and call attention to weaknesses in administrative policies in order to achieve higher standards.
"It implies that you are going to advertise India and Indian brands, and for those companies to be worthy of advertising, you must inform us of what to do and what not to do. Additionally, you'll be sure to use products and services made in India wherever possible. In order to be viewed as processing, utilising, and dispensing goods and services created in India while also promoting Indian brands, Sitharaman added.
As of December 25, 2021, there were 3.2 crore NRIs and PIOs living overseas, according to the Ministry of External Affairs. The finance minister urged expatriate populations to collaborate with "small, medium, huge, or nano" Indian firms.
"So that India can benefit from your potential and whatever entrepreneurial talents you may have within the next 25 years. In order for Indian enterprises located here to benefit from your assistance, and so that together, by 2047, we can grow the nation.
Sitharaman emphasised that India is one of the countries that receives the most remittances from citizens who work abroad. Despite the pandemic's delays, the amount reached $100 billion in 2022, adding that it represented a 12% increase from 2021.
It demonstrates that returning Indian people have actually found extremely useful employment, she added. According to the World Bank, remittances are a crucial source of income for households in low- and middle-income nations like India. According to the World Bank Migration and Development Brief study published in November, India is expected to collect more than $100 billion in remittances annually by 2022, which would be a first.
According to Sitharaman, India is working to establish itself as a viable alternative for companies looking to produce goods and services for markets other than China and the European Union. When it comes to the issue of those manufacturers who would like to leave China (or the EU) and have another location where they can produce, she stated, "We would like to pit India as that plus-one."