India
International
At the NMFT meeting, PM Modi targets Pakistan and China for imposing costs on nations that support terrorism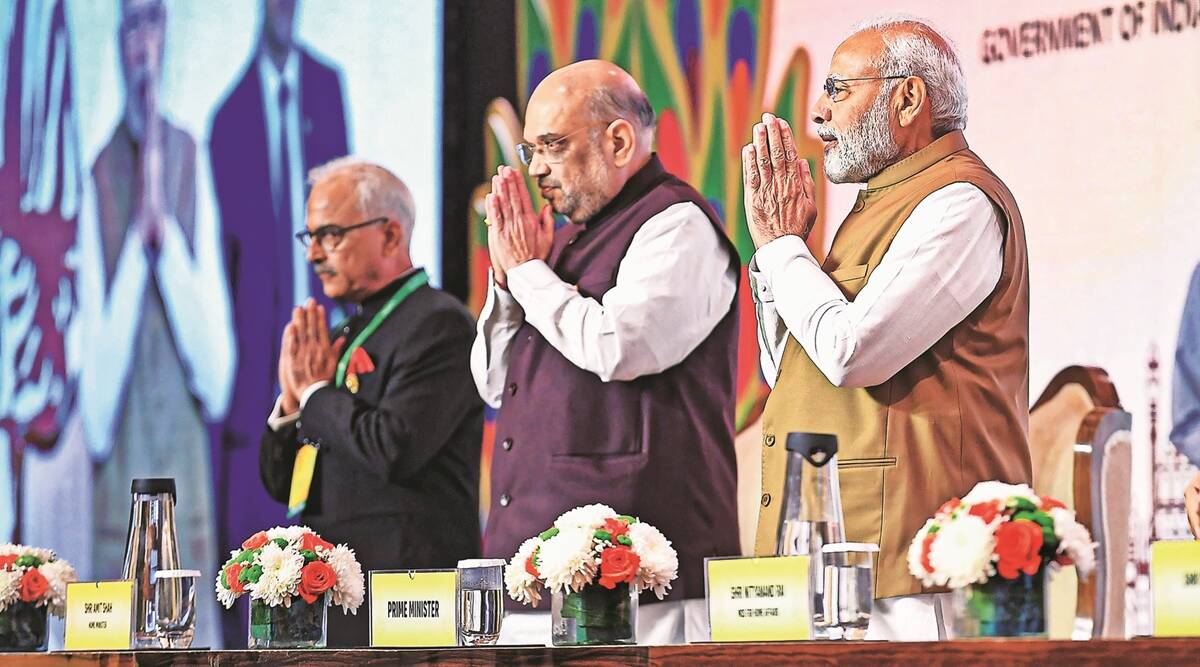 The Prime Minister of India, Narendra Modi, made remarks aimed at Pakistan and China on Friday, stating that while some countries support terrorism "as a part of their foreign policy", others block action against terrorists. During his address, Modi called on the world to unite against such "overt and covert backing of terror". He added that such countries must pay a "cost".
While speaking at the third conference of "No Money for Terror", which was attended by delegations from 72 countries and 15 international organisations, Modi also indirectly criticised the West for its focus on terror groups with global reach. He emphasised the need for a "uniform, unified and zero-tolerance" response to terror attacks regardless of where they occur.
"It is well known that terrorist organisations receive funding from various sources. In addition to state support, there are other sources. The foreign policy of certain countries includes the support of terrorism. Their support includes political, ideological, and financial assistance. A lack of war does not imply peace in the eyes of international organisations. There is also a danger and violence associated with proxy wars, according to Modi.
There must be a cost imposed on countries that support terrorism. Organisations and individuals that try to create sympathy for terrorists must also be isolated. There can be no ifs and buts entertained in such matters. The world needs to unite against all kinds of overt and covert backing of terror," he said.
Addressing the 'No Money for Terror' Ministerial Conference on Counter-Terrorism Financing. https://t.co/M7EhOCYIxS

— Narendra Modi (@narendramodi) November 18, 2022
In the backdrop of China blocking several attempts by India and the US to blacklist Pakistan-based terrorists under the UN Security Council sanctions committee, Modi said: "Sometimes, there are indirect arguments made in support of terrorism to block action against terrorists. There is no place for an ambiguous approach while dealing with a global threat. It is an attack on humanity, freedom and civilisation. It knows no boundaries. Only a uniform, unified and zero-tolerance approach can defeat terrorism."
In a veiled reference to the West's concern over the Islamic State and al Qaeda, with less focus on groups like the Lashkar-e-Taiba and Jaish-e-Mohammed that specifically target India, the PM said: "There are still certain mistaken notions about terrorism in some circles. The intensity of the reaction to different attacks cannot vary based on where it happens. All terrorist attacks deserve equal outrage and action."
Modi underlined that India faced the horrors of terror long before the world took serious note of it. "The delegates can interact with a country and people who have been firm in tackling terror. We consider that even a single attack is one too many. Even a single life lost is one too many. So, we will not rest till terrorism is uprooted," he said.
"Uprooting terrorism needs a larger, proactive, systemic response; If we want our citizens to be safe, we cannot wait until terror comes to our homes," he said.
Emphasising the need to strike at the root of terror financing, Modi said fighting a terrorist and fighting against terrorism are two different things. He told all tactical gains would be lost without a larger strategy to hurt terror groups' finances.
The PM flagged organised crime as one of the sources of terror funding. "Organised crime should not be seen in isolation, and these gangs often have deep links with terrorist outfits. The money made in gun-running, drugs and smuggling is pumped into terrorism. These groups help with logistics and communication too. At times, even money laundering and financial crimes have been known to help terror funding. Fighting it needs global collaboration," he said.
"New kinds of technology are being used for terror financing and recruitment. Challenges from the dark net, private currencies and more are emerging. There is a need for a uniform understanding of new finance technologies. It is also important to involve the private sector in these efforts. A unified system of checks, balances and regulations can emerge from a uniform understanding. The answer is not to demonise technology. Instead, it is to use technology to track, trace and tackle terrorism," he said.
Modi said that in such a complex environment, the United Nations Security Council, Financial Action Task Force, Financial Intelligence Units, and the Egmont Group were boosting cooperation in preventing, detecting, and prosecuting illegal fund flow.
Regarding online radicalisation, Modi said: "Today, cooperation is needed not only in the physical world but also in the virtual world. The infrastructure used for cyber terrorism and online radicalisation is distributed. Some also offer weapons training from a remote location and online resources. Communications, travel, logistics – many chain links exist in different countries. Each country can and must act against the part of the chain within reach."
"Many different nations have their legal principles, procedures and processes. However, we must also be careful not to allow extremists to misuse differences between systems. This can be prevented through deeper coordination and understanding between governments. Joint operations, intelligence coordination and extradition help the fight against terror. It is also important that we jointly address the problem of radicalisation and extremism. Anyone who supports radicalisation should have no place in any country," he said.
The "No Money for Terror" conference started in 2018 as an initiative of the French government to specifically focus on cooperation between countries to choke terror funding. In 2019, the meeting was held in Australia. It was to be born in India in 2020 but was postponed due to the pandemic.
© The Deccan Era (P) Ltd
Related Posts