India
Atiq Ahmed's murder is condemned by Kapil Sibal, Nitish Kumar, and Owaisi, who claim that Uttar Pradesh is under the control of a jungle raj and that murdering criminals is never a solution.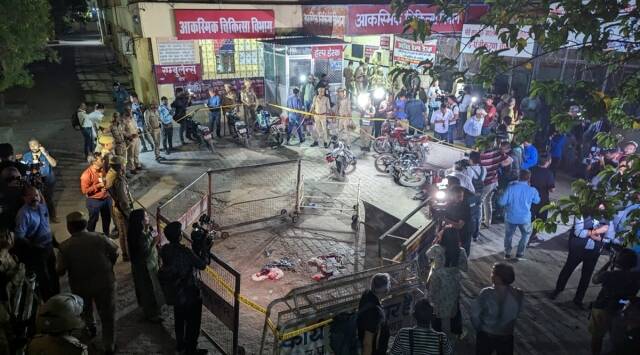 On Monday, a number of opposition leaders, including Mehbooba Mufti, Kapil Sibal, and Asaduddin Owaisi, reacted to the death of gangster-turned-politician Atiq Ahmed and his aide, who was murdered late Saturday night.
Mufti of the People's Democratic Party lamented that Uttar Pradesh is in the "grip of jungle raj,". In contrast, Sibal of Congress attributed Ahmed's death to the eight stages of the "art of elimination."
UP has slipped into anarchy & jungle raj. Cold blooded murders & lawlessness is being celebrated by rabid right wingers amidst slogans of Jai Shri Ram. A clever diversionary tactic to shift attention from Satyapal Malik's damning revelations about Pulwama attack & corruption. https://t.co/Ovrjl9JdQB

— Mehbooba Mufti (@MehboobaMufti) April 16, 2023
Sibal posed a number of concerns regarding the killings, including why the two were taken for a medical examination at 10 p.m. when there was no emergency and why it was "open to the media."
Atiq & Ashraf
(The art of elimination)

Odd:
1) 10pm for medical check up ?
2) No medical emergency
3) made victims walk
4) open to media?
5) assassins unknown to each other at the spot ?
6) weapons above 7lakhs
7) well trained to shoot !
8) All 3 surrendered

— Kapil Sibal (@KapilSibal) April 17, 2023
Nitish Kumar, the chief minister of Bihar, stated that executing criminals is "never a solution." He added, "The police should have ensured their safety. The UP government should consider the state's law and order. The Court provides justice; executing criminals is never a viable option."
Former Bihar chief minister Jitan Ram Manjhi stated that his state has greater law and order than the state governed by the BJP.
In the meantime, JD(U) national president Rajiv Ranjan alias Lalan Singh asserted that the murders of Atiq Ahmad and his brother revealed the "real face" of the BJP. "The pair were slain while in police custody… This demonstrates the disintegration of law and order in the state. Why do BJP leaders maintain stony silence on the matter? The BJP has been thoroughly uncovered… Their leaders have not commented on the death in custody. The people will respond appropriately to the BJP in the general elections of 2024, according to the JD(U) leader.
बिहार में जंगलराज का विलाप करने वाले भाजपाइयों को उत्तरप्रदेश पुलिस फ़ोर्स के समक्ष अपराधियों की ठायें-ठायें और न्यायिक हिरासत में हत्या नहीं दिखाई दे रहा है। लेकिन ढीठ भाजपा सरकार तो न्यायालय व संविधान को ताक पर रखकर कानून की धज्जियां उड़ा रही है और अपनी पीठ खुद थपथपा रही है।…

— Rajiv Ranjan (Lalan) Singh (@LalanSingh_1) April 17, 2023
AIMIM leader Owaisi, Atiq was the second former Muslim MP to be "murdered without impunity."
Atiq is the second Muslim ex-MP who was murdered with impunity. Ehsan Jaffry was ruthlessly hacked to death by a mob in Gujarat in 2002 and today it's Atiq. Shot and killed in police custody.

— Asaduddin Owaisi (@asadowaisi) April 16, 2023
On Saturday night, Atiq Ahmad (60) and his sibling Ashraf were shot dead at point-blank range by three men posing as journalists during a media interaction as they were being escorted to a medical college in Prayagraj for a checkup. In an encounter on Thursday in Jhansi, Atiq's son Asad and his aide Ghulam, both sought in connection with the murder of Umesh Pal, were killed days prior.
The three assailants, Lavlesh Tiwari (22) of Banda, Mohit alias Sunny (23) of Hamirpur, and Arun Maurya (18) of Kasganj, were brought before a district judge on Sunday and remanded to 14 days of judicial custody. According to the FIR, the three gunmen told police that they murdered the Ahmad brothers to gain notoriety in the criminal world.
Between 2004 and 2009, Atiq Ahmed represented the Phulpur Lok Sabha constituency.
The Uttar Pradesh Police have established a three-person Special Investigation Team (SIT) to investigate the murders of Atiq Ahmad and his sibling Ashraf. A three-person team of supervisors has also been assembled in order to ensure a high-quality investigation and timely action. This group is led by Prayagraj's additional director general of police. According to the statement, the other two members are the police commissioner of Prayagraj and the director of the Forensic Science Laboratory in Lucknow.
Related Posts