India
Avoiding personal law, let's examine the Supreme Court's Special Marriage Act.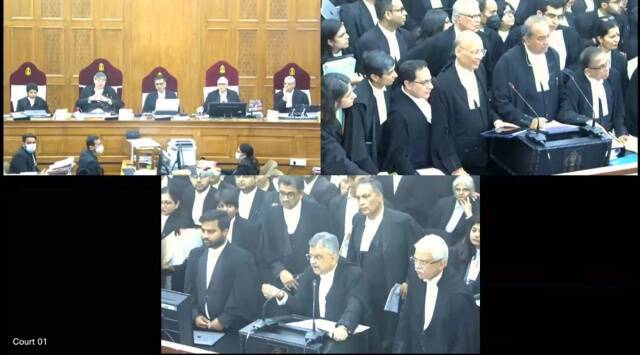 The bench of the Supreme Court is hearing petitions seeking legal recognition of same-sex marriages. The court stated on Tuesday that it would avoid the area of personal laws and will only examine whether the right can be granted under The Special Marriage Act (SMA) of 1954. In response to the argument that the "legislative intent" of marriage has always been a "relationship between a biological male and a biological female," the highest court emphasised that "there is no absolute concept" of a man or a woman.
A five-judge Constitution tribunal, presided over by Chief Justice of India D. Y. Chandrachud, stated that it would not expand its scope beyond the SMA. The bench, which also included Justices S K Kaul, Ravindra Bhat, Hima Kohli, and P S Narasimha, stated that it is preferable to proceed incrementally as opposed to tackling the issue all at once.
"In matters with societal ramifications, incremental change is sometimes preferable. Time is available for everything. Therefore, it was proposed that we restrict ourselves to limited issues for the time being and refrain from addressing issues of personal law, as stated by Justice Kaul.
The Centre's Solicitor General, Tushar Mehta, urged the court to first assess the government's objections to the petitions' maintainability. He stated that the topic entails the formation of a sociolegal marriage relationship, which is the province of the competent legislature.
Mehta also emphasised the significance of states being heard on the issue. He stated that since the subject is on the concurrent list, it is impossible to rule out the possibility of one state supporting it while another opposes it. He argued that the petitions would be invalid if the states were not included.
Not to be missed |Prior to the Supreme Court's hearing of same-sex marriage petitions, the Centre reiterates that it is the legislature's province.
The Chief Justice of India stated that the Solicitor General's preliminary objection was a response to the petition's merits, but Mehta denied this.
Senior Advocate Mukul Rohatgi, representing some of the petitioners, argued that the SG's argument did not hinge on the maintainability of a writ petition filed by a person whose fundamental rights are being restricted. "I have the right to petition this court." He stated that the Constitution grants homosexuals the same privileges as heterosexual groups of society.
Rohatgi stated that the only obstacle to their equal rights was the invalidated IPC section 377. "Criminality no longer exists. The unnatural element or natural order has been removed from our statute. "Therefore, our rights are identical," he argued, adding, "if our rights are identical… then we wish to enjoy the full scope of our rights under (articles) 14, 15, 19, and 21."
He argued that there is still a stigma attached to homosexual relationships that a Supreme Court ruling can only eliminate. "We want privacy in our homes and to avoid being stigmatised in public." Consequently, we desire the same institution between two individuals that is available to others: the notion of marriage and family. Because our society values marriage and family, he stated.
My journey has made me a better person and a better Hindu,' writes Vivek Katju.
Once the court rules that our marriages can be registered under the SMA, society will embrace us. The stigma will not be eliminated until the state recognises it. This will be a complete and conclusive assimilation," he said.
The CJI stated, "Since (the Supreme Court's ruling in) Navtej Johar (in which Section 377 was declared unconstitutional), our society has become much more accepting of same-sex couples. This is very encouraging because it suggests a broader acceptance in our universities. He added, "In this evolving consensus, the court also plays a dialogical role in fostering that consensus and moving towards an equal future."
Menaka Guruswamy, a senior advocate, stated that marriage is not only a matter of dignity but also carries with it an array of rights that the LGBTQ community is denied following the Navtej Johar decision, such as those pertaining to bank accounts, life insurance, and medical insurance. "I am unable to purchase Supreme Court Bar Association (SCBA) health insurance."
Guruswamy stated that any relief short of full marriage would require the LGBTQ community to return to court repeatedly to litigate discrimination claims.
Justice Kaul stated, however, that even in the Puttaswamy case, in which privacy was deemed a fundamental right, "we discovered that there are nuances that arise subsequently. It may necessitate additional court appearances. We can't tell. However, we cannot guarantee that it will be possible to resolve all conceivable nuances at this time."
Mehta stated that societal acceptance of any relationship is independent of both legislation and judgement. "It only comes from within." Moreover, "the legislative intent has always been a relationship between a biological male and a biological female, including SMA," he said.
The CJI disagreed, stating, "There is a very significant value judgement that you are making – that the very concept of a biological man or woman is absolute. This is incorrect." There is no such thing as an absolute concept of a male or a woman. A biological male is not a description of one's genitalia… It is much more complex… Even though the SMA refers to men and women, the definitions of a man and a woman are not absolutes based on genitalia."
The SG stated, "For men, regardless of other characteristics besides the genitals, there are prescribed age limits. The court must decide whether marriage is a fundamental right and whether the right to marry outside of the law is a fundamental right.
He added that if the CJI's concept is used to determine whether an individual is male or female, the court will inadvertently render several acts inapplicable. "If I have the genitalia of a man but am otherwise a woman, as may be suggested, how would I be treated under the CrPC? As a woman, am I permitted to make a statement after a certain period… I could argue that this is merely an assumption (that I am a male). I may have male genitalia, but I am now a woman. Numerous issues need to be addressed; therefore, Parliament should do so."
Related Posts