India
Beyond representation: the role of female voters in seven 2022 Assembly elections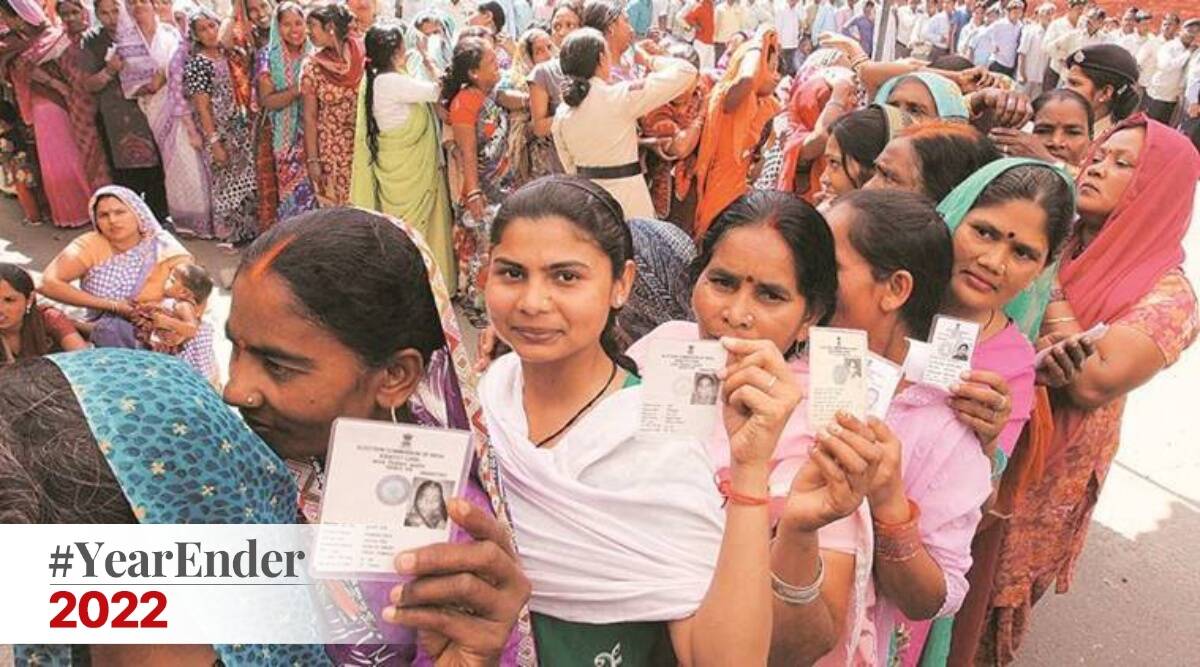 In 2022, seven Indian states had Assembly elections. While Uttar Pradesh, Uttarakhand, Manipur, Punjab, and Goa had their elections in early February and March, Gujarat and Himachal Pradesh held theirs in November and December.
Women's role, not only as candidates but also as voters, was less of a topic of conversation after the election, which winners, losers, the number of seats, and the formation of the government dominated. Despite the fact that parties filed fewer female candidates than male candidates, women were essential in deciding election outcomes.
The highs and lows of politics in 2022 include rising costs, reduced House sessions, and a decline in Muslim representation.
Let's take a careful look at the voter turnout of women in the seven states where elections were held, as well as the likely causes. In doing so, we utilise information from the Election Commission of India (EC) and Lokniti-CSDS, a think tank that researches democracy and electoral politics in India.
The numbers
Article 326 of the Indian Constitution grants the right to vote to every adult Indian citizen, regardless of gender, caste, religion, or geography. "There is a definite trend of growing women's voting involvement in the Assembly elections… it is not episodic," said Sanjay Kumar, professor at Lokniti and expert on women and politics in India.
In all seven states besides Gujarat, the turnout of women voters was greater than that of men in the 2017 and 2022 Assembly elections.
Uttar Pradesh
According to Lokniti-CSDS data, when participation in the two elections was almost 61%, the percentage of female voters was 63.46 and 62.27 correspondingly. This is far greater than the proportion of men who voted (59.31 and 59.39 per cent, respectively).
Uttarakhand
In Uttarakhand, 68.72 percent of female voters participated in the 2017 election and 67.16 percent participated in the 2022 election.
Manipur & Goa
According to Lokniti-CSDS data, 87.99 and 90.51 percent of female voters participated in the two elections in Manipur, whereas in Goa, 77.01 and 80.96 percent of female voters participated in the 2017 and 2022 elections, respectively.
Punjab
In the Punjab Assembly elections, there is a difference between the percentage of male and female voters, albeit a very small one. While 75.88 percent of men voted in 2017, 77.9 percent of women did so. In 2022, 71.32 percent of male voters and 71.9 percent of female voters used their right to vote, respectively.
Himachal Pradesh
Himachal Pradesh is an intriguing case; in the last six elections, the number of female voters outpaced the number of male voters. The polling percentage of women and men was 72.2 and 71.23 percent in 1998, 75.92 and 73.14 percent in 2003, 74.10 and 68.36 percent in 2007, 76.2 and 69.39 percent in 2012, and 77.98 and 70.58 percent in 2017. And in 2022, 76.8% of the female electorate voted, compared to 72.4% of the male electorate.
Gujarat
In Gujarat, one would observe a slightly different dynamic. According to the Election Commission, 66.74 percent of the 3.16 crore voters that participated in the 2022 Assembly elections were men and 61.75 percent were women.
Even in 2017, the percentage of female voters in the western state was lower than that of male voters. According to the EC website, 70 percent of males and 66 percent of women participated in the Assembly elections.
Reasons for the rising participation
Kumar, co-director of Lokniti, identifies "women's exposure to social media" as one of the primary reasons for their growing political participation. Compared to the scenario a decade ago, the majority of young women use cell phones, including some rural women. One cannot also deny that what people view on social media influences their voting behaviour and political inclinations, he said.
In addition, "the provision of reservation for women in local body elections, whether urban body elections or rural panchayat elections, has effectively mobilised women to participate in the electoral process," he said.
Lokniti research indicates that rural women are more involved in local and state politics than urban women, who are more engaged in national politics. "More than one-third of the constitutionally reserved seats for women are filled by women in local governments, indicating that they are elected from non-reserved constituencies," Kumar said. According to Kumar, elected female leaders at the municipal level have been able to mobilise a significant number of female voters.
One must recognise that South Asian women are not a monolithic population. Class, caste, religion, and geography determine candidates' and voters' political participation as candidates and as voters.
The 'winnability' of female candidates remains low
This year, the number of women elected to the Assembly in all seven states has increased, albeit barely.
In 2017 and 2022, 42 and 47 female candidates were elected from Uttar Pradesh constituencies, respectively. In Uttarakhand, the number of female legislators climbed from five in 2017 to eight in 2018.
In Manipur, five women were elected in 2022, up from two in the 2017 Assembly elections. The number of female legislators in Goa increased marginally from two in 2017 to three in 2022.
The number increased significantly in Punjab in 2022. 13 seats in the Assembly were gained by female candidates while 93 women ran for office. In 2017, six of the 27 female candidates were elected to the Legislative Assembly.
In 2022, just one of Himachal Pradesh's 14 female candidates, Reena Kashyap of the BJP's Pachhad constituency, might be elected to the Assembly.
Although the number of female candidates in Gujarat increased from 22 in 2017 to 40 in 2022, their success rate decreased, with only 15 women elected out of 139 who ran.
Lokniti's "Women & Politics: Changing Trends and Emerging Patterns" concludes that "the 'elusive' aspect of 'winnability' is employed as a'mask' to explain why a large percentage of women candidates are not nominated by parties" (142). "Male politicians are still reluctant to run female candidates, mostly because they feel women cannot win elections," Kumar explained.
Kumar asserts, however, that this image is inaccurate. He stated that "winnability" refers to the proportion of men or women elected in an election relative to the total number of candidates. Consequently, "the winnability of women is greater than that of males when examining the number of women who ran in a given election (which is smaller than that of male candidates) and those who were elected to assemblies or parliaments."
Additional determinants of women's electoral involvement
Parties' beneficiary programmes for women are a significant contributing reason to women's increased voter engagement in Assembly elections, with the exception of Gujarat.
Reena Kashyap, the only woman elected this year in Himachal Pradesh, ascribed her victory to the "women empowerment programmes of the BJP."
According to Kumar, "the ruling political parties are introducing a vast number of programmes aimed at women… Through these initiatives targeted at assisting women, the parties hope to demonstrate their concern for female voters… And this is being done by all Indian governments, regardless of party affiliation. Each of their manifestos contains a special section for women."
"An increasing number of women voters who recognise and exercise their right to vote have persuaded the competing parties to include programmes that appeal to women in their platforms," he noted.
According to Lokniti-CSDS statistics, "every third woman" surveyed for the study indicated that "development, governance, and welfare-oriented issues" influence their decision-making.
The future
Despite the fact that the Women's Reservation Bill, which provides a quota for women in Assemblies and Parliament, has not been passed, the rising number of female voters may help influence the fate of political parties and their attitude toward both female candidates and voters.