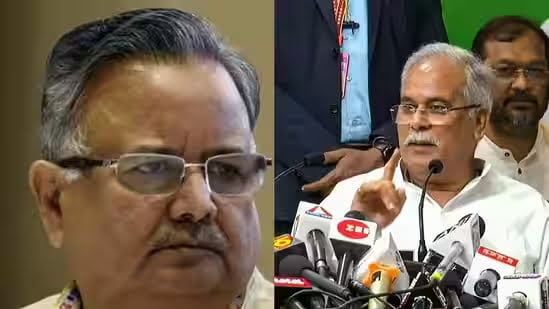 Raman Singh, a former chief minister of Chhattisgarh and a prominent member of the BJP, claimed on Monday that Bhupesh Baghel, his successor, was operating a "cash pick-up service" around the state in preparation for the Congress' plenary session later this week. After Baghel's "stealing" is discovered, Congress, according to Singh, begins to complain. They question the chief minister about how long he plans to continue "looting the riches" of Chhattisgarh in order to "fill the vault" of former party leader Sonia Gandhi.
Raman Singh tweeted in Hindi, "Following the 'cash on delivery' services of Bhupesh Baghel, 'cash pick-up' service is running in the name of Congress plenary session.
He said, "How long will you fill the vault of "10 Janpath" by robbing the resources of mother Chhattisgarh? Every time Bhupesh's theft is discovered, Congress begins to weep.
Singh sent his tweet a few hours after the Enforcement Directorate searched several locations in Chhattisgarh that were connected to Congress leaders. Since early this morning, searches have been conducted at more than a dozen locations, including those of Devendra Yadav, an MLA in Bhilai (Durg district), Ramgopal Agrawal, treasurer of the Chhattisgarh Pradesh Congress Committee, Sushil Sunny Agrawal, chairman of the Chhattisgarh State Building and Other Construction Workers Welfare Board, and RP Singh, the party's state spokesperson, in Raipur.
The development occurs a few days before the plenary session, which is slated to take place from February 24 to 26 and is expected to draw more than 10,000 top officials and members of Congress.
According to Baghel, the raid demonstrates the BJP's dissatisfaction with the Raipur party convention and the Hindenburg report's exposé of Gautam Adani, a billionaire.
"Such acts (raids by government agencies) occur whenever the House takes any significant action…
The Congress poses a threat to the BJP-led Center. The Congress' "Bharat Jodo Yatra" caused the BJP to become uneasy, and now they are terrified of the plenary session that would be conducted in Raipur, according to Baghel.
Baghel stated, "the goal is to generate panic by taking action against specific members of Congress, citing the names of the leaders facing raids. Why should we fear them (BJP) when we weren't terrified of the British?, Baghel continued.
Raman Singh was singled out by Baghel, who claimed that each time there is a raid, he becomes the agency's spokesperson.
"The four years of the Congress government had accomplished what he couldn't in 15 years and won hearts."