India
Blinken, the top U.S. diplomat, arrives in Delhi on the strength of Biden's record in India.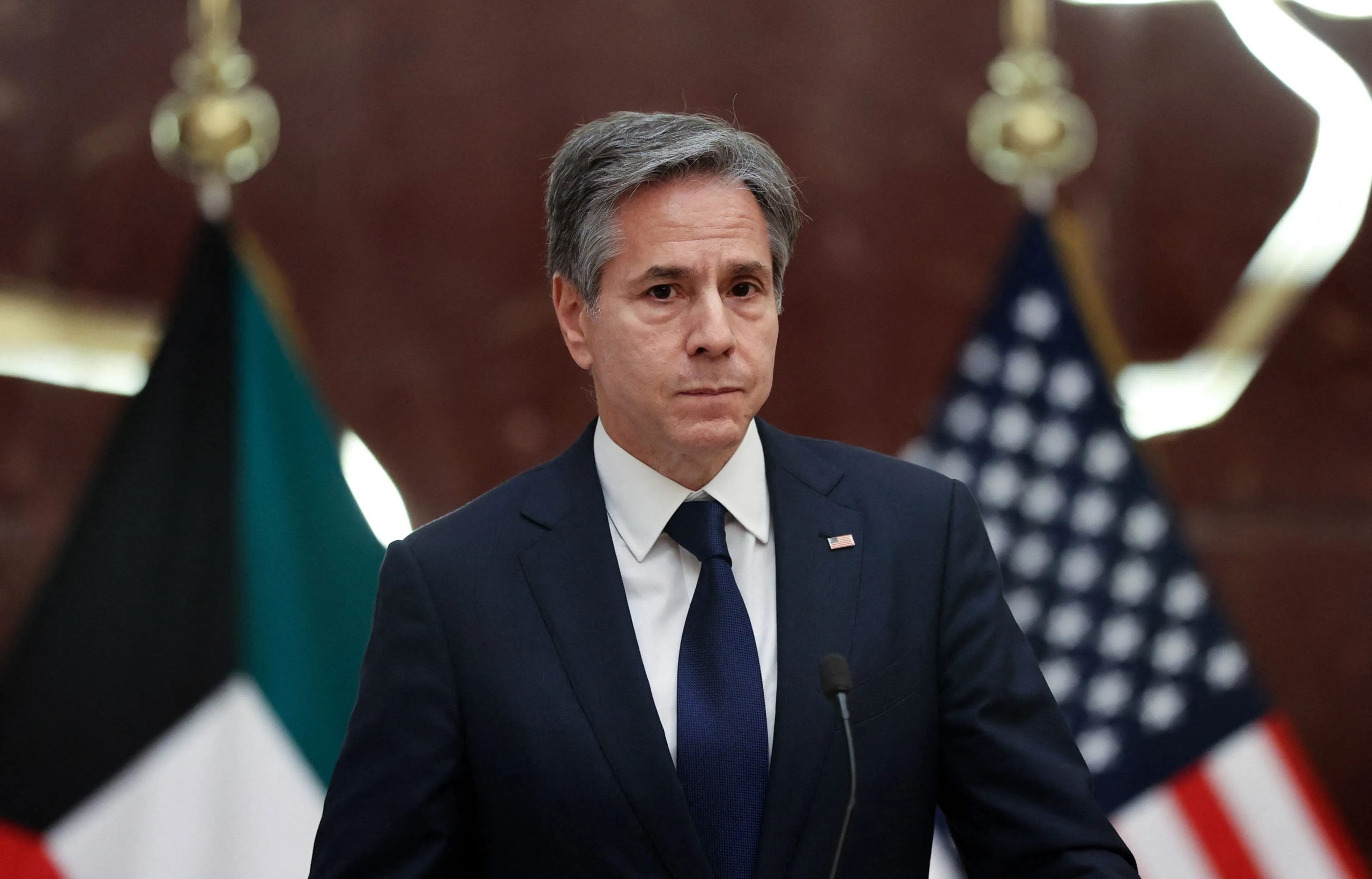 As United States (US) Secretary of State Antony J. Blinken arrives in Delhi for his second visit to India, two years into President Joe Biden's term, he will be representing an administration that has already proven to be one of the most influential in terms of the United States' relationship with India.
Certainly, the Biden team has just continued the tradition that Bill Clinton began with his historic visit to India in 2000. This was bolstered by George W. Bush, who showed exceptional personal dedication to the nuclear deal.
Barack Obama was the first president of the United States to attend Republic Day as the chief guest. And it was advanced by the unpredictable Donald Trump, who stayed pretty predictable on India and whose strategic pivot on China gave the relationship with Delhi extra significance.
Hence, Biden is the fifth US president to establish a political presence in India. But, while his term represents continuity, it has also represented a departure.
As a result of India's domestic trajectory and its perceived participation in American politics, there were apprehensions when he assumed office two years earlier, following a tumultuous transition of power, over the impact on the relationship with India.
There was also a lack of clarity about the US's approach against China. Due to the United States' disengagement from Afghanistan, there was scepticism. The Russian invasion of Ukraine was one of the most challenging geopolitical tests bilateral relations have faced during the past two decades.
But, Biden and Blinken have acknowledged India's limitations, acknowledged its unique status, treated India's concerns with respect, made Delhi a partner in global conversations, handled disagreements with maturity, and taken moves to recast the relationship. Biden has done more and paid more attention to the India relationship in his first two years in office than any other president.
The political apprehension
The concerns over what a Biden presidency would signify for India arise from three primary sources.
Key progressive Democrats had been critical of the Bharatiya Janata Party's domestic political trajectory in India (BJP).
In 2019, after the rulings on Kashmir and the Citizenship (Amendment) Act, India became the target of harsh criticism on Capitol Hill and among Democratic presidential candidates.
While Obama, a Democrat, dealt with the BJP-led government, domestic divisiveness in India expanded, and concerns over its perceived "democratic backsliding" grew. It was unclear how a new Democratic administration would approach a "new India" in light of these developments.
Biden and Blinken have not allowed their ideologies to influence their assessment of India, despite the fact that individual American officials may be uneasy with the evolution of Indian politics and portions of the US administration — especially the office of religious freedom in the State Department — and Capitol Hill may be publicly critical.
Systematically, it is acknowledged that Narendra Modi is India's legitimately elected and very popular prime leader, offering the country a high degree of political stability in a volatile neighbourhood.
There is a perception that India's policy transformations present chances for U.S. national security and commercial objectives.
It is believed that the strategic relationship with India, i.e., the shared fear about China, is too valuable to risk.
Authorities are aware that neither the United States nor India are perfect democracies, but they must work together to deal with a communist China.
But, the triumph of pragmatism also derives from other factors. This is no longer a unipolar time, and the United States is aware that it lacks the tools to follow up on critical public pronouncements with real action; if it pursues an interventionist policy, it risks alienating public opinion in India.
Its experience with the Saudi state was illustrative of the limits of American power; Biden came to office pledging to teach the kingdom a lesson for its alleged complicity in the murder of writer, activist, and US permanent resident Jamal Khashoggi, only to visit Riyadh to make up.
And after the years of Donald Trump and January 6, the United States itself lost its moral authority to lecture other nations about democracy.
Realism triumphed. The nature of India's political regime did not become a constraint in the relationship, despite privately expressed concerns and an extraordinary amount of time spent on damage control by Indian diplomats in response to domestic political actions that can be interpreted as authoritarian and intolerant.
India's bipartisan outreach
The second source of anxiety was India's political role in the United States. In an election year, the Hello Modi event in Houston and the Modi-Trump rally in Ahmedabad illustrated what appeared to be a fairly biassed stance by the BJP in favour of the Republicans, causing significant Democrats to be suspicious.
As the Indian ambassador to the United States, Taranjit Singh Sandhu, assumed office in early 2020, he prioritised creating political bridges.
During the Indian nuclear tests in the late 1990s, Sandhu served as a young political officer before becoming the deputy head of mission between 2013 and 2016.
Each times, Democrats were in power, and He reached out to his former connections, including members of Joe Biden's key foreign policy team, to reestablish ties.
On August 15, 2020, to commemorate India's Independence Day, Blinken and Biden's future national security adviser Jake Sullivan delivered words of solidarity and support indicating that Biden's team loved India and understood its significance.
On November 8, 2020, India sent possibly the most significant political signal of its bipartisan approach to US politics.
Even as Trump questioned the integrity of the presidential election result, Modi congratulated Biden on his "great victory" with a tweet.
Biden and Modi met on the phone nine days after Biden's team noted that India had respected the democratic outcome and had not been persuaded by Trump.
On January 6, after Trump incited a mob to attack the US Capitol, Modi tweeted that he was "distressed" by the news of the rioting and violence in Washington DC. He emphasised the significance of an orderly and peaceful transfer of power and respect for democratic procedures.
The perceptional damage was mitigated due to India's solid political judgement at each level of the US electoral process.
Since then, India has maintained extensive contact with both political extremes. External Affairs Minister S. Jaishankar has possibly the best understanding of the complexities of US politics within the Indian system.
Sandhu has formed friendly relationships with senior White House officials, with deputy NSA director Jon Finer describing him as one of Washington's "most effective ambassadors." Take the last two weeks as an illustration of how attuned he is to the movements in the US Congress due to his prior experience on Capitol Hill. While Democratic Senate majority leader Charles Schumer led the most powerful Senate delegation ever to visit India, Republican House speaker Kevin McCarthy welcomed Sandhu to his home state of California and pledged to visit India during his tenure.
As Delaware governor John Carney, a Democrat from Biden's home state, visited Delhi, Sandhu chatted with Florida governor Ron DeSantis, who is expected to be a leading candidate for the GOP presidential nomination in 2024.
The engagement has expanded to include states. Sandhu has visited numerous states in the past few months, including California, Arizona, Georgia, Ohio, Indiana, and Massachusetts.
And the outreach is credible because American leaders value India. Since both parties court Indian Americans, there is a diaspora angle.
India has also presented itself as a partner in the areas of health (as the world leader in pharmaceuticals), energy (as both an importer of American energy and an ally on renewable energy), technology (as the source of a huge talent pool, a trusted location, and a market), and the economy (as a trading partner, a source of investment in American markets, and a destination for American capital).
This is music to the ears of senators, representatives, governors, and state legislators of all political parties. India remains one of the few issues in a fragmented political system on which all parties agree.
China reset
The third cause of fear arose from sectors in Delhi's concern that, despite the fact that Trump had reset the United States' strategic orientation towards China and adopted an aggressive stance, it was uncertain if Democrats would maintain it.
Under Biden, however, the United States has not only maintained Trump's hard stance towards China, but has also chosen a smarter strategy to Beijing and bolstered mechanisms such as Quad to fight China's aggression in the Indo-Pacific and beyond.
The fact that Biden's core staff was united in their approach to China and conscious of India's significance in the strategic equation was beneficial.
Bill Burns, head of the Central Intelligence Agency and a major negotiator during the nuclear negotiations, had previously worked with India.
They understood that the threat posed by China to the global order, American interests, and peace and stability in the Indo-Pacific had intensified under Xi Jinping, and they heeded the lessons they had learned from their previous administration under Obama.
Sullivan staffed his national security council with those who had a demonstrated history of comprehending the China danger.
Kurt Campbell was appointed coordinator of the Council's newly established Indo-Pacific cell.
Laura Rosenberger and Rush Doshi assumed responsibility for the China account, while Tarun Chhabra assumed responsibility for the tech and national security account.
Wendy Sherman and Victoria Nuland, both deputy secretaries at the State Department, had no illusions about China. Donald Lu, who had two postings in Delhi and served as ambassador to Kazakhstan, retained an innate appreciation for Indian democracy and had witnessed what Chinese expansionism in Asia entailed, was appointed as assistant secretary for South and Central Asia.
And in the Pentagon, defence secretary Lloyd Austin and assistant secretary for Indo-Pacific affairs Ely Ratner were aware that China posed both a present and future threat. John Kerry, the lone exception, desired a more amicable relationship with China, but he was in the minority.
Whether Republican or Democrat, there is now a consensus in Washington's political and deep State concerning Beijing, and India has reaped the most benefits.
Three tests
Under the Biden administration, the relationship underwent three tests, each of which reinforced ties in certain respects. The first was Covid-19, in which the United States mobilised all available resources to combat the Delta wave in India during the summer of 2021. Biden mirrored Trump when he stated that India had assisted the United States in times of need and that the United States would do the same.
In addition to the humanitarian dimension, the amount of urgency demonstrated by American leaders at the time indicated to many observers of the relationship that the United States was involved in guaranteeing India's success.
Afghanistan was the second test, as the Biden administration persevered with the poorly designed Doha agreement with the Taliban and withdrew troops, only to have Kabul fall.
The security interests of India were gravely threatened. In this instance, however, Delhi chose not to publicly criticise Washington, recognising that the United States had spent two decades in the country and that there was no political desire for a continuing military commitment. In contrast, the withdrawal diminished American reliance on Pakistan. And India and the United States began to acquire a mutual understanding of the international community's red lines with regard to Kabul.
Ukraine eventually emerged as a major source of tension in the partnership. Nevertheless, as reported by Deccan Era in an essay published last week, Washington downplayed the differences, while India was forthright about its dilemma. As a result, Washington now views Delhi as a crucial conduit to Russia in times of crisis.
According to Blinken and Burns, India's strong message to Vladimir Putin regarding the inadmissibility of nuclear weapons was beneficial non 2013. India's posture developed as it chose not to publicly criticise Moscow but instead reaffirmed its commitment to sovereignty and territorial integrity, secretly accelerated efforts to diversify ties, and strengthened its ties with Europe and the United States. The United States' insistence on including the Ukraine issue in G20 discussions makes it harder for India to reach a consensus, yet the bilateral relationship has emerged stronger from the test.
Blinken will come in Delhi against this backdrop to establish the groundwork for deeper ties, share evaluations, and prepare for Modi's likely state visit to Washington this summer and Biden's visit to Delhi in September. India and the United States have once more disproved the sceptics.
Related Posts