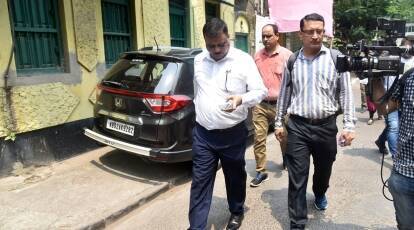 Monday, the Central Bureau of Investigation (CBI) detained Jiban Krishna Saha, an assemblyman for the Trinamool Congress (TMC), for alleged irregularities in the recruitment of assistant teachers in West Bengal government schools. According to sources, Saha was detained early on Monday morning following a 65-hour interrogation.
Saha, following Partha Chatterjee and Manik Bhattacharya, is the third MLA to be detained in the alleged school job scam.
Last week, the CBI conducted investigations at six locations in Birbhum, Murshidabad, and Kolkata, West Bengal, including Saha's residence. Since Friday, CBI agents have been stationed at Saha's residence. In the past three days, agency officials have questioned Saha, an MLA from the state's Burwan constituency, multiple times.
Investigators asserted on Saturday that they recovered five bags of "incriminating" documents from bushes near the boundary wall of the legislator's property during the search. Photographs of job applicants who paid bribes to obtain employment are attached to the documents. According to the allegations, the bribes collected from candidates are estimated to be worth several crores of rupees, a CBI official said.
He also allegedly dumped two of his mobile phones in the pond behind his home, but the CBI was able to recover one of them after hours of searching using pumps and other equipment, and sent it to the Central Forensic Science Laboratory (CFSl) to retrieve the data. They are attempting to retrieve the lost phone.
According to the CBI, the Burwan MLA allegedly acted as the primary conduit for the collection of money from applicants for the recruitment of teachers for classes 9 and 10.
"It was alleged that the accused acted as a conduit to collect money from candidates by promising them jobs as teachers in the education department during the 1st SLST 2016 recruitment process for classes 9 and 10." During the searches, several incriminating materials, including recruitment documents for primary and secondary school teachers, as well as documents containing a list of candidates and the amounts mentioned against them, were recovered, according to a CBI spokesperson.
On the instruction of the Calcutta High Court, the agency opened an investigation into the alleged recruitment scam involving Group D employees in government schools last April. The court has ordered an investigation into the scam, in which the involvement of former West Bengal School Service Commission (SSC) advisor S. P. Sinha is also being investigated.
As it pertains to the appointment of assistant instructors in classes 9 and 10, Justice Abhijit Gangopadhyay opined that the CBI should open a fresh investigation into this matter. Justice Gangopadhyay had instructed the CBI to investigate the matter and reinterrogate Dr. Santi Prasad Sinha and other committee members in light of the shocking revelation.
More than twelve individuals, including former education minister Partha Chatterjee and State Education Department personnel, are incarcerated for their alleged involvement in the scam. The scheme entails illegally providing employment in state-run schools for financial gain.
Related Posts