India
Chairman of the Rajya Sabha Jagdeep Dhankhar criticises Sonia Gandhi's remarks on the judiciary, calling them "very unacceptable."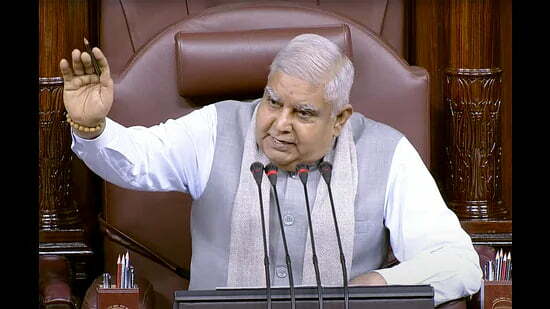 Vice President and Rajya Sabha Chairperson Jagdeep Dhankhar expressed unhappiness with Congress leader Sonia Gandhi's remarks concerning a "planned endeavour" to "delegitimize the judiciary" and stated that political leaders should not "subject high constitutional posts to partisan positions."
Dhankar stated in the Upper House of Parliament on Thursday that Gandhi's statement is "far off from his thoughts" and that "delegitimizing the court is beyond his ken." He said, "The remarks are grossly improper and demonstrate a lack of faith in democracy, necessitating this unprecedented response."
"The statement made by the honourable UPA (United Progressive Alliance) chairperson is far apart from my thoughts. The delegitimization of the judiciary is inconceivable to me. It is a cornerstone of democracy. Dhankhar stated, "I would advise and expect politicians across the political spectrum to remember not to politicise high constitutional offices.
The chairman of the Rajya Sabha stated, "Parliamentary sovereignty is vital to democracy and is non-negotiable." Subscribing to this is vital if democracy is to endure and flourish. I had emphasised that democracy thrives when its three components — the legislature, the judiciary, and the executive — adhere rigorously to their respective jurisdictions."
He said, "The sublimity of the idea of separation of powers is realised when the legislative, the judiciary, and the executive perform optimally in tandem and cooperation, assuring strict adherence to their respective jurisdictional domains. In addition, I had stated that this chamber is in an enviable position to take proactive measures to foster harmony between these branches of government."
On Wednesday, when addressing the Congress Parliamentary Party, of which she is the chairwoman, in Parliament, Gandhi stated, "A disturbing new development is the ongoing effort to delegitimize the court. Ministers, as well as a high constitutional authority, have been mobilised to deliver speeches opposing the judiciary on a variety of reasons. Clearly, no effort has been made to make realistic suggestions for improvement. Rather, it is an effort to diminish the judiciary's stature in the eyes of the public."
On the first day of the Winter Session, December 7, Dhankhar addressed a strong message to the Supreme Court, referencing its 2015 decision to strike down the National Judicial Appointments Commission Act (NJAC Act). He described it as a "glaring example" of "serious compromise" of parliamentary autonomy and disdain for the "people's mandate."
He stated that Parliament, as the guardian of the "people's will," was obligated to "handle the issue" and expressed confidence that "it will do so."
"In a similar vein, the Parliament enacted the 99th Constitutional Amendment Bill, clearing the way for the National Judicial Appointment Commission, in a much-needed historic move" (NJAC). It received extraordinary support… On August 13, 2014, the Lok Sabha voted unanimously in favour of the bill, with no abstentions. On August 14, 2014, this House also passed it unanimously, with one abstention. "Very rarely in the history of parliamentary democracy has there been such widespread support for Constitutional legislation," he stated.
Dhankhar continued, "There is no precedent in democratic history for such a court overturning of a fully legitimised constitutional provision. A blatant example of a serious breach of parliamentary sovereignty and contempt for the mandate of the people entrusted to this House and the Lok Sabha."