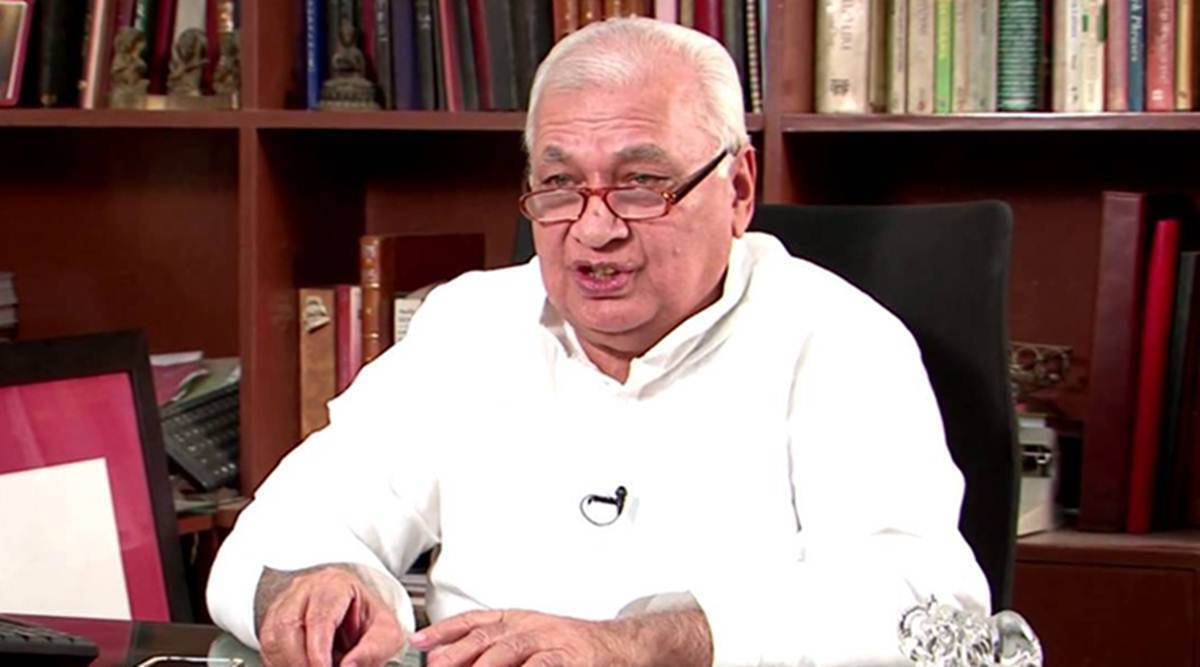 The Kerala Governor Arif Mohammed Khan stated on Monday that it is the result of a "national convention" and a "national consensus" that Governors hold the position of Chancellor by their place and not due to the sweet will of a state government.
According to Khan, nepotism in university appointments is unacceptable, and Chief Minister Pinarayi Vijayan should be held accountable if he is unaware of what is occurring in his office. As a dig at Vijayan, he stated, "if he was unaware that someone from his office was directing the Vice-Chancellor of Kannur University to appoint a relative, that shows how incompetent he (CM) truly is." Khan arrived here from Delhi just a day ago and stated, "If he (CM) knew it, he is equally responsible."
In addition, he denied that the universities were engaged in a "cleansing action".
There is no cleansing act involved. There is a need to restore the pristine glory of universities. "They must be free of the 'Bhai-bhatijavad', the nepotism," Khan emphasized.
Chancellors are responsible for ensuring no executive interference in universities, which is why Governors have the office of Chancellor by their position.
Before Kerala became a state in 1956, the Governor was the Chancellor of universities. As a result of this, a national consensus has been established, and a national convention has been established. In what way? To ensure that universities are free from executive interference and that their autonomy is protected.
They can't break a national convention or national consensus. They are unable to do so. Before leaving for Thiruvananthapuram on Monday morning, he told reporters in Ernakulam, "Let them try."
The Left government has claimed that the Governor was given the position of Chancellor by legislation passed by the Assembly, and therefore, that position can be revoked.
Khan responded to queries regarding the ordinance to remove him from the office of Chancellor by the Kerala government and other moves in that direction by stating that these efforts were aimed at "diverting attention" from recent court rulings and "covering up the embarrassment" caused by those orders.
In essence, what are they doing at the moment? As a result of judicial verdicts, they have been upset and wish to divert attention from the Governor. There will be no such event. If they break the law, the Governor is the first reviewing authority, but it will ultimately go to the courts.
It is not necessary to worry about these matters. According to him, they are simply trying to cover up the embarrassment they have caused.
As a result of the recent controversy surrounding some appointments within the Thiruvananthapuram Corporation, Khan stated that "from corporations to universities, only cadre people will be appointed." "The people elect the government, so it must work for them, not for their cadres." He added that the government now works exclusively for its cadres.
Khan was asked whether he felt vindicated in light of the recent Kerala High Court ruling quashing the appointment of the Vice Chancellor of KUFOS and holding that Priya Varghese did not possess the necessary teaching experience to become a Malayalam Associate Professor at Kannur University. He replied that it was not a personal fight for him. There is no emotional conflict with anyone. My responsibility is to prevent the appointment of underqualified and unqualified individuals in universities based on favouritism and nepotism.
The University of Georgia will only appoint qualified candidates who meet the requirements set forth by the UGC. As a result, I am not seeking personal retribution. There is no need for me to be necessary. There is no importance to the individual. The ordinary person must feel that he has equal protection under the law and equality before the law," he said.
K K Ragesh's wife Varghese is Vijayan's private secretary.
Khan said he would investigate reports that the interim Vice Chancellor of APJ Abdul Kalam Technological University, formerly Kerala Technological University, Ciza Thomas, was not receiving adequate support.
"If you need support, you may ask someone else to assist. It is a different matter. This is a criminal offence when obstructions are created during her official duties. Then we must take note of it," he concluded.
Regarding appointments to his staff, Khan stated, "Personal staff are solely the responsibility of the individual who makes the appointment. I have appointed it. It is sanctioned that a certain number of people be present. Please let me know where there is a violation of the law. As a result of his remarks, the state government is reportedly planning to enact legislation in the coming Assembly session in December to remove the Governor as Chancellor of universities and replace him with eminent academicians in the position. His remarks come in the wake of his remarks.
It has been a tussle between the Governor and the left-leaning government over the functioning of universities, especially the appointment of professors, and the non-signing of specific bills for several months.
In addition, the Left Front organized a massive demonstration against the Governor's actions at the Raj Bhavan, his residence and office in the state capital.
© The Deccan Era (P) Ltd