The government of Chhattisgarh is setting up 300 Rural Industrial Park (RIPA) units in the state at a cost of Rs 600 crore. The goal is to give villagers enough money to support themselves.
The villagers who used to sell the raw materials for different forest products will now be able to use RIPA units to make, process, and sell the finished products anywhere, even at C-marts in the city. The plan is part of the Suraji village scheme, which is run by the state government.
On the day of the Republic, Chief Minister Bhupesh Baghel opened the first RIPA unit in the Bastar district. The state's district administrations have been told to finish work on the last 299 RIPA units by the end of March. There are 9,596 villages in the state.
CM Baghel said that the government is trying to give villagers more jobs so they don't have to leave their villages, and that RIPA would give them the resources they need. "Local people are making more money from processing and adding value to the small forest products they collect. People from Bastar used to sell cocoons that they used to make threads, but now they make threads at RIPA. With RIPA, we are making Gandhi's dream of Gram Swaraj come true (self-governance in village). "RIPA will make villages independent, give the economy more power, and give women the ability to take care of themselves," the CM said in a statement.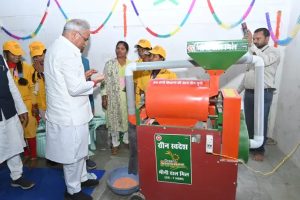 Each RIPA unit gets a grant of Rs 2 crore, but the first one in Turenar village, Jagdalpur tehsil, Bastar district, costs Rs 3.30 crore to build. The unit is on 5 acres and has rooms for people from the village who come for training before they are hired.
The Bastar RIPA unit will give the mushroom spawn lab the tools it needs to grow mushrooms and process cashews, millets, dal, and other crops. The main things that will be done at the RIPA unit are making tamarind candies, chapatis, silk thread, chicken farming, oil extraction, and making non-woven bags, paper bags, paper bowls and plates, natural cow dung paint, cotton cloth, fish feed, and bakery items.
"So far, 200 people from the village have been hired at the unit, and another 150 people from the village have trained them. At RIPA, the government will give villagers sheds, water, electricity, machines, and training, said Chandan Kumar, the Bastar district collector.
The department of panchayat and rural development in Chhattisgarh put money in the last budget for RIPA to be set up.