India
Cong's 138th foundation day: According to Kharge, the Rahul Yatra is reviving party members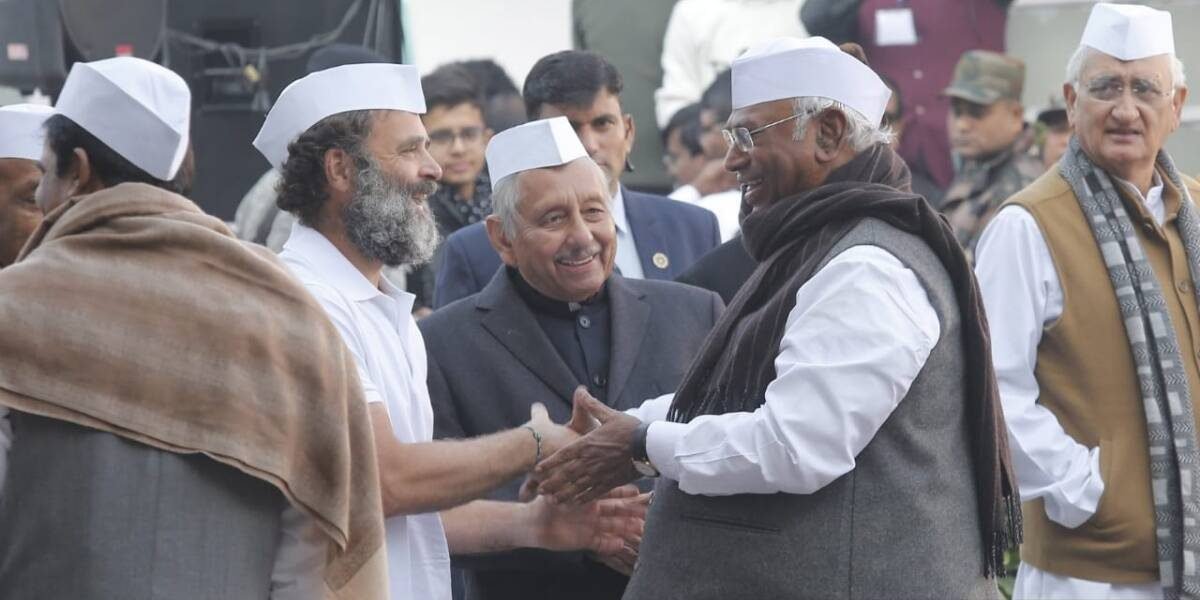 According to Congress President Mallikarjun Kharge, the Bharat Jodo Yatra has started a backlash against "hate, price hikes, and unemployment" in the nation. He urged people to join the march in order to fend off the "relentless attacks" on India's core values.
At the AICC headquarters in this city, where the party was celebrating its 138th foundation day, Kharge gave a speech. He said the yatra, which would restart on January 3, had already begun revitalising millions of Congress workers nationwide.
"India's core spirit is being systematically destroyed. Hostile craters are being created all around the nation. People are suffering as a result of rising prices and unemployment, but the government is unconcerned, according to Kharge.
Kharge recalled the history of the Congress and asserted that the Congress' influence could be seen in every achievement of independent India. According to him, several nations that attained independence about the same time as India did reverted to autocratic forms of rule.
India, on the other hand, advanced quickly in a number of fields, he claimed. "This did not occur by accident. It is the result of Congress's trust in democracy, its inclusive worldview, and its aptitude for science. Due to its complete reliance on the Constitution, which ensures that everyone has equal rights and opportunities, according to Kharge.
"Five out of the 14 ministers of Prime Minister Jawaharlal Nehru's first cabinet were not members of the Congress. This symbolises the idea of bringing everyone together and was done to improve Indian democracy, he remarked.
Sonia Gandhi, a former president of the Congress, party leader Rahul Gandhi, and many more were present. On this occasion, Kharge also raised the party's flag. Later, he went to a celebration in Mumbai to commemorate the day the Congress was founded there in 1885.
Rahul Gandhi tweeted, "I am proud to be a part of such an organisation which in every circumstance chose the road of truth, non-violence and struggle and always took every step in the public good.
In his remarks, Kharge also emphasised the successes of the UPA government, headed by the Congress, between 2004 and 2014, when laws like the National Food Security Act, the Forest Rights Act, the RTI, and RTE were passed.
To further the inclusive aspect of the party and the "battle against divisive elements," Kharge said the Congress must ensure that more young people, women, individuals from underprivileged groups, and intellectuals are included.
"Rahul Gandhi's Bharat Jodo Yatra, which is serving like a sanjeevani in reviving millions of Congress activists across the nation, has started this. The yatra revealed how widely supported the Congress's philosophy is, which alarmed our adversaries. I call to people to join this struggle and the yatra for the benefit of a better future for the nation," the Congress president added.