India
Countries that employ transnational terrorism for narrow political ends must be held accountable. India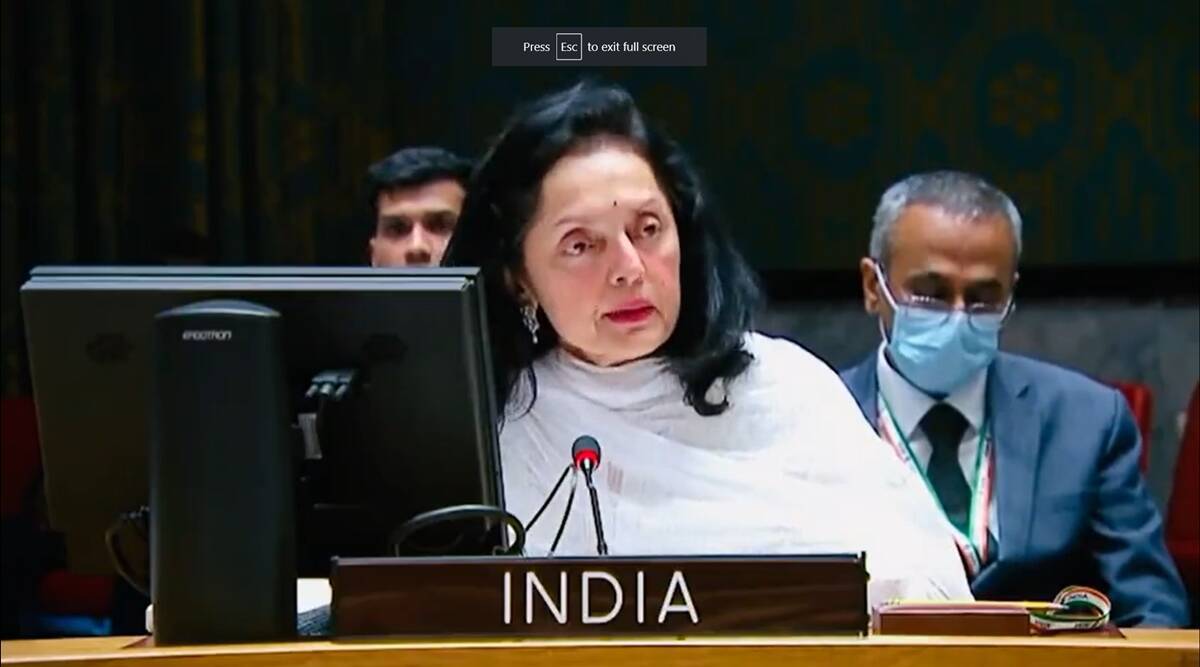 India said in the UN Security Council, with a veiled reference to Pakistan, that countries that use cross-border terrorism for narrow political goals should be held responsible. India also emphasised the need for nations to stand together against the common threat of terrorism and not engage in double standards for political expediency.
Ambassador Ruchira Kamboj, India's permanent representative to the United Nations, said on Thursday that the rule of law should be applied everywhere to protect the sovereignty and territorial integrity of states against aggression, such as terrorism and transnational terrorism.
Speaking at the Security Council's open debate on the Rule of Law, Kamboj emphasized that states that use cross-border terrorism for limited political reasons must be held accountable, a statement that appears to be directed at Pakistan.
She said, "This is only possible if all countries work together to fight problems like terrorism and don't use different rules for political reasons."
She said, "From our point of view, a rules-based international order is free of coercion and based on respect for sovereignty and territorial integrity, transparency, and the peaceful resolution of conflicts."
Kamboj emphasised that the peaceful resolution of disputes is crucial for ensuring and enhancing the rule of law in international relations.
"The Rule of Law requires that countries respect each other's sovereignty and territorial integrity, just as they expect their own sovereignty to be kept," she said.
"Since pacta sunt servanda (agreements must be kept) is a binding principle of the rule of law, it requires that countries respect agreements they've made with others, whether they're bilateral or multilateral, and don't do anything on their own to hurt or break those agreements," she said.
UN Secretary-General Antonio Guterres stated during the Council's open debate on 'Promotion and Strengthening of the Rule of Law in the Maintenance of International Peace and Security: the Rule of Law among Nations' that the world is currently in grave danger of falling under the "rule of lawlessness."
"In every region of the world, civilians are affected by debilitating conflicts, loss of life, escalating poverty, and hunger. States continue to disregard international law, from the illicit development of nuclear weapons to the illegal use of force, said Guterres.
According to him, the Russian invasion of Ukraine has caused a humanitarian and human rights disaster, scarred an entire generation of children, and exacerbated the global food and energy crises.
He stated, "Any annexation of a state's territory by another state by the threat or use of force is a breach of the Charter and international law."
Furthermore, India emphasized that strengthening the rule of law will necessitate a revamping of global governance institutions, particularly those tasked with ensuring international peace and security.
"Debates on improving the rule of law while retaining antiquated organisations lacking representative legitimacy would serve little use in our efforts to promote the rule of law," stated Kamboj.
As the purpose and usefulness of multilateral organisations are increasingly called into question, Kamboj stated that nations have a joint responsibility and duty to strengthen the credibility and legitimacy of the international order. India urged the world community to work toward this objective before it's too late.
Kamboj emphasised that the rule of law is the pillar of modern nation-states and that this pillar is supported by the United Nations Charter, where the idea of the sovereign equality of nations serves as the foundation for global collective actions.
"In light of the interlinked issues we face today, the United Nations represents our collective recognition that only cooperative and successful multilateralism can guarantee peace and stability," she said.
While India is a firm believer in multilateralism and the peaceful resolution of conflicts in accordance with the principles of international law, Kamboj stated that this can only be achieved if the relationship between states is governed by norms that seek better collective welfare.