India
Covid testing is going to be mandatory for fliers from China and three other nations.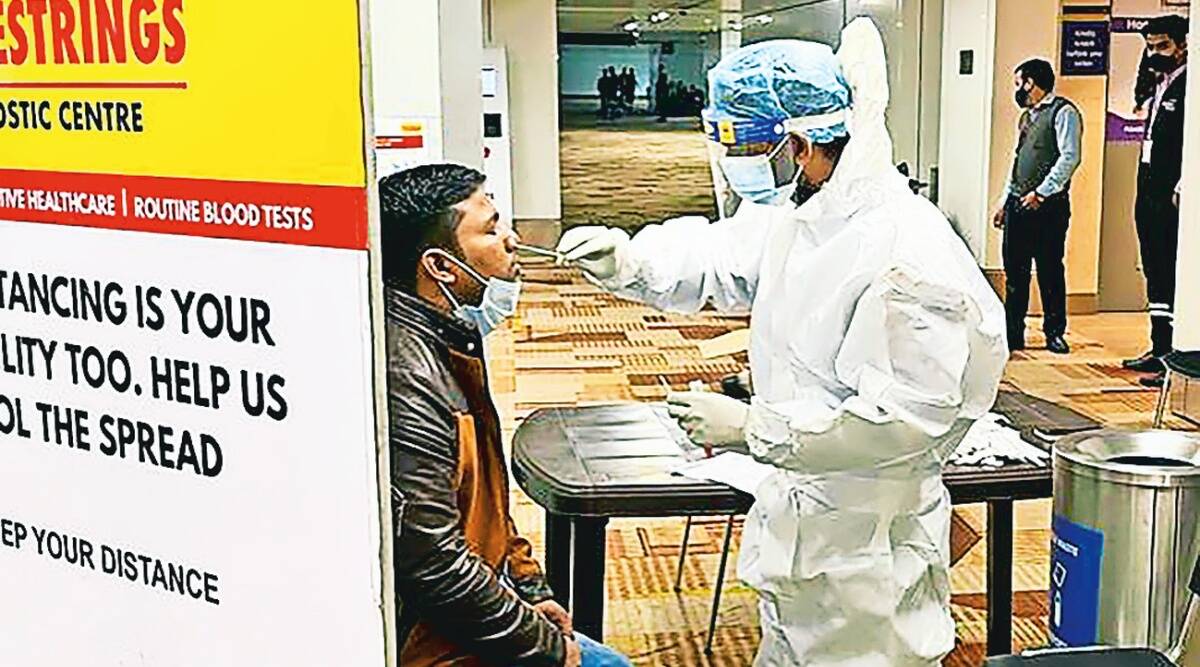 After resuming random testing of 2% of international travellers upon arrival at airports on Saturday, the government plans to further enhance measures for the timely detection of new Covid variants by mandating testing at boarding points for all passengers from China, Japan, South Korea, and Thailand.
According to government sources, the Union Health Ministry is in talks with the Union Civil Aviation Ministry to require RT-PCR testing for travellers from these four nations. A mandatory quarantine upon arrival might also be reinstated for persons from these nations who test positive, according to reports.
China has reported an increase in cases caused by the highly contagious BF.7 variation, which is a sublineage of the Omicron BA.5 strain. According to government sources, Hong Kong is one of the most important boarding sites in China.
Union Health Minister Mansukh Mandaviya told ANI, "Keeping in mind how Covid-19 is spreading in China, we will immediately implement the Air Suvidha portal and make RT-PCR tests mandatory for flights from China, Japan, South Korea, Hong Kong, and Bangkok, and commence tracing, after holding discussions with the aviation ministry. If someone arrives in India with fever or a positive test result, we will quarantine them promptly. Soon, these directives will be released to defend the nation against the Covid-19 virus."
Meanwhile, on Tuesday, Union Health Secretary Rajeesh Bhushan emailed all states regarding the intended mock drill in hospitals. The exercise will examine the geographic distribution of facilities as well as the availability of trained personnel, ambulances, consumables, and medical oxygen. District surveillance agents have been instructed to upload their findings to the prescribed website.
A travel alert issued on November 21 stated that "all travellers should preferably be completely vaccinated" and random RT-PCR testing of people travelling in India has discontinued just over a month ago. The advice also eliminated the requirement that inbound passengers submit travel details and a vaccination certificate or a negative report of an RTT-PCR test completed 72 hours before to travel on the Air Suvidha portal. Prior to September, it was essential for all travellers, regardless of immunisation status, to upload a negative test report.
On Saturday, the Health Ministry also instructed states to maintain medical oxygen stockpiles. "Although the number of Covid-19 cases in the country is now low and not on the rise, the operationalization and maintenance of medical infrastructure is of the utmost importance to tackle any future issues," Additional Secretary (Health) Manohar Agnani said states.
The federal government has instructed states to assure the availability of all pressure swing adsorption (PSA) oxygen plants, liquid medical oxygen, a continuous supply chain, and oxygen cylinders in healthcare facilities. The states have also been instructed to ensure the functionality of ventilators, BiPAPs, and other oxygen-delivery equipment.
During the week ending on December 22, an average of 153 instances of Covid were reported each day in India, continuing a declining trend. In response to the outbreak in other nations, the government has mandated the use of face masks and full vaccination, including booster shots. It has also requested that states expand testing and genetic surveillance.