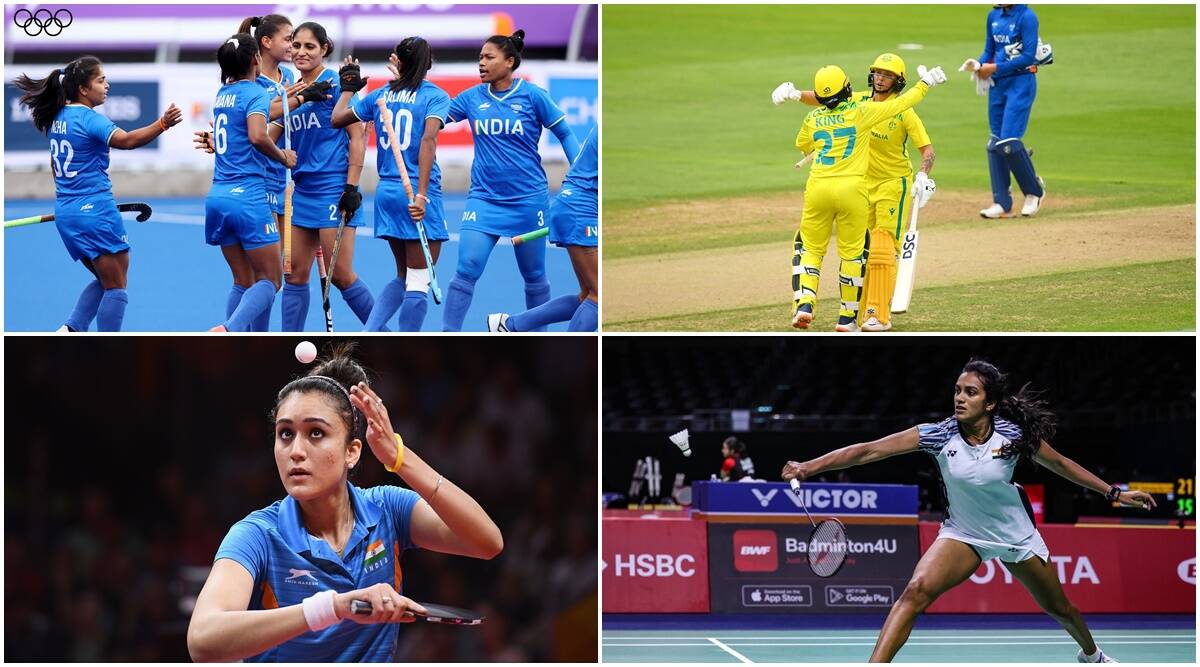 Commonwealth Games 2022, Day 1 Schedule of India: The "killer instinct" was nowhere to be seen when Australia put the Indian women's cricket team under the pump but the country's shuttlers and paddlers steamrolled their hapless rivals on the opening day of Commonwealth Games competition here. The Indian women's hockey team was also off to a winning start but it was far from impressive in a 5-0 victory over Ghana in its Pool A game.
Ace boxer Shiva Thapa outclassed Pakistan's Suleman Baloch in the first round of the 63.5kg category while India expectedly made mincemeat of Pakistan in a lop-sided 5-0 win in the mixed team badminton event. India's men's and women's table tennis teams had easy starts to their respective campaigns with twin wins each in their group matches in the Commonwealth Games. Both the teams recorded identical 3-0 victories in their respective matches. The men's team first beat Barbados before thrashing Singapore while the women's side prevailed over South Africa and Fiji.
India's youngest athlete at the Commonwealth Games, 14-year-old squash player Anahata Singh made a winning debut in the women's singles event.
Malala Yousafzai met the Pakistan team and fans
Malala Yousafzai met the Pakistan team and fans after the WT20 match against Barbados. Pakistan was defeated by Barbados by 15 runs.
Commonwealth Games: Srihari Nataraj qualifies for 100m backstroke final
Srihari Nataraj qualifies for the 100m backstrokes final, and clocks 54.55 seconds to finish fourth in the second semifinals. Qualifies for the final in seventh place overall.
Commonwealth Games: Abhay Singh victorious in squash singles match
Abhay Singh beats British Virgin Island's Joe Chapman 11-5, 11-5, 11-5 in his squash men's singles Round of 64 matches.
CWG meet Cricket, Cricket meet CWG
Barbados appeal for LBW against Pak batter Omaima Sohail. Ball overshoots, Sohail and Muneeba Ali start to run, then go back, and the throw from Hayley Matthews hits the stumps. Barbados take a DRS review for the original LBW, but not before a nice little disagreement within the team. The giant screen first flashes Not Out – dismissing the captain's LBW review. Then flashes OUT, after the umpire reviews the Run-Out. Crowd – bemused and amused – cheers on both decisions. Then the game moves on.
Our correspondent Shivani Naik reports live from Birmingham
Commonwealth Games: India men's TT team reaches quarterfinals
The Indian team beats Singapore 3-0 and moves close to a quarterfinal place in the Table Tennis men's team event.
Boxing: Thapa outpunches Pakistan's Baloch, sails into Round of 16
Ten years after first emerging onto the Indian boxing scene as an 18-year-old at the 2012 London Olympics, Shiva Thapa returned to the United Kingdom and in his first bout, he easily dispatched Pakistan's Suleman Baloch in a unanimous 5-0 decision to walk into the Commonwealth Games Round-of-32 on Friday.
CWG: India defeats Fiji 3-0 in women's team TT
Sreeja Akula and Manika Batra with the former teaming up with Diya Chitale to hand India a 3-0 win over Fiji!
Mixed Badminton: India win 5-0 against Pakistan
PV Sindhu has defeated Pakistan's Mahoor Shahzad in straight sets to give India a 3-0 lead in the Badminton event. Earlier, Ashwini Ponnapa-S Reddy defeated their Pakistan counterpart in the mixed badminton game while Kidambi Srikanth knocked out Mohammad Ali in straight sets. T. Jolly and G. Pullela thump M. Shahzad/G. Siddique 21-4, 21-5 to complete the rout after S Rankireddy & Chirag Shetty thrash Pakistani pair M Ali & M Bhatti 21-12, 21-9 in Men's Doubles. India defeat Pakistan 5-0
IND W vs AUS W: Australia wins!
Alana King slogs it away wide of mid-wicket for a four and that will do it for Australia. A three-wicket win for the World T20 and ODI champions at the first ever T20 match at the Commonwealth Games. India had the game in their pockets not so long back with Australia seven down for 110. That Renuka Singh spell set it all up for them. Four big wickets in the powerplay, sighs. Yet another (there have been too many) solid depth flex this from the Meg Lanning-led Australian team.
With the opening ceremony of the Commonwealth Games done and dusted, it's time to dive headfirst into the events proper. The Indian contingent is ready and pumping, with the eyes of the whole country on them.
On the first day of the Games (July 29), Indian athletes will take part in mixed team badminton prelims, women's cricket, women's hockey, round 1 & 2 rounds of men's as well as women's table tennis and the triathlon.