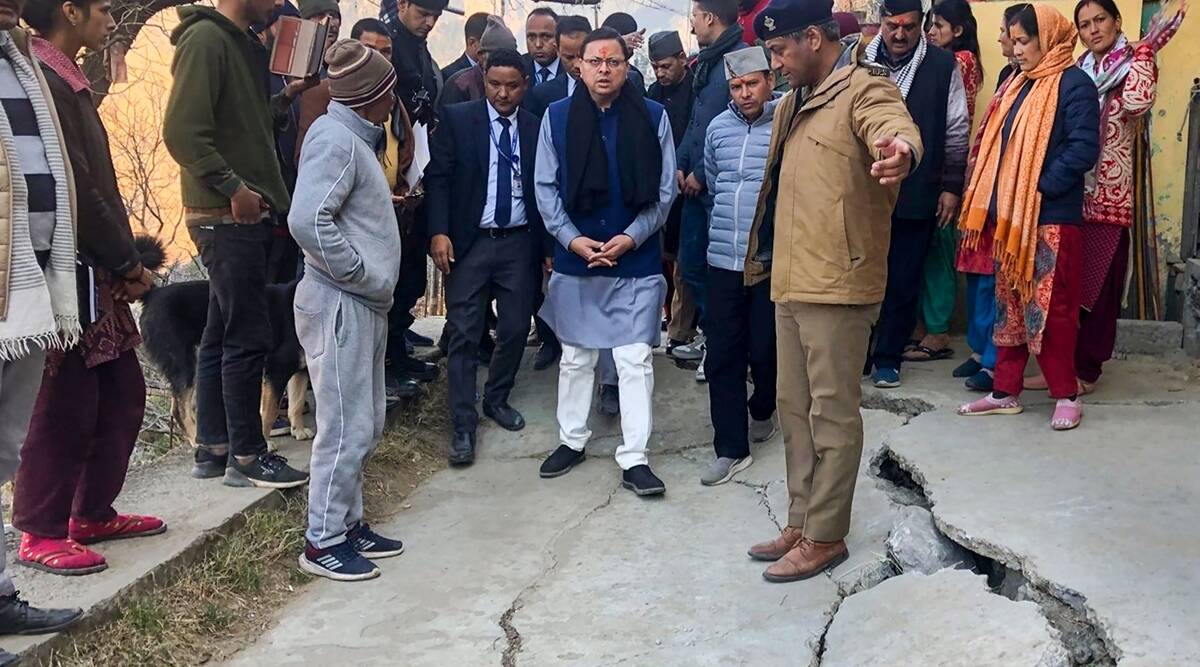 The chief minister of Uttarakhand, Pushkar Singh Dhami, visited the affected areas on Saturday, a day after holding a high-level meeting to address the fallout of land subsidence in Joshimath, which has resulted in cracks in roads and the destruction of over 600 houses in the town's tourist transit hub. Dhami listed rehabilitation and relief work as his government's top priority.
The state government also authorised Rs 1 crore from the Chief Minister's Relief Fund, which will mostly be utilised to assist impacted families with rent. According to an official announcement, households whose dwellings are unsafe would receive Rs 4,000 per month in rent for the next six months. Nearly fifty families have temporarily relocated to dwellings in safer areas, and more are anticipated.
Dhami stated that efforts are being made to relocate the affected families while both short- and long-term measures are being implemented to prevent land subsidence. In light of the fact that the matter has sparked protests in Joshimath and that the opposition Congress has criticised the BJP government, Dhami urged the public not to engage in a blame game.
"I have instructed the officials to execute the drainage plan as quickly as possible. In order to circumvent a lengthy procedure, I stated in yesterday's assessment meeting that we need not go through departmental procedures and can instead seek my direct approval. Before the monsoons all sewage and drainage work must be completed.
"The most critical issue at the moment is rehabilitation for everyone. We have selected and are working on two locations for future resettlement: Pipalkoti and Gauchar. The government as a whole stands with the people of Joshimath. After returning to Dehradun, he said we would nominate nodal officers and begin operations on a war footing.
In response to queries about his meeting with environmental specialists, Dhami stated that they had not yet determined the cause of the ground sinking. "We pray to God, and I have come to meet Bhagwan Narsingh and have prayed to him that this city of religious and spiritual significance be secure… This is a border city that is also vital for tourism. He said, "May God protect this city, bless us all, and keep this city secure."
Chamoli District Magistrate Himanshu Khurana stated that only a portion of Joshimath was impacted and that officials were able to relocate residents to hotels and homestays in safer parts of the city. According to him, the impacted families are being provided with dry ration packs and cooked meal packages. He stated that assessment work is being conducted in all wards and that sectoral officers have been selected.
After a high-level meeting with officials on Friday, Dhami issued a number of directives, including establishing temporary shelters in safe locations, relief camps, and medical facilities, evacuating hazardous zones, and activating the disaster control room.
Joshimath, situated at the height of 2,000 metres in Chamoli and within the high-risk seismic Zone-V, serves as a hub for travellers travelling to Badrinath and Hemkund Sahib.
According to a government release, Dhami instructed staff to ensure the availability of all facilities in relief shelters and to develop sectorial and zonal plans. He requested that they identify the risk zones and guarantee that people affected be evacuated immediately. Later in the day, the Chief Minister met with senior officials in the Dehradun Secretariat's Disaster Operation Center.