India
"Didn't hide with Modi's blessings," Owaisi says to hurt Sachin Pilot.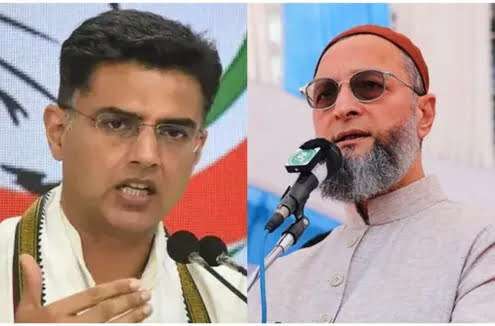 Asadaddun Owaisi is the head of the All India Majlis-e-Ittehadul Muslimeen (AIMIM). On Wednesday, he responded to senior Congress leader Sachin Pilot, who said that the Hyderabad MP, who has been going to Rajasthan a lot because assembly elections are coming up later this year, would leave once the job was done.
Owaisi said that his party has always been against the BJP, which is different from the Congress, which "supports the bills" brought to Parliament by the Narendra Modi government. Pilot's plan to rebel in 2020 was criticised by Owaisi, who said, "We didn't go to Haryana and hide with Modi's blessing just to get the Chief Minister's chair."
At a public event on Monday in Sriganganagar district, Pilot said that Prime Minister Modi and Owaisi hadn't been seen in Rajasthan for a few years, but that they've been going there more often now that elections are coming up.
He said, "February 2019 is a special month. Owaisi is going to Tonk, and the prime minister is going to Dausa. Since it's an election year. Where have these two leaders been for the past four years? As election day gets closer, they come to make speeches and talk about religion. They weren't there before the election, and they will leave Rajasthan as soon as the election is over."
"We, the people sitting here, are your friends through good times and bad. They are the ones who made laws against farmers and got to power by using religion to get votes. They were in charge, but they couldn't stop inflation, unemployment, or corruption "Tonk's MLA also said.
Responding to Pilot's remarks, Owaisi said, "I have never done a U-turn before. Don't worry, I'll continue to visit Rajasthan. Why can't the people of Tonk see their MLA anymore?"
"The killing of Junaid-Nasir has nothing to do with the election. Instead, it is a matter of justice. We've seen mahapanchayats support the people who killed Junaid and Nasir, but we haven't seen even a small group condemn or protest the killings. If cow terror is done in the name of a society, shouldn't that society clearly condemn the terror?"