India
Doordarshan broadcasts a documentary on the cultural accomplishments of the Modi administration.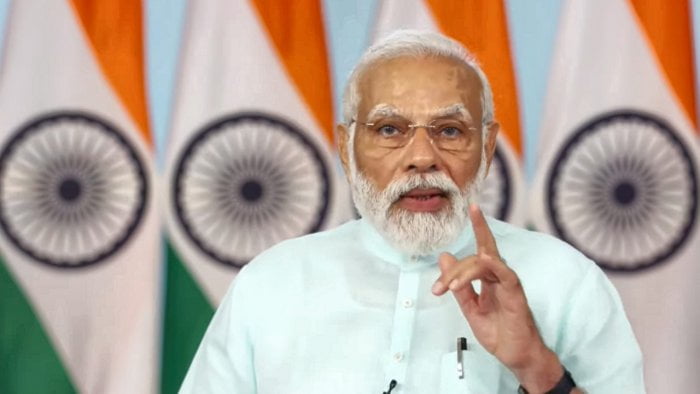 Prime Minister Narendra Modi says in the special documentary "Dharohar Bharat Ki – Punuruthan ki Kahaani" that aired on Doordarshan on Friday evening, "Today, the government coffers are not being opened up for religious activities, but for facilities and development so that the citizens of India have access to facilities, which is their right."
The series follows Modi's execution of his vision to construct new national landmarks. From Dholavira, the origin of Indus Valley Civilization, to Purana Qila, where India's repatriated antiquities have been displayed, the 30-minute film covers it all, passing through Kashi, Ayodhya, and Ujjain en route.
After the 2013 floods, everything at Kedarnath appeared doomed, and many believed that the temple would never be rebuilt. In the same year, the Centre disregarded demands for the temple's reconstruction, according to the film, and it wasn't until Narendra Modi became prime minister in 2014 that people regained hope that it would be possible.
On Ayodhya, the grand Ram Temple is being constructed for one reason only: to pay homage to Lord Ram at his birthplace, according to a film demonstrating the ongoing construction at the site following Modi's bhoomi pujan (groundbreaking ceremony) in August 2019. The 2.7-acre temple complex is accompanied by the inscription, "Perhaps, God wished for Modi to accomplish this great task."
The Somnath temple in Gujarat, the first of the 12 jyotirlingas, is highlighted as a narrative of resilience, as it survived 17 attempts at destruction by Mahmud of Ghazni in the 11th century. Now, the temple falls under the Centre's PRASAD initiative for pilgrimage revitalization. Modi states, "The positive news is that this has boosted tourism. The new generation is drawn to the ancient heritage of India in a new light."
It discusses the concept of Shakti peeth in Hinduism by way of Pavagadh in Gujarat, near Vadodara, which is one of the 52 shakti peethas in the country and is regarded as a manifestation of Goddess Parvati.
Kamiya Jani is the host of the two-part series currently airing on Doordarshan. The second segment, which will air on Saturday, will highlight the sanctity of patriotic sites.
The film, which has been in production for a year, features the voice of poet and lyricist Manoj Muntashir and is a joint project of the Ministry of Culture and the Ministry of Information and Broadcasting. "It will also be featured on OTT platforms such as JioCinema and private television channels," says Prasar Bharati CEO Gaurav Dwivedi to The Deccan Era.
"The goal is to make the nation's history relevant and for citizens to feel a connection to these iconic sites," he explains.