India
During the pre-Budget meeting, states requested a higher borrowing limit and more central funds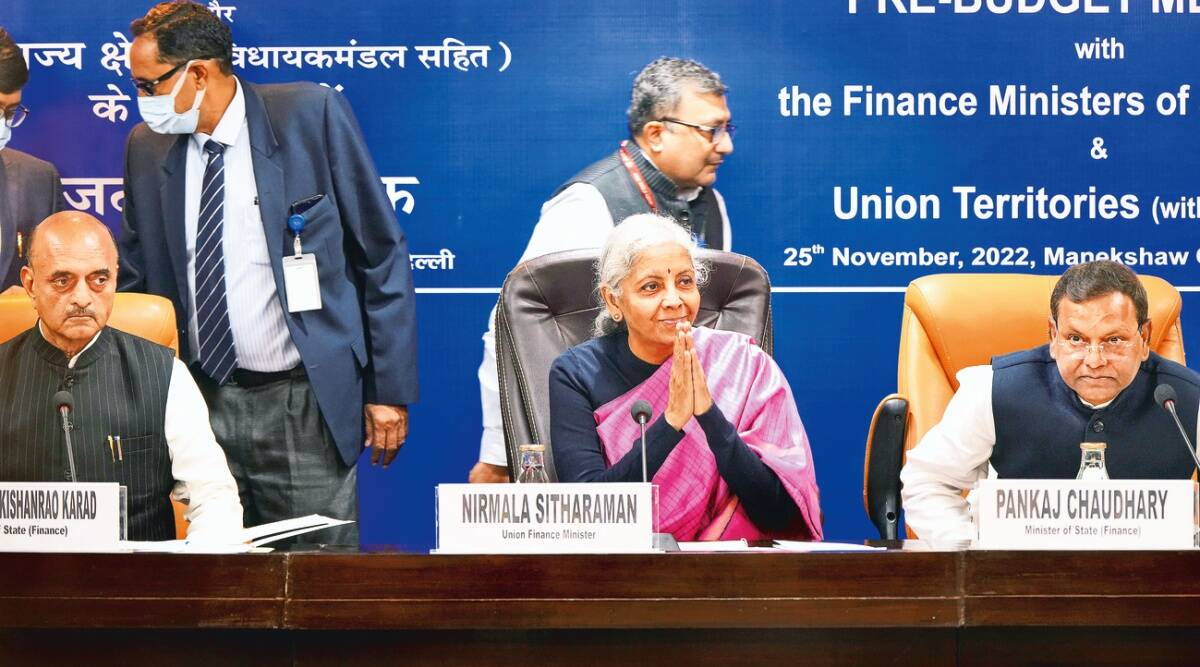 Increased borrowing limits to increase the fiscal space available to states; an increase in funds under the particular assistance scheme for capital investments; limiting the scope of centrally sponsored programs. The finance ministers of states and union territories raised these issues in Friday's pre-Budget meeting with Nirmala Sitharaman.
In Tamil Nadu and Bihar, legislators have called for limiting centrally sponsored schemes because they result in the state having to spend more money on their maintenance. They recommended that the Centre increase its share of transfers to reduce the burden on the states. Chhattisgarh requested funds from the Centre to implement the Old Pension Scheme.
Despite the political party in power, all states expressed a common theme at the meeting, according to the Tamil Nadu Finance Minister Palanivel Thiaga Rajan — that state fiscal autonomy is constrained by the extent of centrally sponsored schemes as well as the changing ratios of funding for such programs.
It is a centrally sponsored, or PM scheme and states are required to contribute 2x, 3x, and 5x of what the Union gives…Tamil Nadu pays Rs 1,000 a month for the old age pension, but the Union government only provides Rs 200 a month. The state governments and ministers of the BJP-governed states all made similar requests, and many asked for an extension of the GST compensation as well as a limit of 3.5% on the fiscal deficit," he told reporters.
State governments implement Centrally Sponsored Schemes (CSS), but the federal and state governments jointly fund them according to a defined distribution pattern. Bihar's Finance Minister Vijay Kumar Choudhary stated that these schemes should be limited due to the increased burden they are placing on states and that if the Center is to assist states, it should implement only Central schemes. According to him, a borrowing limit of 4 percent of GSDP should also be established for states.
A discussion of the Old Pension Scheme was held in the meeting, with Chhattisgarh Chief Minister Bhupesh Baghel asking for Rs 17,240 crore to be returned from the new National Pension System and deposited in a separate pension fund for future pension obligations. "Funds should be allocated for the OPS in Chhattisgarh," he stated following the meeting.
No representatives from Assam, Delhi, Gujarat, Karnataka, Nagaland, Odisha, or West Bengal were in attendance.
In a statement issued after the meeting, the Union Finance Ministry stated that a majority of participants thanked the Union Finance Minister for financially supporting their States and Union Territories by increasing borrowing limits, providing two advanced devolution installments, and providing Special Assistance for capital expenditures. There were also a number of suggestions made by the participants to include in the Budget Speech of the Union Finance Minister.
There was also a demand for additional capital expenditure funds from many states, including Maharashtra, Meghalaya, and Bihar. The state of Maharashtra has submitted a proposal for projects worth Rs 3,000 crore under the scheme of special assistance to states for capital investment.
Despite receiving a grant of Rs 6,800 crore, the state requested the Centre to allocate an additional Rs 3,000 crore to various projects. The Center has developed an excellent program to assist states with capital investment. Its size has increased from Rs 15,000 crores in the year 2021-22 to Rs 1 lakh crores in the year 2022-23. Devendra Fadnavis, Deputy Chief Minister, said this would benefit states.
Meghalaya's Chief Minister, Conrad Sangma, requested a capital assistance increase. I have requested that it be linked to the population through a system. It's important to focus on village-based schemes," Sangma said.
A special assistance request has been made by the Finance Minister of Andhra Pradesh, Buggana Rajendranath Reddy, in the area of capital expenditures. Reddy said, "We have requested the inclusion of state-sponsored renewable energy projects in the green bond program."
He sought to improve road, rail, and air connectivity in the state to promote tourism and reduce the GST on apple packaging from 18 percent to 12 percent.
States also sought payment of pending compensation cess dues. Furthermore, Chhattisgarh's Baghel has requested the continuation of the GST compensation system for the next five years after June 2022 and has requested Rs 1,875 crores as GST compensation for April to June with an amount of Rs 4,140 crores for coal royalty payments. He stated that the royalty rate for minerals extracted in the state should be increased, adding that it is supposed to be adjusted every three years but has not been revised for a decade.