"I haven't finished all of my races yet… I'm ready to fight again."
Dutee Chand puts on her India jacket, sits in front of a cabinet full of trophies with a stack of her accreditation cards from big events hanging on one side, and puts on her game face. She tells The Decan Era, "I had to fight to keep my job." "I'm ready to do that again to bring it back to life."
On Wednesday, it came out that the National Anti-Doping Agency (NADA) had temporarily suspended the sprinter for failing a drug test. Dutee is facing a long suspension and is worried that it could end her career quickly. Dutee says that she was at a school outside of Bhubaneswar as the chief guest for a sports day when she got a call from a reporter who wanted to know what she thought about being suspended.
The 100m and 200m sprinter says, "That's when I found out about it." "He said that some documents were making their way around social media. I asked him to let me have a copy. I saw that my home address and something about doping were on it. But I couldn't find anyone's name on it, and I hadn't gotten anything like that. So I thought it was a lie."
Dutee says that after that, she called three times. The first place we went was to the Athletics Federation of India (AFI) office. "They hadn't gotten any papers either. They, too, said that the news could be made up," she says.
She then called the post office in her village, Jajpur. "A few days ago, they got mail with my name on it. I don't know what it is, but maybe I'll go get it today (Thursday). It's about 100 km one way."
Last but not least, she talked to her lawyers. "They told me not to be afraid."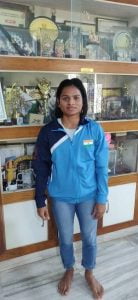 Dutee is calm and always has a smile on her face as she drinks lukewarm coffee in Patia, on the outskirts of Bhubaneswar, on a humid morning. She is at her apartment getting together all the papers she might need to "prove her innocence."
Dutee says that she has had a "very painful" groyne injury for almost 15 months. "The doctors gave me painkillers, and I've been taking them for a while," she says, listing the names of the almost six pills she's been taking to get in shape to run.
She also says that the injury affected how well she did in 2022. "After the Tokyo Olympics in 2021, I only competed in one event. Then, at the Khelo India Games, I lost the 200-meter race and ran 11.63 seconds for the 100-meter race. She says, "My time at the inter-state in Chennai was 11.43 seconds, at the inter-university it was 11.68 seconds, and at the CWG it was 11.55 seconds." "I'm in pain even right now."
Even though it hurt, she kept running because she wanted to qualify for this year's Asian Games and the 2024 Olympics in Paris, which she says will be her last competition.
Dutee says that in the year 2022, she was tested 10 times. She also says that doping control officers came to her house twice in December, on December 5 and December 26, to test her without her knowing. The official NADA document says that Dutee's urine sample, which was taken on December 5, tested positive.
She shows her anti-doping form, which has a list of the medicines and supplements she was taking when her sample was taken.
NADA says that Dutee's sample tested positive for a banned substance called Selective Androgen Receptor Modulators (SARMS). The United States Anti-Doping Agency (USADA) says that SARMs are a "class of therapeutic compounds that have similar anabolic properties to anabolic steroids but less androgenic properties." Due to the fact that they can make bones and muscles grow, they can be "misused to improve sports performance."
Dutee doesn't know what it is. "In all of my dope files, I've said that I'm in pain and taking painkillers. So my first goal is to figure out why the test came back positive, if it is positive."
She will have her "B" sample tested. This is usually just a legal formality, but Dutee wants to do it to make sure that her "A" sample hasn't been tampered with or messed up. She says, "I'll do what my lawyers tell me to do." "My first thought was that I was being set up again. I don't know who did it, but something like this happened in 2014, when my gender was questioned, I was accused of doping, and I was banned for life because my hormone levels were a little bit higher.
In 2014, when Dutee was just coming into the spotlight, her career hit a snag when she was not allowed to compete in the Glasgow Commonwealth Games because of rules about athletes with high levels of male hormones. Dutee took the international athletics body to the Court of Arbitration for Sport, which ruled in her favour and ended the long-running fight.
As she looks at another uncertain future, Dutee says that her past fights to fight the doping case give her strength. She says, "This is my last fight." "My friends and family are telling me, 'Test this. You have won bigger fights before. You'll also win this."