India
Education Minister Dharmendra Pradhan releases learning materials called "Jaadui Pitara" for the early years.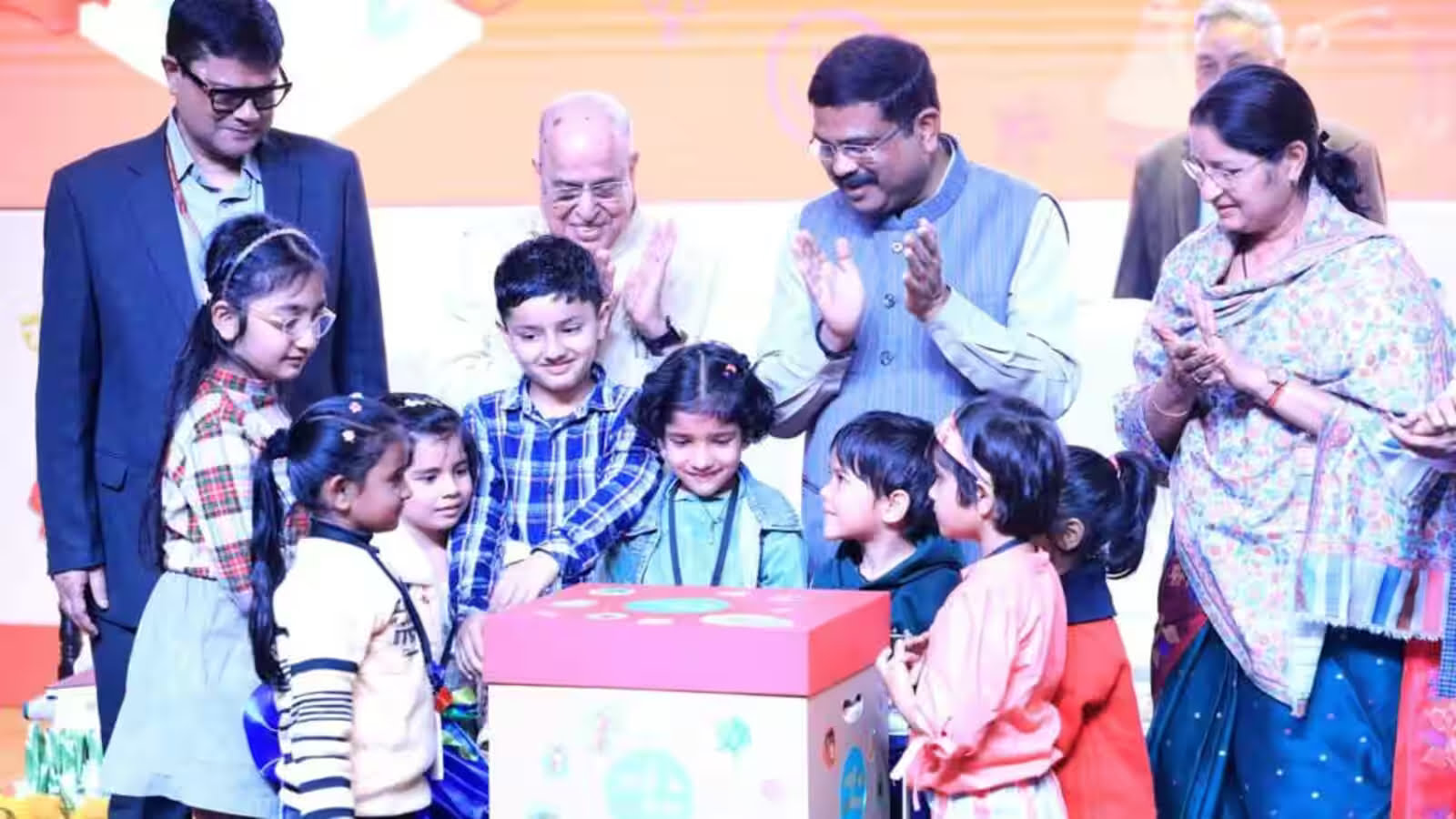 Monday in New Delhi, Union education minister Dharmendra Pradhan inaugurated "Jaadui Pitara," a play-based learning tool for children aged three to eight, and said that it will be made mandatory in at least 1,200 central government-run schools beginning with the next academic year.
Pradhan stated, "It is an innovative, child-centered learning approach that would educate early children for a lifetime of learning and fulfil one of the most important goals of the new National Education Policy (NEP) 2020."
In accordance with the National Education Policy (NEP) 2020, the government introduced a national curriculum framework (NCF) for foundation or early childhood care in October of last year, suggesting that no textbooks be used for children aged three to six. It also emphasised promoting learning through toys, play, and life experience, as well as the usage of the mother tongue.
Hence, the Ministry of Education launched play-based materials for children enrolled in Balvatika, which includes lessons for nursery, lower kindergarten (LKG), and upper kindergarten (UKG).
"While there will be no book for Balvatika 1 (nursery) and 2 (LKG), pupils in Balvatika 3 (UKG) will receive a playbook," stated Pradhan. "Textbooks will be offered solely in the first and second grades, and they will be illustrated."
He stated that the NCERT will release textbooks for grades 1 and 2 before the end of this month.
The 'Jaadui Pitara' (magic collection) consists of children's magazines, playbooks, activity books, worksheets, toys, manuals for instructors and trainers, flashcards, story cards, posters, puzzles, puppets, and flashcards.
"It is a big step towards improving the learning-teaching environment and making it more child-centric, vibrant, and enjoyable for the 'Amrit Generation,' as envisioned by the NEP 2020," Pradhan added. "It has been dubbed Jaadui Pitara (Magic Collection) because it possesses the charm of diversity, adaptability, and inclusivity," he explained.
The ministry said in a statement that the play-based teaching and learning materials focus the growth of children in five domains: physical development, socio-emotional and ethical development, cognitive development, language and literacy development, and aesthetic and cultural development.
While the learning materials are already available in 13 Indian languages, the minister urged the National Council of Educational Research and Training (NCERT) to translate the materials in 'Jaadui Pitara' into all Indian languages, expand its reach, and make it available to all the State Councils of Educational Research and Training (SCERTs) as a "benchmark" for transforming the early childhood care and education scenario in India.
Pradhan requested that the Central Board of Secondary Education (CBSE) begin deploying the new instructional materials in its associated institutions. In addition, he stated that the NCERT promotes young entrepreneurs to continue updating the teaching-learning materials.
The NCF will consist of four stages: foundation or early childhood care, preparatory, middle, and secondary education, and a nationally formed national steering council has been designing these frameworks. While the framework for foundational learning has already been released, the committee has yet to publish the frameworks for the next three levels.
Pradhan also addressed the recent instances of student suicide. "Nothing is as regrettable and frightening for a civilised society as a student giving in to pressure… This pressure increases with time…," the minister stated. If a student views education as a means of empowerment, he or she will not be afraid. The current educational system places a load on our youth… Consequently, it is crucial to eliminate this anxiety from the minds of students. The new NCF fosters learning through play and narrative."