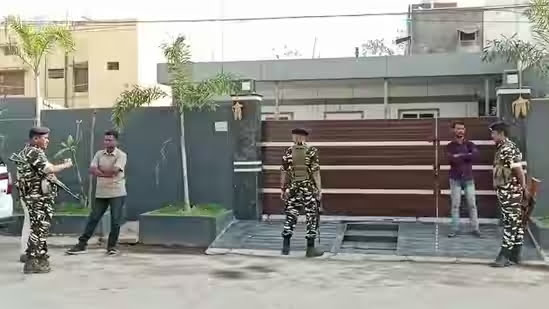 On Monday, the Enforcement Directorate (ED) raided the premises of at least eight ruling Congress leaders and office bearers in Chhattisgarh in a money laundering case linked to illegal levies on coal, eliciting a strong response from the party, which sought to link the agency's action to its upcoming plenary in the state, an allegation that was quickly refuted by the Union finance minister.
During the raids, which occurred five days before the 85th plenary of the Congress's core decision-making body is scheduled to be convened from February 24 to 26 in the state capital of Raipur, the Enforcement Directorate (ED) conducted searches at multiple locations in at least three districts.
Chief Minister of Chhattisgarh Bhupesh Baghel stated that the raids were politically motivated and that the Bharatiya Janata Party was terrified of the Congress and employing central agencies to silence its opponents.
"The BJP was anxious when the Congress launched the 'Bharat Jodo Yatra,' and now they are fearful of the upcoming plenary session in Raipur. "However, we have no fear of such actions, and we will emerge stronger and make the event a resounding success," Baghel stated at a press conference.
The communications director for the Congress, Jairam Ramesh, accused the administration of utilising the ED to target the opposition party. This is plainly the politics of vendetta, retribution, and harassment…
Nirmala Sitharaman, minister of finance, refuted the allegation and noted that authorities only act after gathering sufficient evidence. "Investigative agencies conduct extensive research and only launch a raid when they have the necessary prima facie evidence in hand; this cannot be done on the spur of the moment."
She accused the Congress of corruption and stated, "Instead of accusing us of vindictiveness, Congress should explain to the people and its plenary why their leaders are out on bail for mismanaging party finances… Congress party should not discuss corruption at all."
Also see: "No spiteful politics": Nirmala Sitharaman on the ED raids in Chhattisgarh.
ED has charged that a cartel of bureaucrats, businessmen, politicians, and middlemen illegally placed 25 per tonne charges on state-transported coal.
The Enforcement Directorate informed a court that the cartel reportedly operated a "parallel system of criminal extortion" and generated approximately 2-3 crore each day.
The leaders of Congress hold a sit-in in front of the homes of the raided leaders. In Raipur, the National Students Union of India, the student arm of the Congress, conducted a demonstration. In addition, local Congress leaders demonstrated before the ED office in Raipur.
In accordance with the Prevention of Money Laundering Act, the agency arrested three individuals on October 11, including officer Sameer Vishnoi and businessman Sunil Agrawal of the Indian Administrative Service. Suryakant Tiwari, an alleged mastermind and businessman, is among those arrested in the case.
On December 2, ED detained Saumya Chaurasia, the assistant secretary to Baghel. It was stated that Chaurasia shared all of the government's confidential information with Tiwari via WhatsApp.