India
First urea, now DAP: Subsidised fertilizers are raising concerns about crop yields
For a long time, the Indian fertiliser industry has been plagued by distortions caused by the excessive use of urea. Another fertilizer, diammonium phosphate, is experiencing a similar overapplication phenomenon due to underpricing.
Government subsidies are believed to be responsible for the low prices and high sales of these two fertilisers. The resultant nutrient imbalance due to their use – relative to other, more expensive fertilisers – could negatively impact soil health and crop yields. There has been a significant deviation from the ideal ratio of nitrogen (N), phosphorous (P) and potassium (K) in the country over the last few years.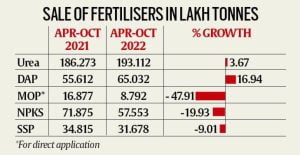 As reported by the Department of Fertilizers, urea sales increased by 3.7% between April and October 2022 compared to the corresponding period in the previous year. DAP's sales growth has been even greater, at 16.9 percent.
Conversely, all other fertilisers have seen a decline in sales. This includes muriate of potash (MOP), single super phosphate (SSP), and complex fertilisers, which contain nitrogen (N), phosphorus (P), potassium (K), and sulfur (S) in varying proportions. MOP sales have dropped by 47.9 percent, NPKS complexes and SSP by 19.9 percent and 9 percent, respectively (see table).
Due to the high subsidies on urea and DAP, they are substantially less expensive for farmers than other fertilisers. Urea's maximum retail price (MRP) is currently fixed at Rs 5,628 per ton. In exchange for the Centre's subsidy, companies must sell at this administered price, with their higher costs of production or imports being reimbursed by the government as a subsidy.
Other fertilisers are technically deregulated since April 2010, with the Centre paying only a fixed per-tonne subsidy to maintain "reasonable levels" of prices. Recent government actions, especially after the Russia-Ukraine war, have practically brought even these fertilisers back under government control.
As a result, their pricing reflects this. There is no sale of DAP at more than Rs 27,000 per tonne, and the MRPs for MOP, NPKS complexes, and SSP are similarly set at Rs 34,000 per tonne, Rs 29,000-31,000 per tonne, and Rs 11,000-11,500 per tonne, respectively. A company that charges more runs the risk of having its subsidy payments denied, withheld or delayed as a result of charging more.
However, the informally fixed prices have created their own distortions. In addition to containing more than 30% of any one nutrient, urea and DAP are high-analysis fertilisers. It contains 46 percent N, while DAP contains 46 percent and 18 percent N. In addition, DAP has become cheaper than popular NPKS complexes such as 10:26:26:0, 12:32:16:0, and 20:20:0:13, which contain less P and N. SSP contains just 16 percent P and 11 percent N, and is normally sold for one-third the price of DAP. Now that gap is under half.
With MOP, which contains 60% K, it's even worse. There's no reason for farmers to apply today because its MRP is so high. Companies can't use MOP as a source of K in complexes, either. "DAP gets a subsidy of Rs 48,433, compared with MOP's 14,188, 10:26:26:0's 33,353 and SSP's 7,513. Why wouldn't farmers choose DAP or urea over anything else? he asked.
K.S. Raju, Chairman, Fertiliser Association of India, said: "The ideal NPK use ratio for the country is 4:2:1, whereas it was 6.5:2.8:1 in 2020-21 and 7.7:3.1:1 in 2021-22. In the recent 2022 kharif season, the ratio got further distorted to 12.8:5.1:1."