India
Global Investors Summit: Uttarakhand government signs Rs 2000-crore MoU for ropeway project investments in London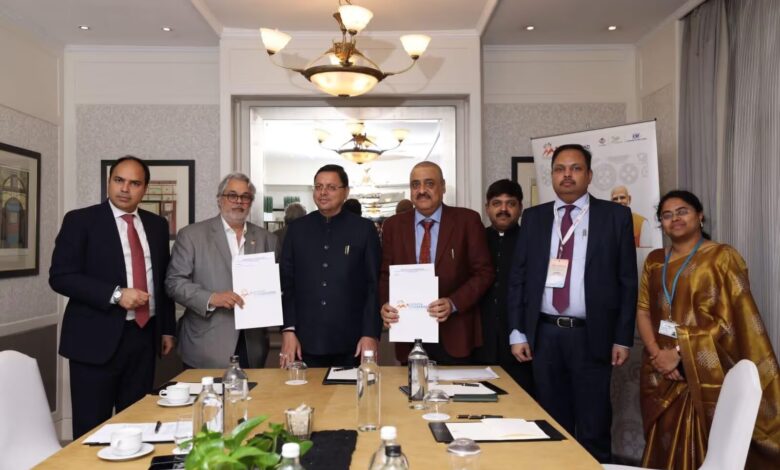 The Uttarakhand government inked a Memorandum of Understanding (MoU) in London on Tuesday with ropeway construction business Poma Group for Rs 2,000 crore in investments as part of its Global Investors Summit in December.
The MoU was signed on behalf of the Uttarakhand government by Secretary of Industries Vinay Shankar Pandey. Poma Group has prior experience working in Uttarakhand, according to a government statement. According to the statement, Poma Ropeway is currently providing technical support for the Dehradun-Mussoorie ropeway and the Yamunotri ropeway projects.
Following the signing of the MoU, Uttarakhand Chief Minister Pushkar Singh Dhami noted that the state has enormous potential for investment in eco-friendly tourism. Poma Group, according to Dhami, has shown a desire to invest in providing technical support for ropeways and developing centre of excellence in religious and tourist destinations such as Haridwar.
Dhami had earlier attended meetings at the London roadshow for the Global Investors Summit in Dehradun. He undertook in-depth negotiations with investors regarding the possibilities of investing in his state.
Following London, the state administration will do roadshows in Singapore and Taiwan.
The country's first roadshow will be conducted in Delhi on October 3, followed by six more in Ahmedabad, Chandigarh, Mumbai, Bengaluru, Chennai, and Hyderabad.
The state has set a target of at least Rs 2.5 lakh in investment through the investors' summit.
ITC Limited proposed a Rs 5,000 crore investment earlier this month at the kickoff event for the Global Investor Summit, which will be held in Uttarakhand in December. A Rs 1,600 crore MoU was signed with e-Kuber. An MoU for Rs 1.000 crore in investment was also signed with Mahindra Holidays and Resort India Limited, which will establish four to five resorts in Uttarakhand over the next few months.
Dhami stated that the state government's priority is ecology, economics, and tourism. He stated that the state is searching for various methods to invest that strike a balance between development and the environment. "In such a situation, on one hand, options like a ropeway will provide convenience to tourists in Uttarakhand, while on the other hand, it will prove to be better from the environmental point of view, along with increasing the livelihood opportunities of the local people," he stated.
Related Posts