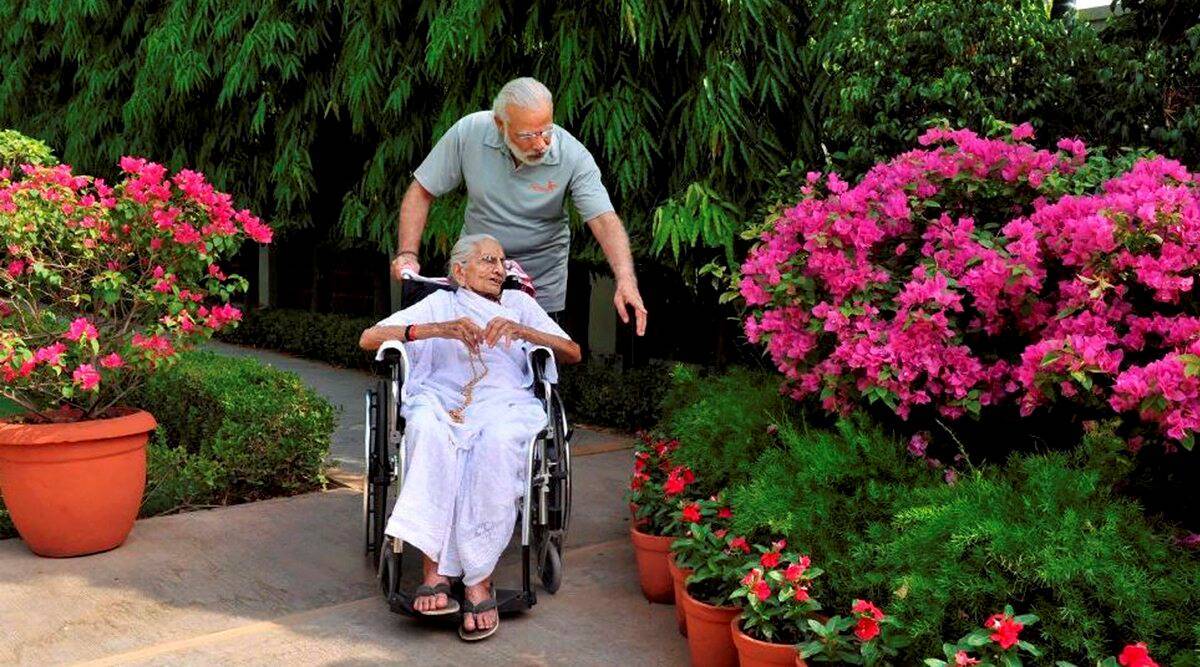 Hiraba, the mother of Prime Minister Narendra Modi, passed away early Friday morning in an Ahmedabad hospital.
Her death was reported in a bulletin from the UN Mehta Institute of Cardiology and Research Centre, where she was admitted on Wednesday after her health deteriorated.
#WATCH | Gandhinagar: Prime Minister Narendra Modi carries the mortal remains of his late mother Heeraben Modi who passed away at the age of 100, today. pic.twitter.com/CWcHm2C6xQ

— ANI (@ANI) December 30, 2022
The prime minister visited the hospital on Wednesday afternoon after travelling from Delhi to Ahmedabad to see his mother. He had spent more than an hour in the hospital and had also spoken with doctors at the hospital, a government-funded independent medical centre.
Hiraba, born on June 18, 1923, is survived by one daughter, Vasantiben, and five sons, Somabhai, Amritbhai, Narendra, Prahlad, and Pankaj.
Hiraba, who was born in Visnagar, Mehsana district, lost her mother during the Spanish Flu pandemic when she was a youngster. She was illiterate and had minimal financial resources for the majority of her life. Visnagar is adjacent to Vadnagar, the hometown of Prime Minister Modi.
शानदार शताब्दी का ईश्वर चरणों में विराम… मां में मैंने हमेशा उस त्रिमूर्ति की अनुभूति की है, जिसमें एक तपस्वी की यात्रा, निष्काम कर्मयोगी का प्रतीक और मूल्यों के प्रति प्रतिबद्ध जीवन समाहित रहा है। pic.twitter.com/yE5xwRogJi

— Narendra Modi (@narendramodi) December 30, 2022
Hiraba lived in Raysan hamlet in Gandhinagar with Pankaj Modi, the prime minister's younger brother. During the majority of his journeys to Gujarat, the Prime Minister visited Raysan and spent time with his mother on a regular basis.