Gujarat(Gandhinagar)
Gujarat, Himachal Assembly polls: Cong appoints Ashok Gehlot and Bhupesh Baghel as senior observers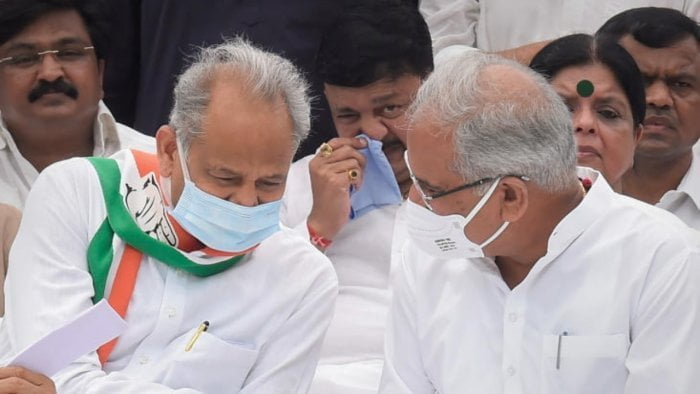 Gehlot will be the senior observer of Gujarat, a state where he was in charge during the last assembly election as a general secretary
Expecting an uphill election battle in Gujarat and Himachal Pradesh, the Congress on Tuesday appointed two of its chief ministers – Rajasthan's Ashok Gehlot and Chhattisgarh's Bhupesh Baghel – as senior observers to oversee election efforts and campaign management in the two states. where elections are due later this year.
In what appears to be a fine balancing act, the party appointed young faces Sachin Pilot and Milind Deora and Chhattisgarh minister TS Singh Deo as observers, who are at loggerheads with Baghel. Though Pilot had campaigned aggressively in the last round of assembly elections, this is the first time that he has been given an organizational responsibility after the rebellion against Gehlot in 2020. Deora was also out of action for a long time.
Gehlot will be the senior observer of Gujarat, a state where he was in charge during the last assembly election as general secretary. Dev and Deora will assist him as supervisors. Raghu Sharma, who was a minister in the Gehlot cabinet and is considered close to the chief minister, is the AICC in charge of Gujarat.
Baghel will be the senior supervisor of Himachal Pradesh. Pilot and Leader of Opposition in Punjab Assembly Pratap Singh Bajwa will assist him. The move to include the two chief ministers is intended to signal that the party is serious about the elections in the two states. The party lost in all five states – Uttar Pradesh, Goa, Punjab, Uttarakhand, and Manipur – where elections were held earlier this year.
Gehlot will face a tough challenge in Gujarat, where his attempt to oust the BJP from power is complicated by aggressive entry by the Aam Aadmi Party, which is trying to infiltrate and take over the Congress' space. Just days ago, the Congress appointed seven new working presidents for Gujarat, including Vadgam MLA Jignesh Mevani and former Surat mayor Kadir Pirzada, who represented influential communities.
In Himachal Pradesh, Congress is hoping that the state will stick to the electoral trend of voting for the ruling party. But the party's electoral efforts are hampered by the absence of charismatic face Virbhadra Singh. It has appointed the former chief minister's wife, Lok Sabha MP, as state Congress president, hoping to capitalize on Singh's legacy.
But the party is badly divided in the state which presents another challenge.