India
Himanta Biswa states Khalistani Amritpal talks Rahul Gandhi's language that…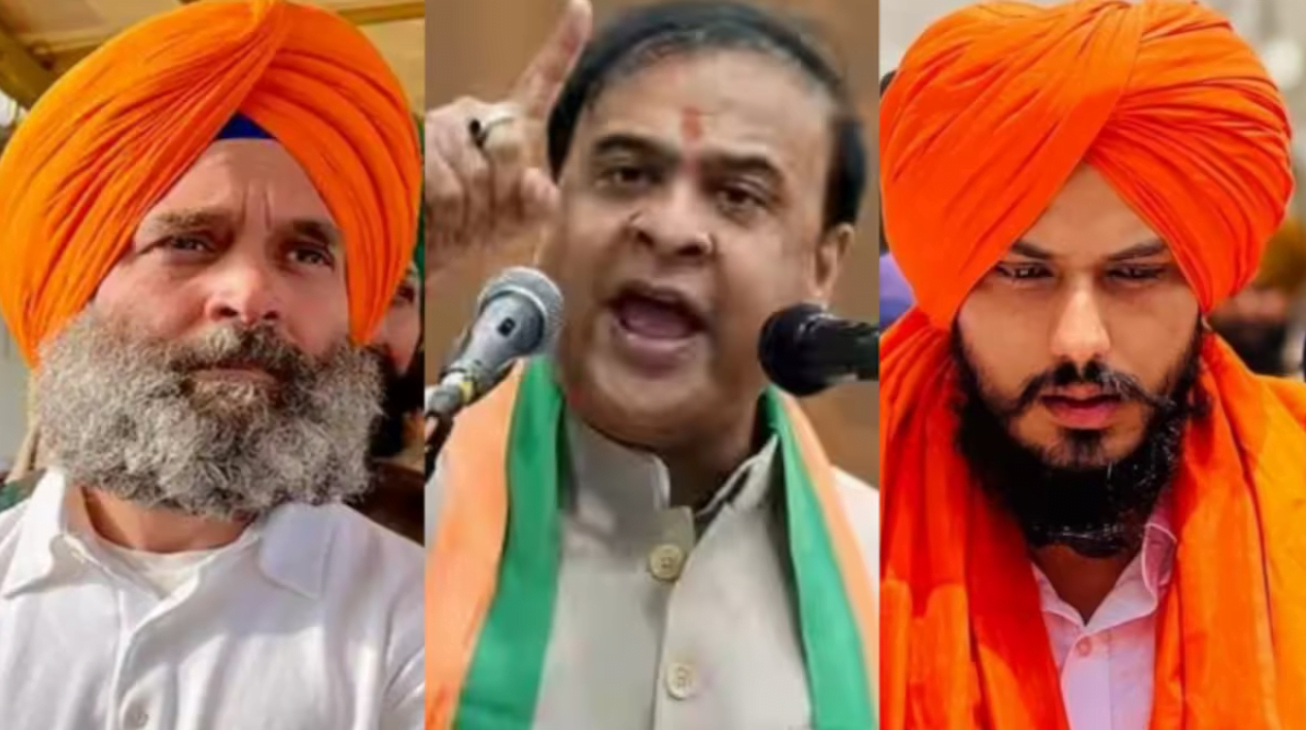 Himanta Biswa Sarma, the chief minister of Assam, stated on Friday that Punjab's hardline leader, self-proclaimed Khalistani Amritpal Singh, uses the same language as Rahul Gandhi. In reference to the'sanctity of Akhand Bharat,' the chief minister, a longtime Congressman, stated that Congress and its leaders should apologise for employing "divisive language." "See who speaks Rahul Gandhi's language. Amritpal Singh, who insolently stormed an Amritsar police station, is mimicking his language "Himanta tweeted a new attack on the Congress, one day after Assam Police arrested Congress politician Pawan Khera for his "Narendra Gautamdas" jab at Prime Minister Modi.
Lovepreet Toofan, an aide of Amritpal Singh, has released: What is Waris Punjab De?
See who speaks the language of Rahul Gandhi!

Amritpal Singh, who stormed a police station in Amritsar in a brazen act of defiance, is imitating his words.

Congress, its leaders & all those who use divisive language to disintegrate the sanctity of 'Akhand Bharat' must apologise! pic.twitter.com/jDefg2EE6a

— Himanta Biswa Sarma (@himantabiswa) February 24, 2023
"Before 1947, neither Bharat nor India existed. It's a confederation of states. We must honour labour unions. We must honour the nation-states. I disagree with the accepted notion of India "Amritpal Singh informed a television station.
In a video juxtaposing Amritpal Singh's statement with Rahul Gandhi's 'India is a union of states' speech in the Lok Sabha, the Assam chief minister drew a connection and claimed that the Khalistani is mimicking Rahul Gandhi's words.
When Punjab is experiencing stress due to a violent conflict between Khalistani Amritpal Singh's supporters and the police over the detention of Lovepreet Toofan, who was released on Friday, the Assam chief minister blamed the Congress.
Amritpal Singh, the leader of Deep Sidhu's Waris Punjab De, often known as "Bhindranwale 2.0," recently renewed the Khalistan demand. In various interviews, media channels stated that Khalistan is not a taboo and that the goal is to end misery. "Khalistan emotion will endure, and you cannot eradicate it," he stated, emphasising that it (Khalistan) should be viewed as an ideological viewpoint.
"India is referred to as a confederation of states. India is not a nation, but rather a union of states…it is a partnership, not a kingdom "In 2022, Rahul Gandhi stated in the Lok Sabha.
Related Posts