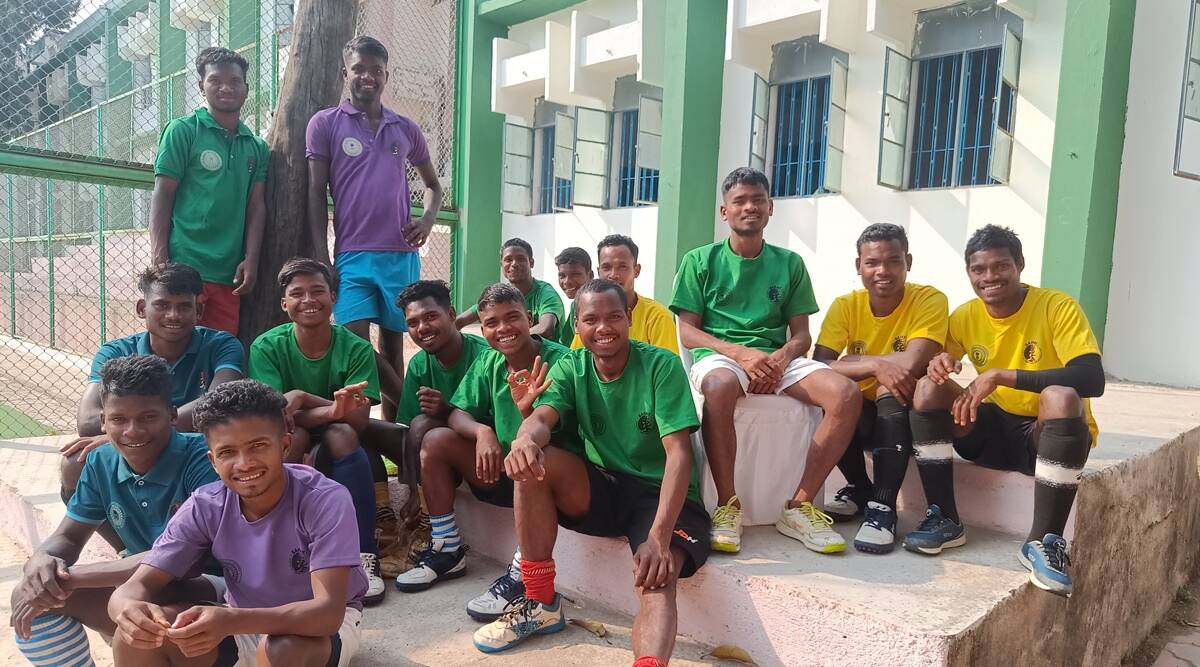 Patras Soymurum stands at the edge of the field and looks through the fence at the girls' hockey game. But he just can't get away from the green of the fake grass. The 16-year-old is on the West Singhbhum hockey team, which is at the Bariatu astro turf stadium in Ranchi to compete for a state-level championship. His team has won two games and lost two. They are waiting for their next game.
Soymurum grew up in Sinduribera village, which is 100 km from the Naxal-hit headquarters of West Singhbhum. West Singhbhum is one of five districts in Jharkhand that are affected by Left-Wing Extremism (LWE). Soymurum often played hockey without shoes or hockey sticks. He thought he would have to give up his favourite sport when he moved to the closest block to study.
Then, in 2021, the state government started a pilot programme called "Sports Action towards Harnessing Aspiration of Youth" (SAHAY) in five Maoist-affected districts: West Singhbhum, Gumla, Khunti, Saraikela-Kharsawan, and Simdega. Its goal was to find talented young people.
The programme has been looking for talented athletes in basketball, volleyball, hockey, and athletics. Its goal is to make sure that boys and girls between the ages of 14 and 19 don't get "lost."
Soymurum's first time holding the hockey stick was in this way. He got on the district team after some training and follow-up games.
Soymurum can't think of a single hockey player he likes. He isn't looking too far ahead either. Only that he can play his favourite game is all he knows. "I am happy that I can play hockey with real hockey sticks and shoes. We don't have good roads in my village, and we get water from wells and other places. My parents only sent me to Bandhgaon block so I could finish school and not get into trouble. I had even forgotten how to play hockey, but then this chance came along. He says, "It's a dream come true."
Soymurum's Class 12 exam is coming up soon, but he's not too worried about it. "I've learned enough… He smiles and says, "I'll pass."
"SAHAY is in place in conflict areas. The goal is to help young people ages 14 to 19 through sports. We are also looking for talent to add to what the state government already has," said Pranay Prasoon, a senior consultant with the Policy and Development Advisory Group, a group that advises the Jharkhand government and has been a key part of putting SAHAY into place.
Information about the plan was sent to 688 panchayats in the five districts, a state government source said. Teachers and other officials also spread the word, and they were able to get the village heads to help find local talent. "At first, the matches were held in different groups. Now, we're having a state-level meet with 30 hockey, volleyball, and football teams from these five districts. In sports, there are four groups of six players each, said the source.
Pandu Kandulna has already visited Ranchi. But the 18-year-old has never been part of any residential training centre or centre of excellence, which is how the Jharkhand government trains hockey players. This is because none of these programmes ever made it to his Usram village in Jalasar panchayat, which is about 45 kilometres from Bandhgaon block.
"My dad worked hard in the fields and bought me hockey shoes and sticks with the money he made. I loved hockey, but I didn't know what to do about it. Now I want to speak for my state… I also want to help my village in some way. No ambulance comes to our village," said Kandulna, who, like Soymurum, lives in Bandhgaon, where he goes to school and is studying for his Class 12 exams.
"The room costs Rs 300 a month to rent, and I cook twice a day. Once a month, I can buy chicken curry." He says that the food in Ranchi is his favourite. "For breakfast, they give us poori sabzi and vegetables, and rice and curry for lunch. We also had two orders of egg curry."
A resolution on SAHAY by the state's Department of Tourism, Arts, Culture, Sports & Youth Affairs states that the players will receive a kit during the state-level matches and a "encouragement amount" if they win the series. Rs 10,000 is allotted to each team member of the winning team, and Rs 5,000 for the runner-up.
A high-level state official said that giving girls more power is a key part of SAHAY. "This will give girls a way out of forced marriages, which still happen in a few parts of Jharkhand," the official said.
Pundi Saru, who is in her teens, dribbles the ball to pass it to a teammate on the turf pitch. Pundi comes from Hesal, a tribal village in Jharkhand's Khunti district. She used to play with sticks and didn't have any shoes until recently. Nikki Pradhan, a defender for India who played in the 2021 Olympics in Tokyo, lives in this village. Before she steps onto the shiny astroturf on Friday, Saru says, "I'm going to be like Nikki Pradhan. I'll stand up for my country."