India
IMD issues heatwave alerts for portions of India's north, east, and central regions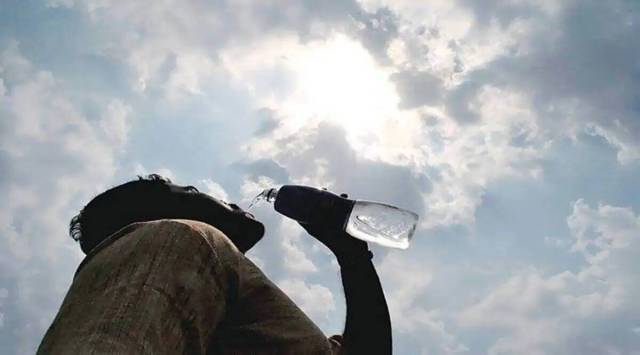 Parts of India, including Uttar Pradesh, West Bengal, Bihar, Jharkhand, Sikkim, Odisha, and Andhra Pradesh, have been issued a heatwave alert by the India Meteorological Department.
IMD predicted in its 8 a.m. daily weather report that pockets of Uttar Pradesh and Ganetic West Bengal, which sweltered under high temperatures on Tuesday, will continue to experience heatwave conditions.
In most of Northeast India, North India, and East India, as well as in a few pockets of Central India, maximum temperatures were above average.
Isolated pockets of Gangetic West Bengal and Bihar have been experiencing heatwave conditions for eight days and five days, respectively.
Meanwhile, it is unlikely that maximum temperatures will fluctuate significantly over the next two days. However, the active disturbances over the western Himalayas are expected to deliver light precipitation to the plains.
IMD predicts that cloudy weather and light rain could provide some respite from the heat on Wednesday.
Some weather stations recorded the highest temperature, at least five degrees Celsius above normal, in Delhi until Tuesday.
The criterion for a heatwave is met when the maximum temperature of a station reaches at least 40 degrees Celsius in the plains, at least 37 degrees Celsius in coastal regions, and at least 30 degrees Celsius in mountainous regions, and the departure from normal temperature is at least 4.5 degrees Celsius.
In response to the increasing temperatures, some schools in India have closed while others have altered their schedules.
🔴 Here is a list of states where schools have been suspended or rescheduled due to inclement weather.
West Bengal: West Bengal Chief Minister Mamata Banerjee announced on Sunday that all educational institutions in the state would be halted for the upcoming week due to the "severe" heatwave. In recent days, after returning from school, children have been complaining of migraines and other health problems, according to a member of parliament.
Delhi: The Delhi administration has instructed schools not to hold afternoon assemblies due to the city's high temperature.
Patna: Since Bihar has been experiencing a severe heat wave for the past week, the district administration of Patna has ordered all schools to end classes by 10:45 am today.
Tripura: Tripura's chief minister, Manik Saha, announced in a Facebook post on Monday that all government institutions in the state will be closed from April 18 to April 23 due to the ongoing heatwave. He urged the state's private institutions to follow suit.
Meghalaya: Beginning today, schools in the West Garo Hills district of Meghalaya will be suspended for three days, as announced by the district administration. The area has experienced temperatures above 37 degrees Celsius for the past few days.
Odisha: The Odisha government had previously ordered suspending all schools and anganwadi centres from April 12 through April 16 due to the state's heat wave.
Related Posts