India
In 2022, the Supreme Court supported women's rights five times.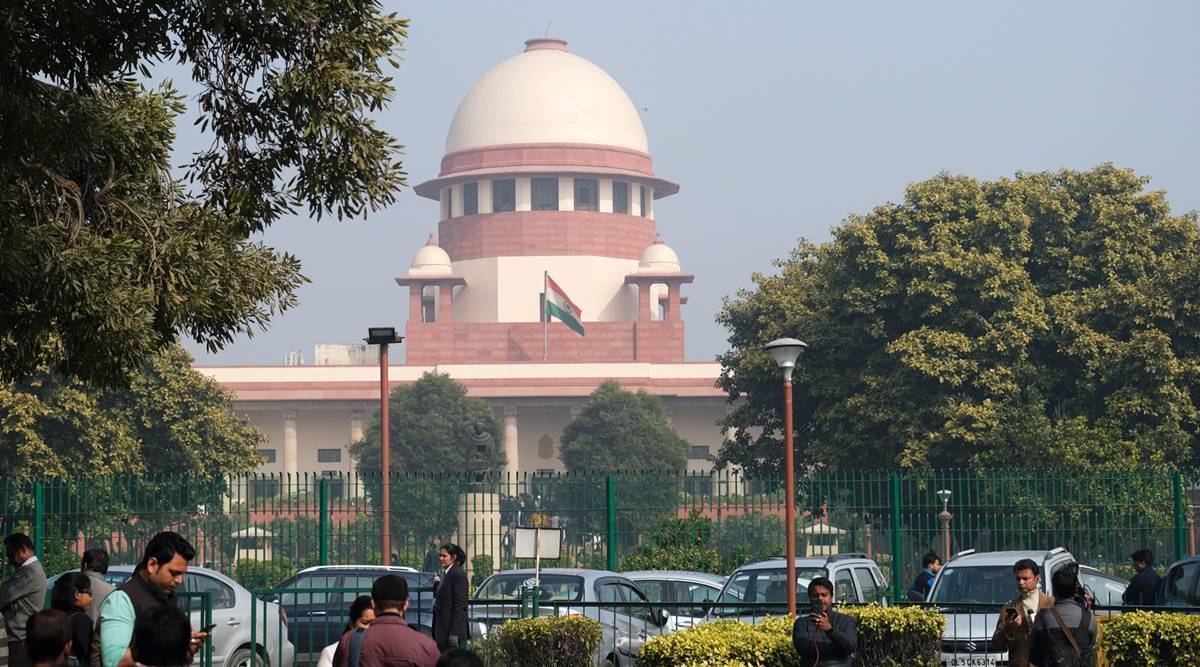 "The status of its female population is one indicator of a progressive country. Women must play a significant role in this system since they are also stakeholders in it.
When serving as India's Chief Justice, Justice N V Ramana made this statement on March 10. His statements served as nearly a prelude to what the Supreme Court would rule on during the rest of the year, emphasising women's rights, representation, positions, and contributions to society.
Three women also took their oaths as Supreme Court of India judges this year. Here are five rulings by the Supreme Court that supported women's rights.
According to a Supreme Court decision on abortion, "A woman alone has the right over her body."
The Supreme Court ruled on September 29 in one of the most significant decisions this year that all women, regardless of marital status, have the right to safe and legal abortion up to 24 weeks of pregnancy, stating that it is every woman's "right to make reproductive choices without undue interference from the State."
The court ruled that "the benefits in law extend equally to both single and married women" and that "the artificial distinction between married and single women is not constitutionally sustainable."
---
"It is the woman alone who has the right over her body and is the ultimate decision-maker on the question of whether she wants to undergo an abortion."
Supreme Court
---
"Only a woman has control over her body, and she alone has the final say in whether or not she wishes to have an abortion… Women's dignity would be violated if they were denied control over both their bodies and their lives, a bench of Justices D Y Chandrachud, A S Bopanna, and J B Pardiwal declared.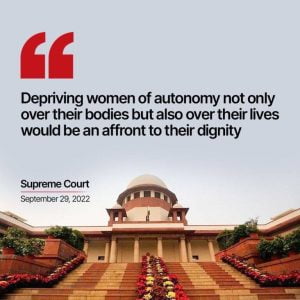 Hijab is her ticket to school, according to the split decision in the case
On October 13, the Supreme Court issued a divided decision on whether or not the Muslim head covering known as the hijab should be permitted in classrooms. Justice Sudhanshu Dhulia disagreed, saying it was "a matter of choice," a "fundamental right," linked to the girl's "dignity and her privacy even when she is inside the school gates." While Justice Hemant Gupta upheld the Karnataka government's ban on Hijab, stating that "it was only to promote uniformity and encourage a secular environment" in classrooms, Justice Sudhanshu Dhulia disagreed.
---
"Asking a pre-university schoolgirl to take off her Hijab at her school gate is an invasion of her privacy and dignity."
Justice Sudhanshu DhuliaSupreme Court
---
In his ruling, Justice Dhulia stated that it is a breach of the privacy and dignity of a pre-university schoolgirl to ask her to remove her hijab at the school entrance.
"One of the most beautiful images in India right now is a young girl heading off to school in the morning while carrying her schoolbag on her back. She represents our future and our hope, he declared.
Hijab wear "may or may not be a matter of basic religious practise, but it still is a question of conscience, conviction, and expression," according to Justice Dhulia. Since it might be the only way her religiously strict family will allow her to attend school in those circumstances, her hijab is her ticket to education, it cannot be stopped if she chooses to wear it, even within the classroom.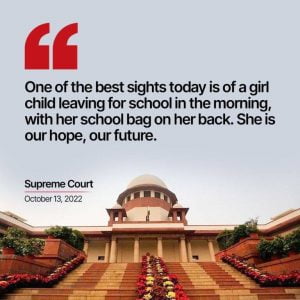 ---
The Supreme Court on the promotion of female officers: "Army has not been fair"
The Army was ordered to "put your house in order" by the Supreme Court on December 9 after it heard a petition from 34 female officers who claimed junior male officers were being promoted above them to fill "combat and commanding roles" in the Army.
"We believe the Army has not treated these female officers fairly. A bench consisting of Chief Justice D Y Chandrachud and Justice P S Narasimha pronounced the following: "You better set your house in order and tell us what you are doing for them."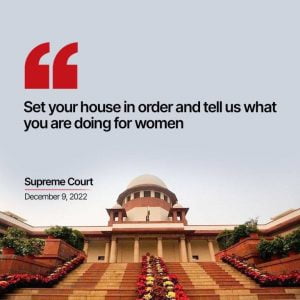 ---
"Female tribal members have an equal right to succeed via intestate will": SC
The Supreme Court ordered the Centre to examine changing the provisions of the Hindu Succession Act to make it applicable to members of the Scheduled Tribes as well on December 9 after observing that a female tribal member is entitled to an equal share in the property of her father.
"There is no justification to deny the daughter of a tribal group the same rights that a daughter who belongs to a non-tribal society has to an equal portion of the father's property. According to The Hindu, a bench of Justices M R Shah and Krishna Murari ruled that female tribal members are entitled to the same rights as male tribal members in intestate succession.
"It is high time for the Central Government to look into the matter and, if necessary, to amend the provisions of the Hindu Succession Act by which the Hindu Succession Act is not made applicable to members of the Scheduled Tribe," the bench continued. "To deny the equal right to the daughter belonging to the tribal even after a period of 70 years of the Constitution of India under which right to equality is guaranteed.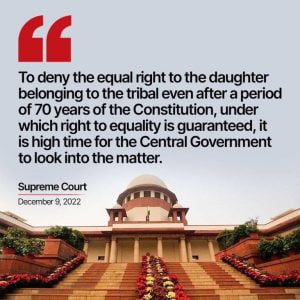 ---
"Dowry death offence should be dealt with with an iron hand," SC
In a case involving a woman's death that was allegedly brought on by dowry pressures, the Supreme Court ruled in August that "dowry death is an offence against society" and that "such offences have a major impact on society."
"Sentencing for the crime of dowry death must be determined while taking into account the aforementioned factors. A bench of Justices M R Shah and B V Nagarathna declared, "A strong message must be sent to the society that a person who commits such an offence of dowry death and/or the offences under the Dowry Prohibition Act should be dealt with with an iron hand.
---
"A strong message must go in the society that a person who commits such an offence of dowry death shall be dealt with an iron hand."
Supreme Court
---
According to the Times of India, a bench presided over by the then-CJI Ramana sought for a broader definition of the term "dowry" in January, calling for it to include any demand made from a woman.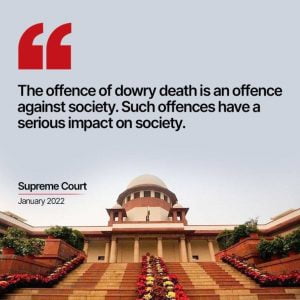 ---
We have marched to a stage where women are in a position to compete with males, in every area of life," CJI N V Ramana remarked in March, blaming the underrepresentation of women in the judiciary on "patriarchy." All they require is the proper chance to demonstrate their abilities.
"The justice delivery system will be much improved by the participation of women judges and attorneys. Women's inclusion on the Bench and in the Bar is significant in more ways than one. They bring a unique viewpoint to the law that is based on their expertise. They also have a more sophisticated knowledge of how different laws may affect men and women differently, CJI Ramana continued.
---
"The presence of women on the Bench and in the Bar has more than a symbolic importance. They bring to the law a different perspective, one that is built upon their experience."
N V RamanaFormer Chief Justice of India
---
In the same vein, his predecessor CJI U U Lalit told The Hindu that "the ethos was changing" and that more women judges were required. He was cited as saying, "Today we are finishing 75 years, maybe when we finish 100 years the ratio (of women judges) may be different."
In an interview with The Deccan Era, current CJI D Y Chandrachud stated that the judiciary's current makeup is "the product of the status of the legal profession three or four decades ago" and that the court should consider gender diversity while making appointments among other things.
In a noteworthy development, the Supreme Court appointed Justices Hima Kohli and Bela M. Trivedi to its third-ever all-female bench this year. Previously, in 2013 and 2018, respectively.