India
In 3 weeks, BSF downs 5 Pak drones in Punjab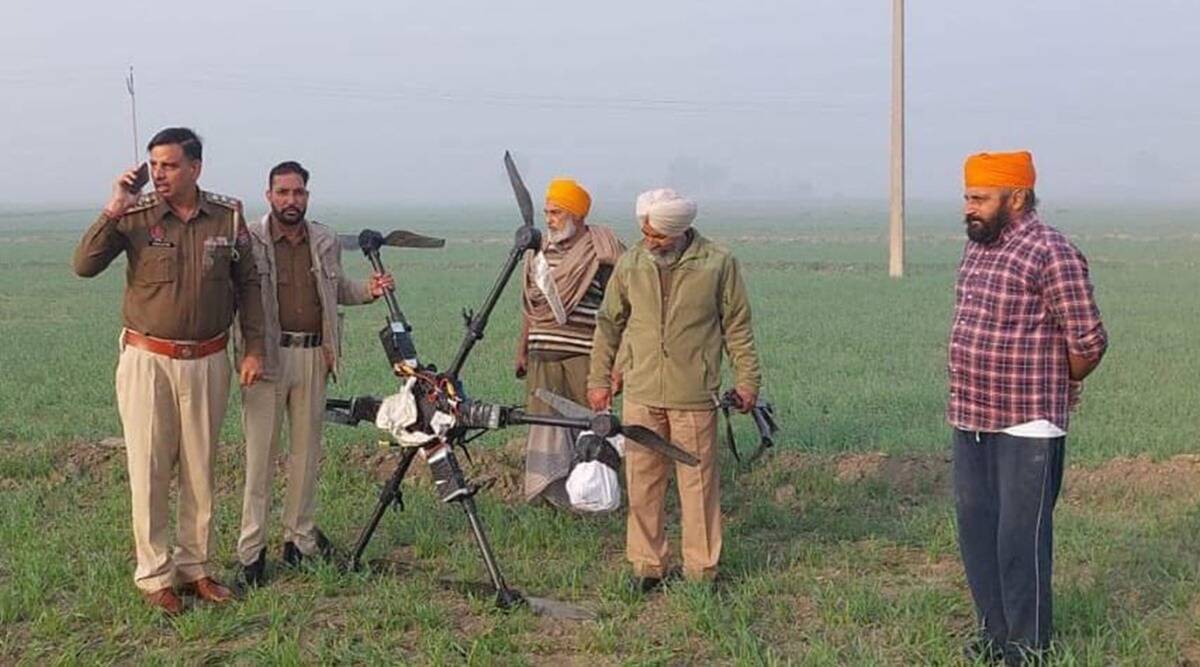 At least five Pakistani drones carrying drugs across the international border in Punjab have been shot down by the Border Security Force (BSF) so far this year, all of them in the last three weeks, according to officials familiar with the situation. The BSF also seized at least 10 kg of heroin that was attached to the drones.
In two of these cases, officials found that the drones' batteries were made by a company that was supposed to be based in Karachi.
On Sunday morning, border guards in Gurdaspur district's Ghaniake village found another drone with about 2.7 grammes of heroin in it in a field near the border fence.
Last year, people in charge of security shot down 22 drones that were flying into India. In 2021, there was only one such case. In 2020, there were none, and in 2019, there were only two. In May of 2019, the BSF saw the first time a drone was used to transport drugs. This year, there have been more of these kinds of incidents, which has led the BSF to keep a closer eye on the border.
"After countermeasures were put in place, drones no longer fly deep inside the country. Instead, they fly within 1 km of the border. Asif Jalal, the inspector general of the BSF's Punjab frontier unit, said, "Most of the time, they come back within seconds."
"In the past, most drone intrusions happened in the districts of Amritsar and Tarn Taran. Now, things are different. We are making changes to the drop zones near the borders. By putting troops in place, BSF has been able to put pressure on smugglers, and we have been able to catch a number of them in the last two years," Jalal said. "Also, we have offered a reward of 1 lakh to people who live in border areas and tell us about drone intrusions and how they are connected to criminals. We keep track of who they are."
A look at the drones that the BSF shot down in 2022 and 2023 shows that different routes along the border were used to bring drugs, mostly heroin, into the country. Only one case of smuggling opium happened in December of last year. The drones were flown at night and could carry between 2 and 10 kg of weight.
Nine drones were shot in areas near the Amritsar station headquarters in 2022, and eight were shot in Ferozpur. In both places, people were dropped off in different towns. The border outpost at Harbhajan village in Ferozpur was used at least three times last year, and two times each in Kaliya (Ferozepur) and Havelian (Amritsar).
"We've seen that in India, drones can fly up to 2-3 km and land within 1 km of where they took off. "They have to come close to the border and fly the drones," a BSF officer said, declining to give his name. "If smugglers are flying 4-5 drones every two weeks, they can't do it without the help of the security forces in Pakistan."
Not only do the drones carry drugs, though. In the last two months, the BSF has shot down at least two drones that were carrying weapons. In one case from last week, the force found heroin on a drone that came into India through MW Uttar in Ferozpur sector. They also found a pistol and bullets made in China on the drone. This is important because the National Investigation Agency is looking into whether or not agencies in Pakistan are helping gangsters in Punjab.
A BSF spokesperson said that more drones are being shot down because the border is being watched more closely and more anti-drone measures are being put in place. "The BSF has trained its people to find and stop smuggling attempts made by drones. We also share information and work closely with other agencies," he said. "The BSF is still committed to staying on top of things and making sure that India's western border is safe."
Related Posts