India
In another football final thousands of kilometers away, a battle against social injustice is being fought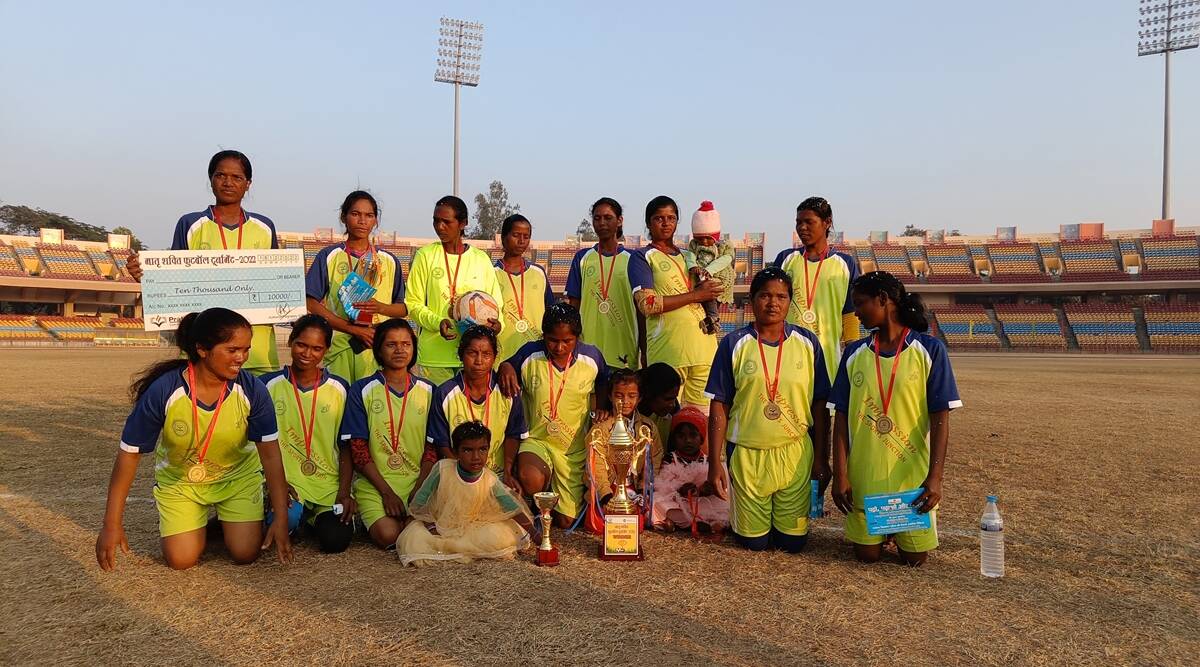 The goalkeeper yelled, "Nette hejum (hit the ball from the front)!" yelled farmer Sukku Munda in Mundari language from behind the goalposts at a Ranchi ground. "Ruedam nette (turn and shoot)!"
On Sunday afternoon, Munda was cheering on his football team in a football tournament final that was more important to him than the one taking place 3,000 kilometers away.
It was a 3-0 victory for his team. Among its members are his wife, Sunita Munda, and mothers from Chattasudag village in the district of Khunti.
Throughout Ranchi and Khunti districts, 32 all-women teams participated in the Matra Shakti Football Tournament. All of the teams, which were comprised of married women and mothers, focused on a social issue – child marriage, sexual harassment, domestic violence, and witchhunts, among others.
The team of Sunita was playing against a village in the Namkum area of Ranchi district. Despite winning the final, all of the participants were winners in a sense.
They formed teams and included one social evil afflicting society. They fought their way to the field," said Chandan Singh, co-founder of Pragya, a social enterprise based in Jharkhand. There has been a sharp decline in the number of adolescent girls in the playground, according to Singh. The reasons for this decline are numerous. "In 2017, we developed a sports development model in which we engage mothers in recreational activities. Taking part in the tournament will encourage mothers to encourage their children (especially girls) to engage in sports activities. This fourth edition of the tournament, it was intended to bring a wholesome change to a child's education by incorporating sports into the curriculum.
It was a challenge to organize it. Organizers had to deal with women between the ages of 21 and 57.
As per the coordinator, Laxmi Kujur, they had conducted at least five meetings in each of the 23 villages to persuade the mothers and their husbands to allow their children to play. "What is the best way for us to play?" Are we too old to play? In saris and jerseys, what will men think of us? As Kujur pointed out, the women initially opposed wearing saris and jerseys. The husbands too were not keen.
There were three teams formed from Kudlong village in the Ranchi district. The 42-year-old Maini Kacchap was watching the finalists play at Stadium on Sunday for the first time. Her husband is a driver by profession and she persuaded her family to participate in the game, but one of her team mates, Manju Devi, was troubled by her husband. She was beaten by her husband, and his stove made of mud was broken. She remarked, "We kept domestic violence as the theme against social evil…We had to call her husband and then convince him.".
Not only that, but after we won, we asked the husband to come to the field so that his wife could receive the trophy," chuckled Kacchap. He believes it is too early to quantify the change that has occurred.
The Kudlong team did not reach the finals, but they have learned a great deal and are eagerly anticipating the next competition. One of our teammates had to harvest her paddy and six of us took care of it for her so that she could play with us. We had a great time participating in this team building exercise."
Dipika Kerketta, 35, reports that her legs are still 'hurting'.
In one of the villages, Coordinator Kujur reported that a mother and her daughter played their first game together. The problem was that the whole village disapproved of their play, and therefore her husband or anyone else was unwilling to assist them in commuting to the venue, which was six kilometers away. During their walk, they played together."
In many cases, the players said, they engaged in lengthy discussions with neighbours and male members of the village and occasionally took them to the playground for a closer look. It also improved the relationship of some individuals.
The theme of the performance was 'Nasha Mukti', and Sushila Kumari, who is in her late 20s, performed along with her mother-in-law in a village in Kanke block of Jharkhand. "My father-in-law used to advise me to go for a run with my mother-in-law Bito Devi. It was previously difficult for me to speak my mind, now we have a bonding and we played four matches to the semi-final without shoes."
Despite the fact that the FIFa World Cup Final is taking place in Ranchi, none of the players appear to be aware of it. The wife of Sukku Munda, Sunita, expressed her elation that her team won the match. This trophy is a significant prize for us. There is a possibility that our village will host the World Cup."
Related Posts