India
International
In Bali for the G20 summit, PM Modi will discuss the world's 'key challenges'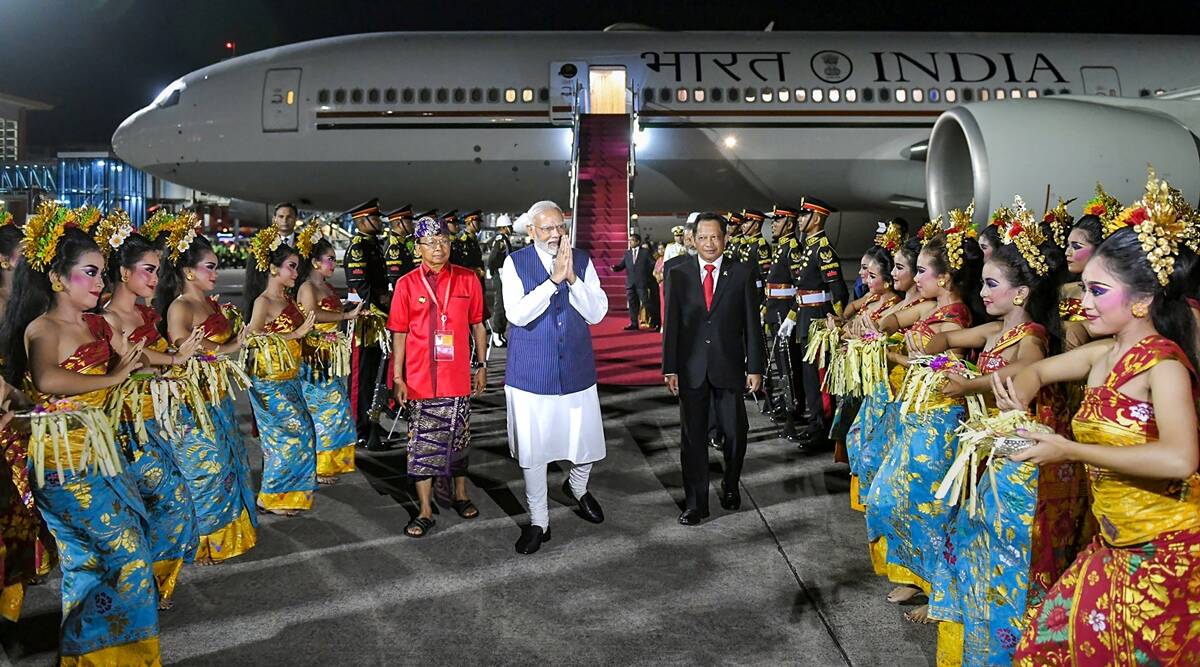 Prime Minister Narendra Modi announced on Monday that he would hold extensive discussions with leaders of the G20 grouping in Bali ahead of his visit to Indonesia for the G20 Summit regarding critical challenges such as reviving global growth, ensuring food and energy security, and addressing issues regarding health and digital transformation.
Modi mentioned in a pre-departure statement that he would highlight India's achievements, its "unwavering commitment" to collectively addressing global issues, and that the country's upcoming G20 presidency will be centred around the theme 'Vasudhaiva Kutumbakam, or 'One Earth, One Family, One Future.
After arriving in Bali late Monday evening, the Prime Minister will participate in the G20 Summit, which is expected to address global issues related to the Ukraine conflict and food and energy security.
PM has arrived in Indonesia for the G20 Summit. A wide range of pressing global challenges will be discussed during the Summit. According to the PM's office, the Prime Minister will interact with various world leaders during the Summit.
In a tweet, MEA spokesperson Arindam Bagchi shared images of a colourful welcome for the Prime Minister upon his arrival at Bali International Airport. We are looking forward to two days of intense engagements."
"At the Bali summit, I will have extensive discussions with other G20 leaders about issues of global concern, such as reviving global growth, food and energy security, environmental protection, and digital transformation", Modi stated.
During the Summit, the Prime Minister plans to highlight India's achievements and its "unwavering commitment" to address global challenges together. "At the closing ceremony of the Bali Summit, President Joko Widodo will hand over the G20 presidency to India, marking a significant moment for our country and citizens," the statement quoted him as saying.
It has been announced that India will assume the official presidency of the G20 on 1st December 2022, said Prime Minister Modi. Moreover, next year, I would like to extend my personal invitation to all G20 members and other guests at our G20 Summit."
I intend to highlight India's achievements at the G20 Summit and our unwavering commitment to addressing global challenges together, he stated. India's Presidency of the G20 will be grounded in the theme of 'Vasudhaiva Kutumbakam', which emphasizes equal growth and a shared future for all.
He also expressed his interest in addressing the Indian community on Tuesday at a reception in Bali. "On the sidelines of the G20 summit, I will meet with the leaders of several other participating countries to discuss the progress India has made in its bilateral relations with each of them," he stated.
"Working together to address global challenges! Bagchi tweeted that Prime Minister @narendramodi will travel to Bali, Indonesia, to participate in the 17th G20 Leaders' Summit.
Vinay Kwatra, the Foreign Secretary, highlighted Sunday the challenges facing world leaders, including the ongoing conflict in Ukraine and its knock-on effects, such as food security issues, the energy crisis, and inflation. G-20 leaders will emphasize closer multilateral cooperation to address these challenges.
His remarks in the context of India's G20 presidency included green development, lifestyle for the environment, digital transformation, inclusive and resilient growth, women-led development, and the need to reform 21st-century institutions and a more excellent voice for the global south in economic cooperation.
As part of his three-day trip to Bali, Kwatra said the Prime Minister would participate in three key sessions – food and energy security, digital transformation, and health.
As part of the Bali summit, US President Joe Biden, UK Prime Minister Rishi Sunak, French President Emmanuel Macron, German Chancellor Olaf Scholz, and Chinese President Xi Jinping are expected to participate.
Rather than attending the Summit, Russian President vladimir putin will send his Foreign Minister, Sergey Lavrov.
India is currently a member of the G20 troika (current, previous, and incoming presidencies) consisting of Indonesia, Italy, and the United States.
The G20 is an intergovernmental organization that brings together developed and developing economiesloping. These nations include Argentina, Australia, Brazil, Canada, China, France, Germany, India, Indonesia, Italy, Japan, South Korea, Mexico, Russia, Saudi Arabia, South Africa, Turkey, the United Kingdom and the United States.