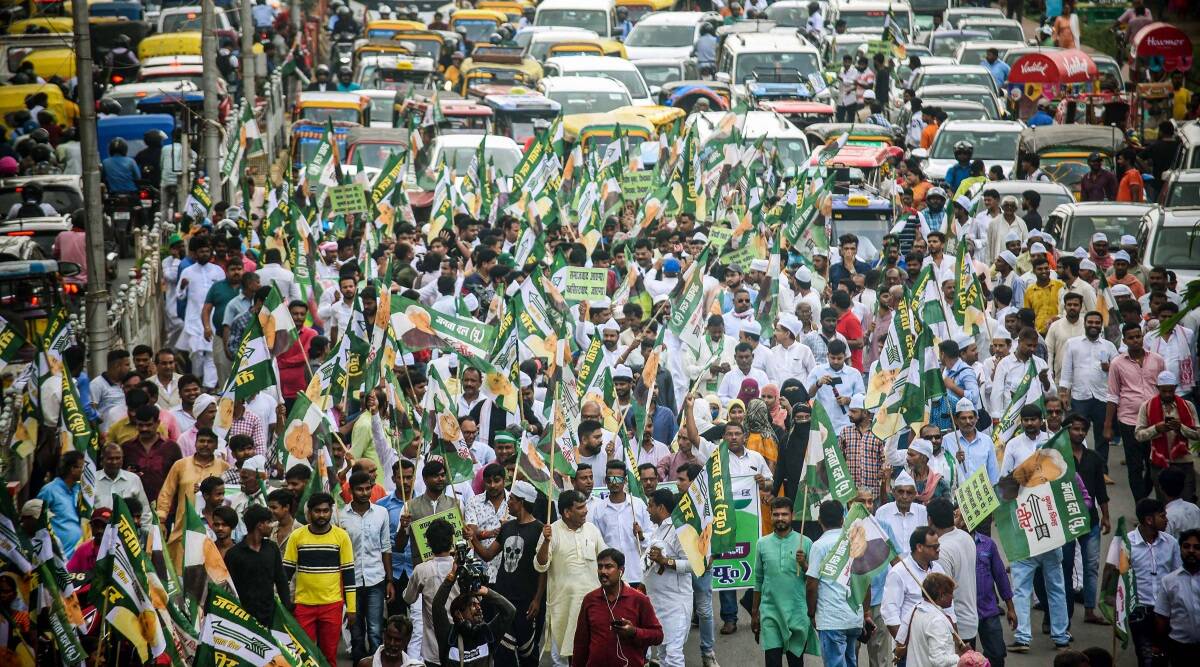 The Janata Dal (United) of Chief Minister Nitish Kumar took out processions across Bihar on Tuesday, warning people to stay vigilant against BJP's alleged communalism.
Among those who participated in 'Satarkata Evam Jagarukta March' in the state capital were JD(U) national president Rajiv Ranjan Singh alias Lalan and parliamentary board chief Upendra Kushwaha.
We are advocating caution against the conspiracy (saazish) of the BJP. On occasion, Kushwaha told reporters that the BJP aims to sharpen communal divides to mobilize a sizeable segment of the population to help it hold on to power without having accomplished anything while in power.
In the morning, thousands of JD(U) workers reached Gandhi Maidan by walking about a few kilometres from a statue of Babasaheb Bhim Rao Ambedkar installed near the Patna High Court buildings.
It is impossible to replace Nitish Kumar. There is no other opposition axis like him," said JD(U) workers here, who openly advocated for him as the next prime minister, despite his repeated insistence that he was "not in the race".
After apprehensions that the saffron party was trying to split the JD(U), Kumar pulled out of the alliance with the BJP less than two months ago.
The BJP has accused Kumar of betraying the mandate of the 2020 assembly elections in order to pursue his ambitions.
Despite ruling himself out of the race for prime minister, Kumar is trying to forge an opposition unity that he believes can defeat the BJP in the upcoming Lok Sabha elections.
Two days ago, Kumar met with Congress leader Sonia Gandhi, prompting ridicule from BJP leaders in the state who wondered if Kumar, accompanied by RJD president Lalu Prasad, had been forced to wait for a photograph.
The BJP can't order others to release photographs. Nitish Kumar aims to lose power in 2024, so it's jittery at the thought of facing a united opposition. Therefore, it is talking nonsense," Kushwaha said.
Throughout Bihar, processions were held in all 38 districts, according to the JD(U) state headquarters.