India
In communities of Kerala, the dread of a proposed buffer zone near forested areas has precipitated a precipitous decline in land values, with no corresponding increase in marriages.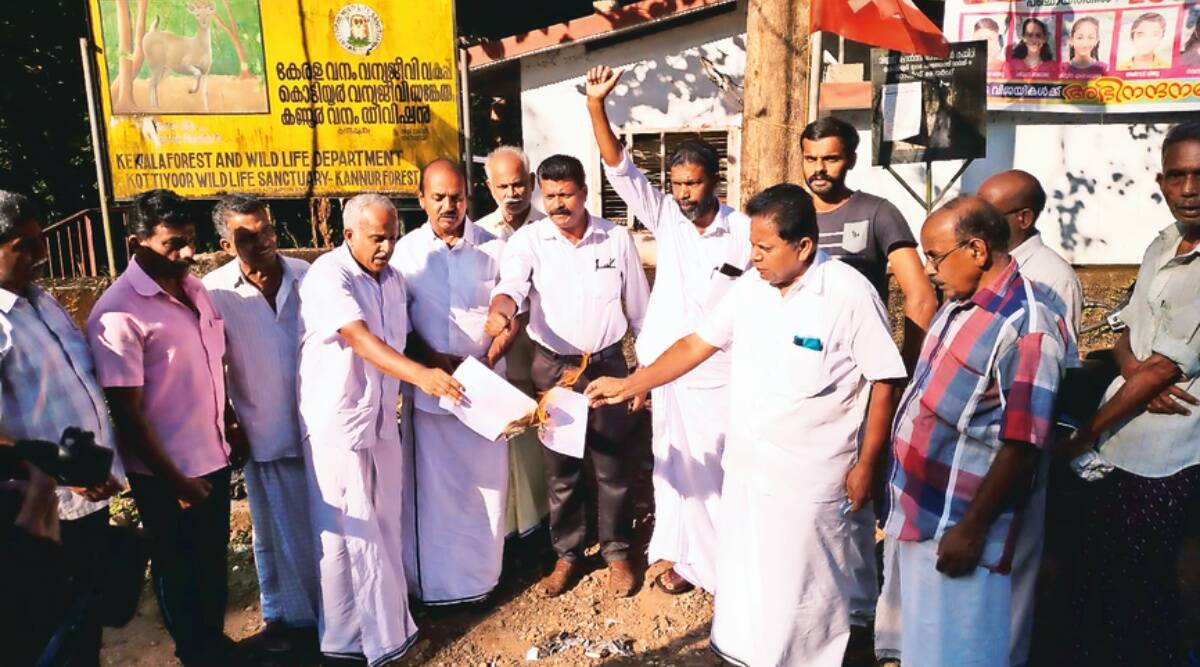 Pokkathayil Mathew gave up his acre-and-a-half of farmland and residence near the Aralam sanctuary seven years ago, fed up with continuous attacks and raids by wild animals from adjacent forests. Mathew, who lives in Adakkathodu village in Kelakam panchayat abutting Aralam, a 55-square-kilometer wildlife sanctuary, explains, "I had relocated to a new house in the hamlet, a little distance from the forest, in the hope of selling my land someday."
Now, Mathew feels trapped. Mathew and other residents of Kelakam and Kottiyoor panchayats in the Kannur district of northern Kerala are concerned about the effects of a proposed buffer zone or eco-sensitive zone (ESZ) on their way of life.
"There are no buyers for our land due to the looming threat posed by the buffer zone. My land is uninhabited, so I have to raise a cow to survive. Because of my fear of wild creatures, I cannot farm or sell this land," he explains.
Protests have erupted throughout Kerala as a result of the government's release of a satellite survey study detailing the proposed one-kilometer buffer zone surrounding 22 wildlife sanctuaries and parks in the state. The survey was conducted in response to an order issued by the Supreme Court on June 3 mandating that all national parks and wildlife sanctuaries in the country set aside a 1-kilometer buffer zone where the Centre's prohibited activities, such as mining and the construction of any new permanent structure, are prohibited.
The Supreme Court's rulings were felt most keenly in Kerala, a state with a high population density, extensive forest coverage, and rapid development. About 40% of the Western Ghats are located in Kerala.
Last week, Chief Minister Pinarayi Vijayan attempted to calm the demonstrators' anxieties. "Our position is unambiguous: all inhabited areas and agricultural regions outside the forest should be excluded from the buffer zone." The state would tell the Supreme Court of the obstacles involved in converting the farmland adjacent to the forest into a buffer zone, he said.
Despite the government's assurances, farmers are concerned that the limitations, rules, and bans that the buffer zone is intended to usher in may eventually lead to their expulsion.
Nearly every hamlet in the twin panchayats of Kelakam and Kottiyoor lies inside the proposed one-kilometer buffer zones of either the Aralam Wildlife Sanctuary or the Kottiyoor Wildlife Sanctuary, two of the state's 22 protected forest areas. The settlements have paved roads, and hundreds of dwellings dot the slopes of the hills. A segment of the ambitious Hill Highway, a proposed 1,332-kilometer state highway from the southern end of Kerala to its northern end, will pass through the villages and will be widened. However, many residents of these villages believe that the buffer zone regulations, which prohibit road-widening projects and tree cutting, will have a negative impact on their economic operations and eventually leave their land unusable.
Benny Chamanatt is one of the 176 farmers/landowners of Kottiyoor panchayat who filed for the forest department's voluntary relocation programme last year. Under this scheme, farmers who surrender their holdings near forests are compensated with up to Rs 15 lakh per hectare.
"My land did not previously border the forest. However, as forest-dwelling people abandoned their property over time, wild animals moved into these unoccupied places. Now, the forest is right outside my door. With this buffer zone in place, I am uncertain that the relocation plan will be implemented. "I will be forced to forsake my land and leave," the 50-year-old man said.
According to officials, land transactions in the panchayats have nearly ceased.
Mukesh Antony, assistant officer of the village office (the basic unit of the revenue department) in Kottiyoor, explains, "Until a few years ago, our office received 30 to 50 applications for changing land ownership" (mutation). Now, there are just three or four per month. The majority of applications today involve the division of land among family members. Nobody from outside the hamlet purchases property here out of fear of the buffer zone.
Villagers claim that the land's value has plummeted without buyers, making it harder for them to mortgage it for personal and educational loans.
"Since this town is within the buffer zone, our men have already had difficulty finding brides. Thus, we shall be compelled to depart the region. A farmer in Kottiyoor panchayat, Sebastian Velikkakathu, explains that they cannot do either because they cannot sell their land.
K K Sathyan, secretary of the Kottiyoor panchayat, states that the village's anxieties are not unfounded. "Wildlife attacks have increased, and locals fear that additional land will be incorporated into the forest as a result of the buffer zone. Many communities rely on MGNREGS to survive, as farmland has lain fallow for some time. They have no money even to pay property tax. Our tax collection camp received a pretty low response last week," he says.
Roy Nambudakam, president of the Kottiyoor panchayat, stated, "We are adamantly opposed to any restrictions that the buffer zone may impose."